Image by Kyle Cajero
College basketball's advanced statistics compiler Ken Pomeroy ranked the Waves ninth among 10 West Coast Conference teams and No. 286 nationally.

Pomeroy's statistics, which came out Sunday, are vastly different than the 2017-18 WCC Coaches Poll, which picked the Waves to finish seventh, ahead of Pacific (No. 253, per KenPom), Portland, (No. 305) and in-city rival LMU (No. 254).
Pepperdine's projected ninth-place finish includes a 5-18 WCC record and a 9-20 record during the regular season. It's worth noting that KenPom's rankings don't include conference tournaments and postseason appearances, which seems to be the lone difference between this year's team and last year's 9-21 finish.
Along with the preseason national rankings, KenPom.com has a simulated schedule for the Waves: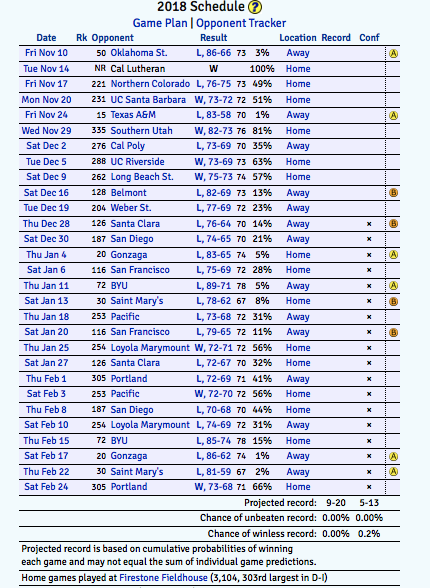 Screenshot via KenPom.com
Interestingly enough, these projections predict the Waves will be winless on the road. Pepperdine's most winnable road game will be on Feb. 1 at Portland, the only team finished behind Pepperdine in KenPom's rankings. The Waves posted a 1-12 record in away games last season.
If there's any bright spot to these rankings, it's that KenPom projects the Waves will improve on defense this year. At No, 273 in defensive efficiency, Pepperdine's projected defense outranks its overall rank, but not by much.
Last season, the Waves were No. 327 in the same metric, mostly in part to a porous three-point defense that allowed opponents to connect on 41.8 percent from beyond the arc, according to their sports-reference.com page.
But one caveat should be considered in light of all these statistics: KenPom's ranking is merely a preseason projection. Last year, KenPom.com listed Pepperdine at No. 139 in the NCAA — good for fourth in the WCC — and surprise team San Francisco slated at No. 262, which was second to last in the conference. Pepperdine wound up at No. 303 in KenPom's final poll of 2016-17, whereas the Dons compiled a 20-13 record, a CBI berth and a No. 111 ranking in the same poll.
All in all, these rankings aren't set in stone.
Men's basketball starts its season on Nov. 10 by playing Oklahoma State on the road. The Waves have a three percent chance at leaving Stillwater, Oklahoma with a win, per KenPom's projections.
__________________________________
Follow Kyle on Twitter: @kylecajero