RISE Summit attendees eat dinner together March 30 in Joslyn Plaza after hearing stories of resilience from the keynote speakers, Hung Le and Marv Dunphy. After dinner, people played bingo and discussed their definitions of resilience. Photos by Liza Esquibias
Embracing adversity, making the effort to be mindful, emerging from a difficult situation stronger and leaning on community are four of many ways Pepperdine community members said they demonstrate resilience.
Following the theme of transformation, the March 30 inaugural RISE Summit was an event for people to come together to share stories of resilience. Connie Horton, vice president for Student Affairs, said she hoped the event encouraged attendees to reflect on hardships they have overcome and use resilience skills from those experiences to transform their futures.
"Life can be really hard," Horton said. "But the question is can you get back to find your place? And what is possible is, if you take care of yourself using resilience skills, not only do you get back to that place, you get back stronger, wiser, more competent in your ability to navigate the stresses of life."
Opening Event
Michael Okabayashi, Board of Regents member and sponsor of the summit, gave the opening statement. Okabayashi thanked the University for equipping students with the skill of resilience.
A video followed in which RISE student employees — who largely organized and ran the summit — shared their definitions of resilience. Ivan Manriquez, sophomore RISE event planner and student leader, said to him, resilience is the ability to bounce back from challenging times — particularly through a community who can relate to each others' struggles.
Student moderator Ethan Barragán then interviewed the two keynote speakers — University Registrar Hung Le and Marv Dunphy, head Men's Volleyball coach emeritus and gold medal Olympian. Le shared faith is the guiding element in his life that helps him be resilient in the toughest of times.
"Faith allows us to see the light in darkness — no matter how dim the light is," Le said. "It allows us to find some peace in that darkness. To me, that's so critical in finding strength, which allows us to be more resilient."
Le said he immigrated to the United States from Vietnam as a child without his family. Later, when his sister tried to escape to join him in the U.S., she died on the boat ride.
"I was angry with my parents for letting her go," Le said. "I was angry with her for dying. I was angry with myself for having moved and that somehow caused her to escape. I was angry with a communist government that was so oppressive that it led to all this. But the thing that I was angriest about was God."
That was the first time Le said he lost all faith — declaring God "dead" in his eyes. After speaking with a friend, however, Le said he realized he was rejecting an opportunity God was giving him to learn resilience.
Le said in this case, his faith did not help him to be resilient — his resilience helped him rediscover his faith. Since then, the two have always gone hand-in-hand.
In his field of sports, Dunphy said there are two types of people — proactive and reactive. Proactive athletes are resilient, because they know how to be mindful of their behavior and come out of a loss with intentions to improve. Reactive athletes are not resilient because they are opposed to changing in the future.
Dunphy said he has learned that being flexible is a sign of resiliency in his life.
"I've been to eight Olympic Games, and not one has gone according to plan," Dunphy said. "We have to embrace it as well as we can, and you have to have a plan B and C as you go forward."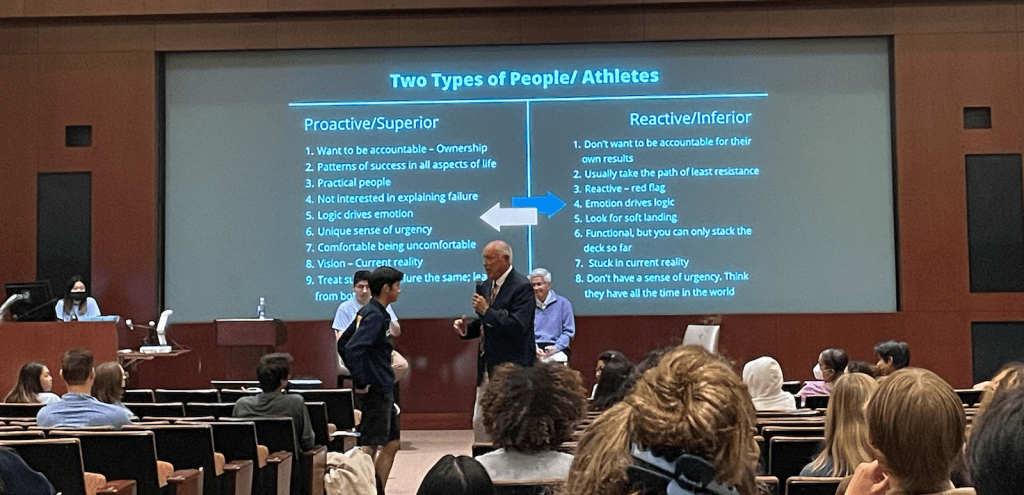 Dunphy and Le, who have been friends since the early 1990s, said they have always bonded over one another's resilience. Le said during the war in Vietnam, he felt comfort from the U.S. soldiers who protected his family and him — and he later found out one of those soldiers was Dunphy.
"This picture you see in front of me is one of the greatest American heroes there is; his name is Marv Dunphy," Le said. "He was there when I was a child, so every time I think of those soldiers, I think of Marv."
That, Le said, brought him and Dunphy back together after one of the most foundational resilience-building experiences of their lives. This strengthened both men's faith, because they said they saw the power of God.
Horton said the intention of teaching resilience in the face of faith is not to teach people to simply have faith, but to practice that faith.
"One of the really important things is, what faith practices can be good when you're feeling anxious or when you're feeling stressed, or when you're having so much difficulty?" Horton said. "How not just to say, 'Yeah, I have faith,' but, 'How do I engage in a way, as the old hymn says, so that it can be well with my soul, when sorrows and sea billows roll?'"
Dinner and Bingo
Following the keynote speakers, attendees gathered on main campus for a group dinner, followed by a game of bingo.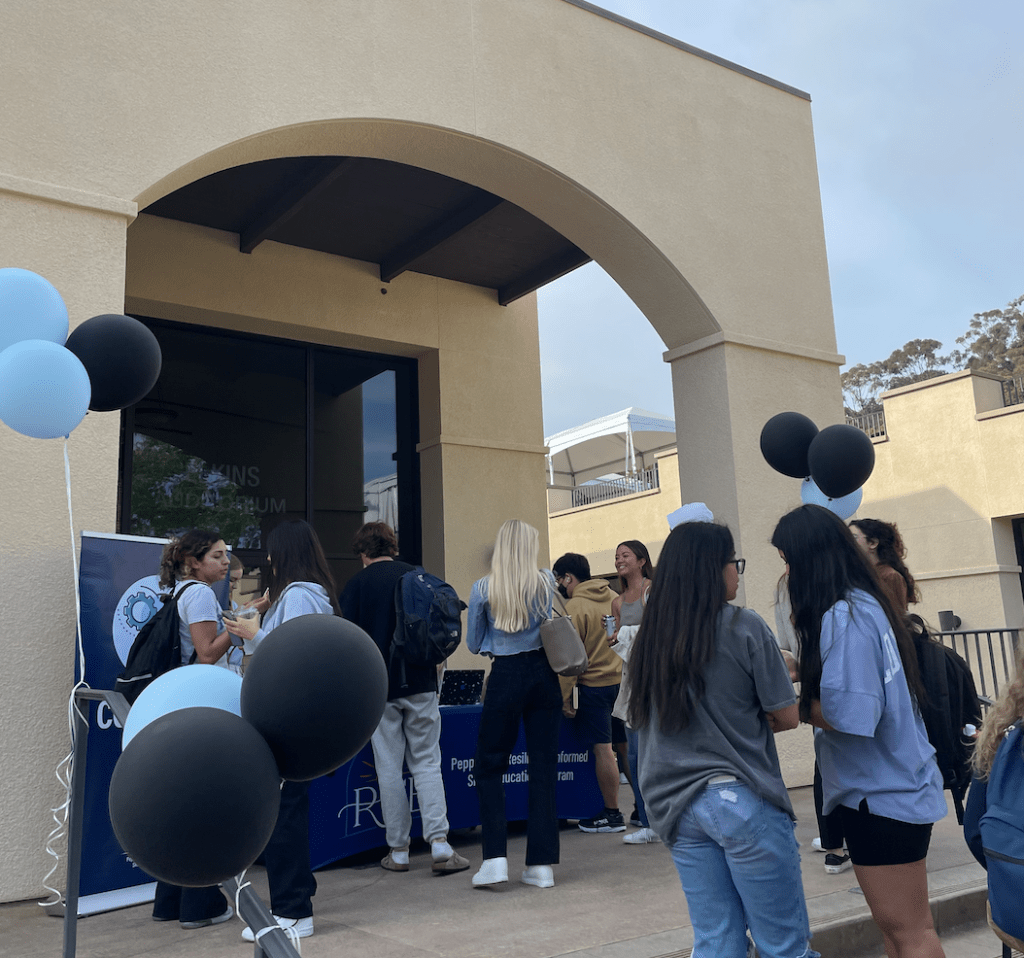 First-year Kallista Rodarte said she attended the event because she will join the RISE residential interest community next year.
"I think it's really important to have wellness, especially during college," Rodarte said. "It's good to have a community that cares about mental health and physical and all around holistic health."
Still considering joining RISE next year, first-year Jenna Shin said she views RISE as a "safe space."
"You can always rely on those people to support you and talk about anything," Shin said. "They're from Pepperdine, too, so they may have the same experiences."
Dunphy and Le said when they first met, they discussed experiences of resilience over shared meals. The event ending in dinner and games is a representation of their friendship, Le said.
Le said ultimately, the summit placed emphasis on the most important aspect of developing resilience — community.
"These events, these opportunities, remind us that we're not alone, and that it's important for us to find strength with one another, in one another and through one another," Le said.
________________
Follow the Graphic on Twitter: @PeppGraphic
Email Liza Esquibias: liza.esquibias@pepperdine.edu