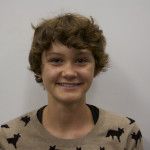 This summer I jumped straight into the DVD-recorded Insanity workouts with a friend of mine named Randy. The goal was to get a beach body before I flew to the 'Bu. He'd been doing them for about a month, which meant that I automatically began halfway through the program during the intensified month two.
Two things stemmed from my month-long experience, but — alas — a beach body was not one of them.
The first was a soggy carpet, because it is an unspoken rule of society that the TV room where one can watch exercise videos is always the hottest of the house, and Randy and I sweat liberally.
The second was a theorized spin-off reality series of Insanity, where Shaun T. owned an owl that would attack lazy members of the Insanity team.
When month two was over, our bodies were exactly the same. Disappointed by our prevailing lack of sexy abs, Randy and I dropped the Shaun T. workout regime and reverted to whatever daily cardiovascular activities suited our fancy.
Fitness had been an integral part of my personality: people back home knew me as the girl who ran everywhere and could walk and read at the same time (a multitasking skill that allowed me to get through many textbooks on the way to church).
I'd assumed that it would always be that way. I imagined that when I got to college, people would perceive me in the same light and that exercise would still be my "thing."
It was during a daylong stint of essay writing and progressive eating that I realized the inaccuracy of this assumption: The only movement I'd done that day was walking to and from the Caf in order to replenish my store of snacks. The girls in my suite knew me as the one that went around barefoot all the time, had short hair and sang old school rock 'n roll in the lobby. If anything, my reputation in college was that of a drugless hippie, not an athlete.
Eating the dried banana chips that I was choosing to call "dinner," I reflected on the glories of college life: This was what I had been waiting for. After 18 years of working steadfastly toward college, I had arrived.
Was this what my adult life was going to be like? Eating banana chips and frantically trying to finish one more paper? If so, I missed Shaun T.
Of course, that wasn't the case. Perhaps my priorities had changed, perhaps I was no longer known as "the exercise girl," but I'm still me, whoever that is. I am continually changing, rewriting and rewiring my identity, but there's always a part of me willing to go on that 11 o'clock bike ride before the gym closes.
College is not the end-all, be-all, and life doesn't have an easy set point where we can settle and coast along in an outward shell of self.
The thing is, we're never going to arrive. We'll be constantly reinventing ourselves until the day we die, and then, who knows? I won't be surprised if there's another daylong paper for me to write in the afterlife, waiting with a full bag of banana chips and maybe Shaun T.'s owl, for motivation.
_____________________________________________________________________________
Follow Alex Free on Twitter: @alex_pepperdine
As published in the Oct. 31 issue of the Pepperdine Graphic.