Photos by Sherry Yang
The iDebate Rwanda team, including 17-year-old Kellia Kaneze, 16-year-old Jean Din Kariuki and their three coaches, hosted a debate featuring Pepperdine students over the topic of Convicted Civility. Pepperdine is the first stop on The iDebate Rwanda 2018 USA tour.
iDebate Rwanda is an organization that stands to change the lives of young Rwandans and East Africans by teaching them to think critically and to solve problems creatively through learning debate, according to the iDebate Rwanda website. The organization hosts several events including an annual week-long intensive debate camp called "Dreamers Academy" and an annual debate in which teams from different schools compete.
Pepperdine and the iDebate Rwanda team developed a close relationship during the start of iDebate Rwanda USA tour in 2014.
"I think this relationship is a good thing because it shows that Pepperdine really cares about our history," Mekha Rousseau, iDebate Rwanda volunteer coach, said. "They really think that there is that kind of connection that if we come here every year and talk to their students and show their students what we go through … they really believe that our mission as iDebate and what we do as iDebate can really impact the way they lead, which I think is an amazing thing."
Director of Debate and Professor of Communication Abi Smith said Divisional Dean of Communication Sarah Stone Watt started the relationship with iDebate Rwanda four years ago. Smith continues the relationship.
"It wasn't my doing, but I am really happy to carry the torch and continue to build that relationship," Smith said.
Throughout the week, iDebate Rwanda toured campus and visited classes. The team spoke in Professor Sarah Ballard's Communication and Conflict class as well as in many of the Communication classes on campus. On Friday, Sept. 7, iDebate Rwanda collaborated with the Pepperdine debate team and the Pepperdine School of Public Policy on a lunch discussion about east African perspectives on the state of U.S. politics.
Pepperdine opened the campus to the iDebate Rwanda team for four years now, this year being the first for Rousseau.
"Pepperdine is the best," Rousseau said. "We haven't been anywhere else yet but I think I am loving it here."
For the debate on Friday night, there were two teams that consisted of one Pepperdine student and one iDebate Rwanda student. The teams argued for different sides on the topic of convicted civility.
During the debate, audience members asked questions live on Twitter, which ranged from specific questions, such as when convicted civility should be used, to larger questions about the role the U.S. courts play when it comes to convicted civility.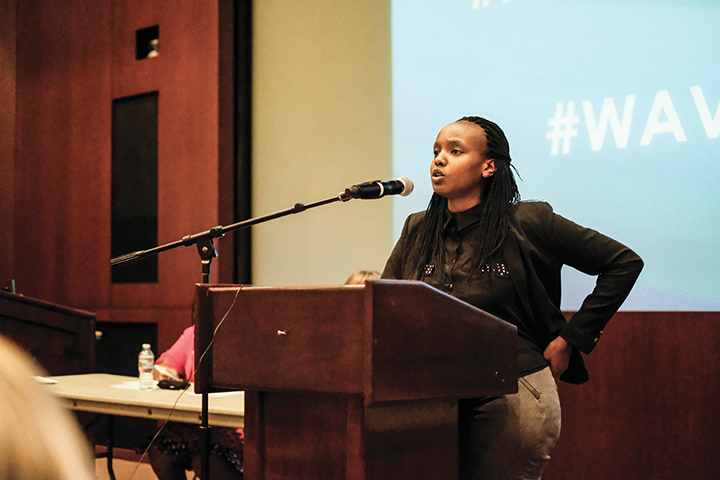 Even though this debate was meant to spark heated conversation, participants said the main reason for this event was to get people to start thinking about their own opinions and how they fit into the world.
"Whatever we are discussing, I hope that they form their own opinion on it," freshman Luke Sides said. "That's really the goal – to get them thinking about what we are talking about, this topic being convicted civility. We want them to think about their opinions and not only on convicted civility but on other things as well."
Students like Colette Faulkner, sophomore and Pepperdine debate team president, urged others to attend events similar to this one for the sake of learning rather than credit.
"I feel like, in college, once we are done with classes for the day, we just want to shut our brains off, " Faulkner said. "But I think it is really important to not do that and to be interested in attending these kinds of events and not just attending them out of getting convo credit but attending them because we are genuinely interested in having discussions and thinking."
Smith said she thinks debate should play a larger part in students' lives. There are many ways to be involved in debate besides just competing on the debate team and she encourages students to talk with people who have views different from their own.
________________________
Follow The Graphic on Twitter: @PeppGraphic