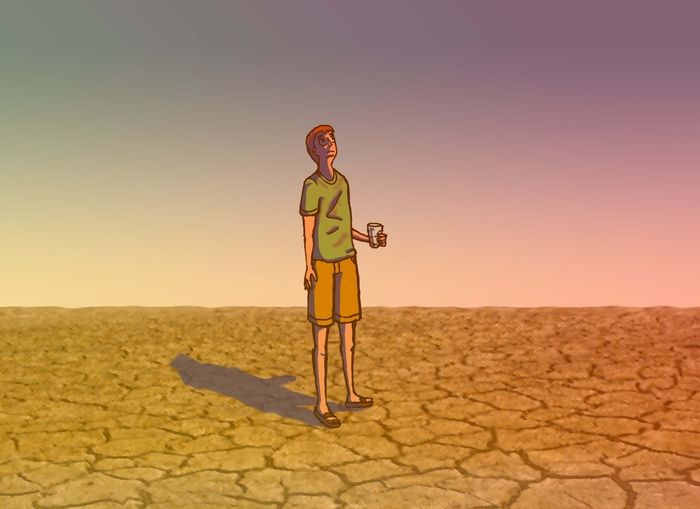 Art by Chris Chen
My truck is filthy. There is a layer of grime covering my Toyota Tacoma from bumper to bumper. But I am proud of my dirty car. Why? Because I am conserving water. I pledge not to wash my dirty truck for six months.
I call all of you, yes you, to take the pledge too.
Going to the Shell station down PCH may seem like a simple way to keep up with car hygiene. However, those $8 are contributing to the drought
While commercial car washes use less water than traditional hand washing, they still use up to 50 gallons of water according to www.sustatinablesanmarcos.com.
There is more than one benefit to not washing your car. It saves water, money and time. With everyone's busy schedule, those are definitely all things of which we could use more.
As most Southern Californians know, the dust from the surrounding mountains gets on everything. In order to have a clean car, you would have to go through a car wash at least once a week. That would be 2,600 gallons of water in a year to keep your car clean.
Also, car washes cost money. As college students, saving money is always a priority. It may just seem like $8 or $10 for the supreme wash, but it all adds up. In a year, you could spend up to $520. For the same cost, you can get 43 movie tickets, 65 frozen pizzas or even 57 years of a Netflix subscription.
Time. The one thing we are constantly trying to find more of in our busy lives. While seven or eight minutes doesn't seem like an extensive period of time, it can also add up. For 416 minutes out of the year, it's just you, your car and water. In the same amount of time, you and a group of friends could drive to San Diego and back for an impromptu weekend of fun.
According to the San Francisco Chronicle website, Gov. Jerry Brown has called for Californians to voluntarily reduce water use by 20 percent. According to the United States Environmental Protection Agency, the average American household uses 300 gallons of water per day. Annually, the average household uses 109,500 gallons of water, without consideration for fluctuations due to weather and other usage. These figures are just for indoor water usage. Any external usage is additional. If car washes use up to 50 gallons of water per car, an additional 42 percent of water usage would be added to the average household total.
That would definitely be going against what the governor has asked of us. Look at the figures. It's not just me who is reaching out to you. It is the governor himself.
The university has taken some necessary steps to help with the drought. They no longer run the fountains near Smothers Theatre, in front of the CCB or at Heroes Garden. There are signs posted at both entrances explaining that the university uses reclaimed water to water the grounds.
This drought isn't going away and a few rainstorms are not going to solve the problem. In a Huffington Post article from July 31, "California drought reaches a terrifying milestone," the entire state of California is in a severe drought status as of July. We have to take a stand and do something. We, the student body, must take the necessary steps to help conserve water.
If you must wash your car, be sure to look for more sustainable options. Some car washes exclusively use reclaimed water. For safety reasons, keep your side mirrors, front and back windshields clean by using the buckets of water and windshield wipers available at most gas stations, including Shell and Chevron. Look for these options, as it saves a significant amount of water. Take this simple measure to help the planet. Please take the pledge.
Although people may judge my dirty car, I pledge to not wash my vehicle until March 18. Even though people may make comments, I will not crumble under the pressure. I want to preserve water so that I can help California and the world. I will be proud of my "#dirtyride" and spread the word about this small step toward a larger goal.
Water is the basis for all living things. But, of course, you know this. Use your brains, Pepperdine. Conserve water. It has become a dire situation.
Help with the drought and do your part in preserving water. Keep your cars dirty! Be sure to share your #dirtyride with @peppgraphic. Let's save water while also saving a buck.
__________
Follow Jacklyn Maza on Twitter: @jbizzmazzz