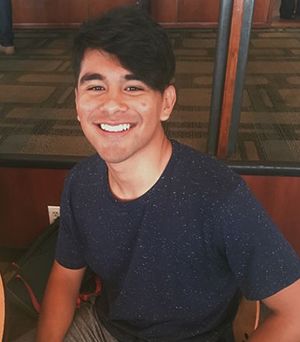 Photo by Hannah Almsted
Editor's Note: This is the first installment of the Humans of the Caf series, modeled after the popular Humans of New York series. Pepperdine's community is privileged to have many distinct students — unique students with unique stories. A chance encounter in the Caf can evolve into a gripping conversation and a surprising discovery about someone's past. The Humans of the Caf series will share those stories.
A gray-haired man in a light blue Dodgers cap lifts the lid of a garbage bin in the back alley of the little league stadium where he works. Peering inside, he pulls out two cans and a few containers, then slips them clandestinely into a small gym bag at his side.
A few minutes later, he returns, but this time, with a young boy at his side. Together, the two work their way down the alley, foraging through each green bin for aluminum cans, plastic containers and glass bottles.
The scene is repeated daily over the course of the little league season. While crowds of young baseball players and fans alike stroll in front of the bustling Serra Mesa Little League Field in San Diego, the duo go almost unnoticed as they scavenge for anything they can take down to the local recycling center in exchange for a check for their recyclables' redemption value.
It's often said that everyone has a story to tell. Around every corner, there is a great tale waiting to be discovered, lived and retold. The Waves Cafe at Pepperdine University is no different.
Each day, hundreds of students, faculty and campus workers pass through the swinging doors and high ceilings of the Caf. Each one with an entirely different background, upbringing and story that forever weighs on their mind — just ask sophomore Alexis Medina.
In the summer before his freshman year of high school, Medina moved from his home in Yakima, Washington to stay with his uncle in San Diego, California. Though they were neither homeless nor entirely destitute, they were driven to the unappealing, even, at times, humiliating task of searching through the trash by a combination of immediate financial need and a more broad fear of what could come in the future.
"It was just something we had to do," said Medina, as he recounted the story while sitting at a circular table in the middle of the Caf.
"It's hard out there for some people, you do what you've gotta do in order to get by."
Although it was never the most ideal of situations, Medina said that when his uncle first told him that he would have to forage through the garbage bins, he immediately felt ashamed and embarrassed.
"The back alley is just below the back railing of the top row of the stadiums' seats, so at anytime, anyone sitting up there could turn around and see us. I would occasionally catch people staring, or laughing or sometimes making comments. It was horrible to be completely honest," Medina said.
However, throughout the summer, Medina said he grew a newfound appreciation for all that his uncle did in order to make sure his family was able to live comfortably, despite limited income.
"He is the most humble man I know," said Medina about his uncle. "The reason he went through all of this was to provide for his family — including me because I was living with him. After I realized that, I really was ready to help in any way I could."
At the end of that summer, Medina moved back to Washington with his parents, but said that he took more away from his time in San Diego that he ever would have imagined.
"It was one of the hardest things I have had to experience, but also I am incredibly grateful for it. In a way, it made me realize how truly fortunate I am — not only to have an uncle who cared so much, but also that I don't have to do this everyday. Some people do. I'm just really grateful for it all."
___________
Follow Hannah Almsted on Twitter @HannahAlmsted