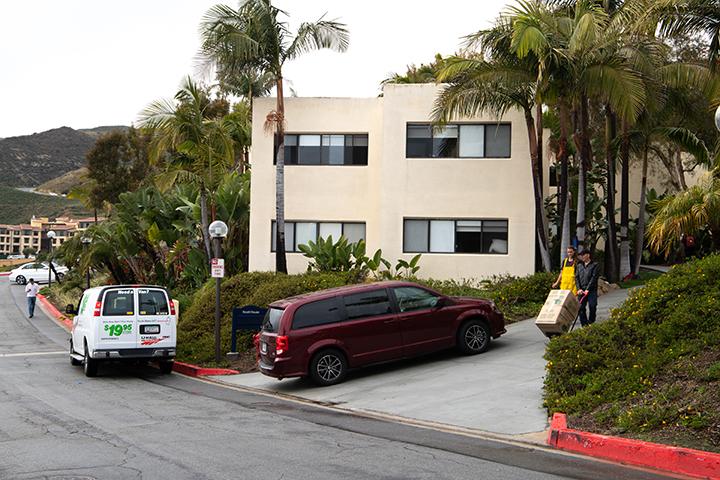 Cars line the street as freshmen scramble to move out of their dorms on Friday, March 13. Pepperdine administration sent an email on Wednesday notifying students of the decision to move all classes online for the rest of the semester, instructing those on campus to be fully moved out by Sunday unless approved for an exception. Photo by Milan Loiacono
On-campus students were instructed to move out unless they applied and were approved for an exception when Pepperdine moved to online classes. Pepperdine's Housing and Residence Life (HRL) department handled those applications and had resident advisers (RAs) go through the same process.
Two committees reviewed the applications, one after the other. The first committee had 10 staff and faculty members, and the second had three. They reviewed approximately 1,000 applications and approved 804 of them for at least an extra one-to-two weeks.
"In general, I can say that students were approved for additional time to find off-campus housing or align travel," Director of Housing Operations Robin Gore wrote in an email. "Students also received approvals if they were international students, had unsafe homes to return to, have no home, had to complete counseling hours in the area, … were student athletes, … etc."
Gore wrote that any counseling hours students stayed to finish were canceled because of California's Safer at Home Policy enacted March 19. Athletes lost their approval to stay on campus after the NCAA canceled all spring and winter championships March 12.
Any students who applied for an exception but did not receive approval could then submit an appeal that the Student Care Team would review.
Gore wrote that the two review committees determined if the original petitions should be approved for the requested time, approved for one-to-two weeks or denied. The committees also considered whether the applicant was a graduating senior.
"Initially, there was a lot of discussion (concern) among graduating seniors wanting to remain on campus," Gore wrote. "So, early on in the process, we used it as a distinguishing characteristic when weeding through the requests. It was later determined that that would not warrant an okay for students to remain on."
HRL did not allow RAs to stay on campus unless they had a reason outside of working as an RA, according to Director of Residence Life Maura Page.
"Students were being reviewed on an ongoing basis by the board of review, and the RAs were part of that process, initially," Page said. "Some RAs were reviewed as part of that process, and then some were just sent back to me to review."
HRL held a meeting March 11, with all RAs and spiritual life advisers (SLAs). HRL told the student workers they would be allowed to stay through the next Monday, a day longer than other students, to help students move out. Page said HRL also informed RAs that they would be allowed to stay one to two weeks afterward as well.
"[After the meeting] we started collecting information to see who was interested in staying beyond that time, so if there was need or interests and we had the ability to keep RAs on, we would know who to look to," Page said.
Junior Seaside RA Preston Gromer, one of the RAs still on campus, originally applied to stay because he runs on the Pepperdine Track team. He had to update his exception application when Pepperdine canceled its sports seasons March 12. Gromer spoke to a Student Affairs worker and told him that he could go home if necessary."
"I wanted to help out with things, because there was still work that they wanted us to do, like checking in with residents, delivering food or putting up cute posters and stuff," Gromer said.
Page said there are 21 RAs on campus, nearly 10 percent of the 189 total students Gore said were still on campus on March 25.
"There wasn't a specific target number [of RAs to keep on campus]," Page said. "It wasn't determined by the number of students on campus, necessarily. It was more based on RA circumstance and their need to stay on campus."
Gore's email reiterated that message, saying that students were not allowed to stay on for campus employment, even if they were RAs.
Besides running on the track team, Gromer said his reasoning to stay on campus was his desire to help and the difficulty he might have driving home to Colorado with his expired driver's license.
"When I updated my situation, I thought I'd probably get the boot, or like, the politely asking," Gromer said. "I don't want to stay if it was taking away from people who needed it more than I did."
Page said some SLAs remain on campus, although they are doing more than their normal SLA duties.
"Basically, all RAs and SLAs have the same role right now," Page said. "They have a small group of students they're each responsible for connecting with."
Page said the RAs and SLAs were generally encouraged to go home if they could, and she was proud of the job they all did in clearing out the residence halls.
__________________________________________________________________
Follow Kyle McCabe on Twitter @kyledotmccabe or email him at kyle.j.mccabe@pepperdine.edu