Photos by Duncan Hilby
Pepperdine Housing and Residence Life gave students living in Lovernich and Eden dorms pairs of Bose noise-cancelling headphones in January as part of an ongoing construction initiative.
Beginning this last summer, Pepperdine undertook a project called the Campus Life Project. The campus will undergo updates and improvements to different facilities, including Payson Library, School of Law, and construction of a new residence hall that will be named Seaside Residence Hall. As a part of this construction initiative, Pepperdine's HRL office has decided to give students of Lovernich and Eden residential halls a pair of Bose noise canceling headphones in an attempt to counteract the noise.
The construction of the Residence Hall demolished some surrounding structures including the Upsilon parking lot, Dewey House and Morgan House. The construction poses issues of noise and its effect on student life. Students report hearing construction in the early hours of the morning, HRL Associate Director Jon Mathis said.
"In general you could report construction happening from around 7 a.m. to 5 p.m," Mathis said. "At 7 they fire up the construction and they are going."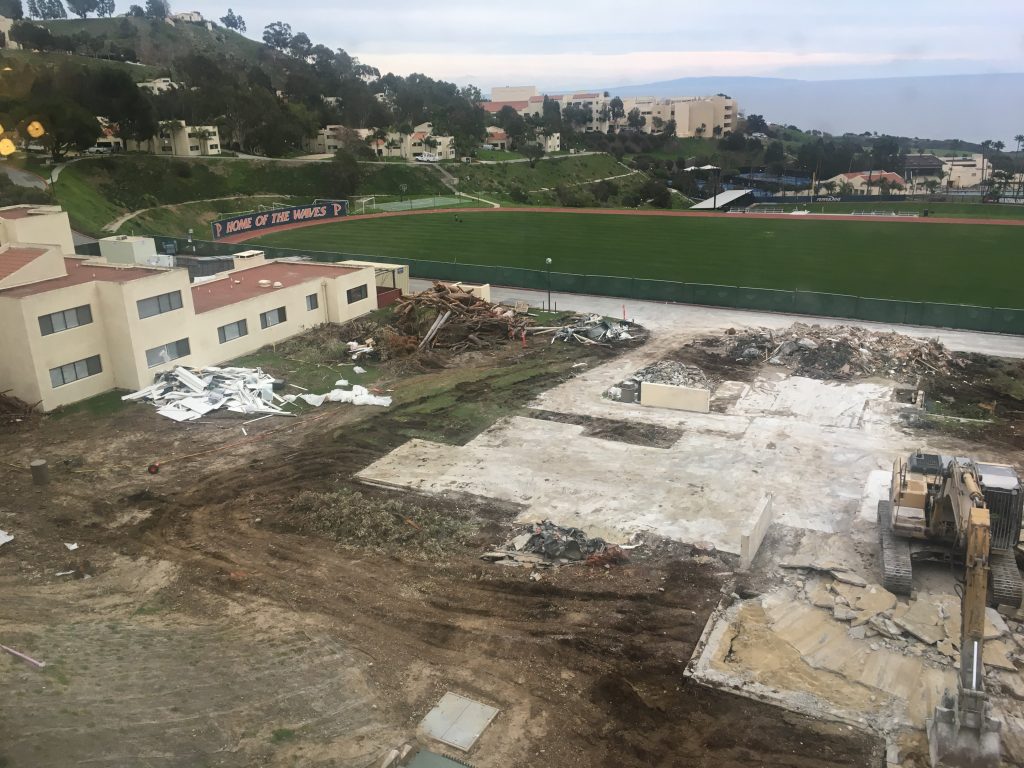 This new residence hall will create a dormitory with 458 beds and amenities such as a communal kitchen and workout room. Most of the construction this semester is demolition, with the majority of the building phase happening later on in the year, Mathis said.
Junior Kendall Howell lives in Lovernich and said she has experienced her fair share of problems with the noise.
"You know at 7 a.m. they just start, and it definitely wakes me up because my window is right above it so I don't even have to set an alarm," Howell said.
Junior Philene Sengpaseuth, who also lives in Lovernich, has had to deal with the noise as well.
"There is noise going around our apartments sometimes when we are studying," Sengpaseuth said.
Realizing that students may have issues with the noise when it comes to studying and sleeping, HRL and University leadership wanted to jump ahead of the problem and create a solution to address problems with the noise, Mathis said.
"We realized that noise would be an inconvenience especially for students in Lovernich and Eden," Mathis said, adding that university leadership felt that they couldn't stand by while students attempted to study amidst all the noise and with HRL's help they came up with a solution that would benefit everyone.
"One of the suggestions that I gave was the noise cancelling headphones because you can't stop the noise but if you get nice headphones for people at least they could still reasonably study in their room," Mathis said. "To our leadership's credit they were absolutely on board and made the money available."
Pepperdine talked to Bose and purchased QuietComfort 20 Acoustic Noise Cancelling headphones for students in the dorm blocks that were most affected by the construction. Enough headphones were purchased to provide a pair for all students residing in Lovernich and Eden residence halls, Mathis said.
The construction has affected a wide range of areas. Crown Alpha Resident Advisor and Junior Jeremiah Anthony said he was not too perturbed by not receiving headphones.
"It doesn't bother me at all. I never noticed the construction and I don't mind I didn't get headphones," Anthony said. "There's bigger issues at Pepperdine."
Sengpaseuth said she finds the headphones helpful.
"They really do cancel out all the noise when I'm trying to study in my dorm," Sengpaseuth said. "I had never used headphones like these before, they took a little while to get used to, but I'm really glad that they chose to invest money in something like this."
Howell said she appreciates the thought behind the initiative.
"It's nice to know that they took our feeling into consideration when thinking about the construction," Howell said.
__________
Follow the Graphic on Twitter: @PeppGraphic