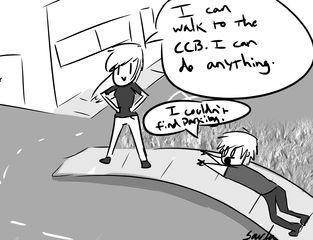 Art by Sacha Irick
If there was ever a good reason to own a car, being on Pepperdine's campus is it. Cars are a hefty investment, though, and sometimes a student cannot purchase one. In this case, the ordeal of going through Pepperdine car-less is tough but manageable. It all depends on your attitude, time management skills and how willing you are to ask your friends who do own cars for a ride.
Car or no car, you're going to walk up hills and stairs on this campus. You can't escape this horror unless you're particularly savvy. Upon arriving to Pepperdine's campus, every student must eventually make peace with this mandatory exercise routine. It can be a real pain, but having the right attitude about it can make it less emotionally distressing. There is no reason to see the hill leading from main campus to the CCB as some Herculean task. Just take it all one step at a time and enjoy the view.
Being a full-time student is the real feat; this hill is nothing compared to hours of studying, so enjoy the stress-relieving jaunt by thinking of it that way, as just a jaunt, no more no less. The same goes for the hill leading up to Drescher and the disillusionment that shuttles do not run on the weekends. Weekends are a time of leisure and no one is racing you to the top of that hill. Take it slow, take deep breaths, listen to music and think about your day. It's all going to be ok and before you know it you're on top of that hill, with the sense of accomplishment washing over you like those sports movies say it will.
Sometimes, though, you do not have time for a jaunt and you have to get to class on time. The shuttles are an amazing system provided to us on this, quite frankly, small campus. They run every 10 minutes at any given stop up until 5:30 p.m., then it's 20 minutes until the last shuttle rolls out of main campus at 10:30 p.m. With this shuttle system, and keeping a vigilant eye on the clock, arriving from place to place can be quick and easy. If you have extra time, it's advisable to grab the shuttle earlier. Don't wait until the closest run and then arrive late to class. Get to the shuttle with time to spare so you don't have to rush. Just stay on top of the shuttle schedule.
If Pepperdine's landscape tells you anything, it is that, though you may not have a car, that's certainly not the case for everyone else on campus. It's almost a given that one of your friends will have a car. Depending on your willingness to ask, there are sure to be people around who would gladly give you a ride in emergencies or even if your stop is on their way. There's even a chance that your schedules might line up. Try building a routine so that, when it's convenient, you can get a ride from them. They're your friends, and they'll help you out.
An alternative to friends for help is to depend on the kindness of strangers. This is especially true at night. If you're waiting for a shuttle at night, there is always the possibility of someone rolling up to you and giving you a lift. It's always a nice pick-me-up to have someone offer you a ride and make a new friend that way.
There is no reason why you can't function at Pepperdine without a car. No task is impossible. Walking from one side of the campus to the other is not the worst thing a person can do. There are people out there who are willing to help you if you ask, and the shuttles are always there waiting to give you a quick ride to class or back to your dorm.
_____________________________________________________________________________
Follow Edith Lagos on Twitter: @LagosTacos
Follow Sacha Irick on Twitter: @GraphicSacha
As published in the Sept. 12 issue of the Pepperdine Graphic.