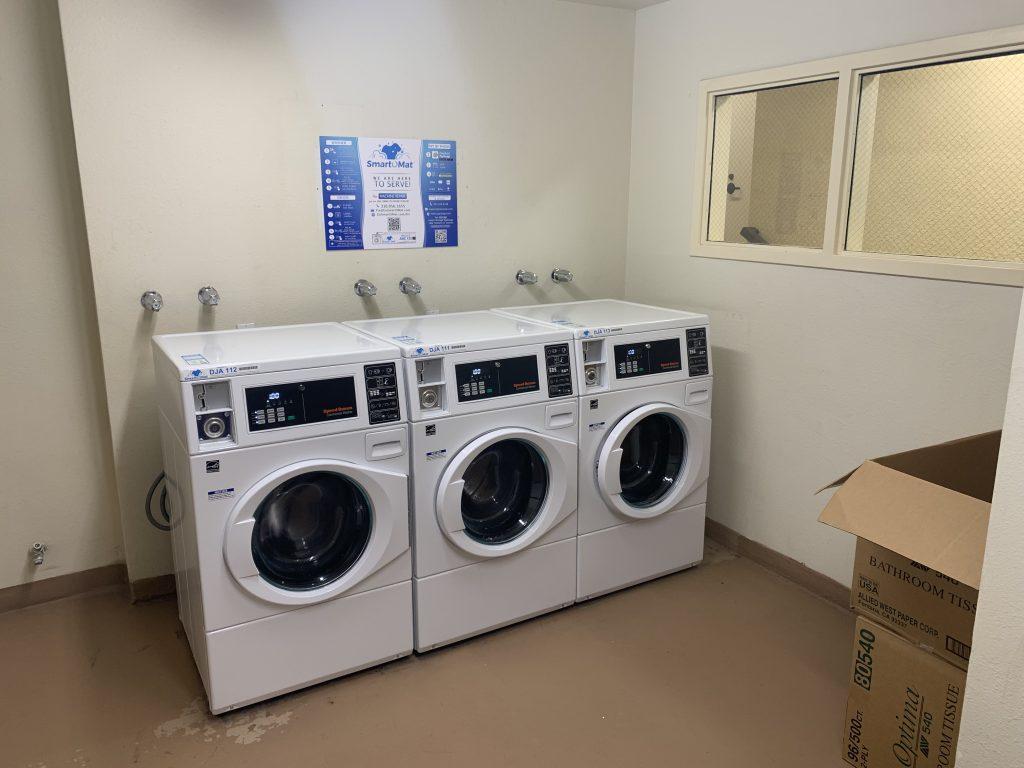 George Page Residential Complex's new Smart-O-Mat washing machines complete a laundry cycle Feb. 18. The new laundry machines can sync with the PayRange app to help students check on the status of their laundry, according to the Housing Office website. Photo by Alec Matulka
Students who settled back into their dorms after winter break, ready to do laundry, found a surprise waiting for them: new washing machines.
Pepperdine Housing and Residence Life installed new washing machines and dryers during winter break in partnership with Smart-O-Mat.
"Our focus was on finding a provider with exceptional service who could respond quickly to the needs of our students," said Luke Bost, associate director of Housing Operations. "HRL believes Smart-O-Mat will provide exceptional service to Pepperdine students."
Smart-O-Mat is a laundry provider based out of Los Angeles. Seaver ('16) and Graziadio ('17) alumnus Jonathan Hirsch founded Smart-O-Mat in 2017, according to his LinkedIn.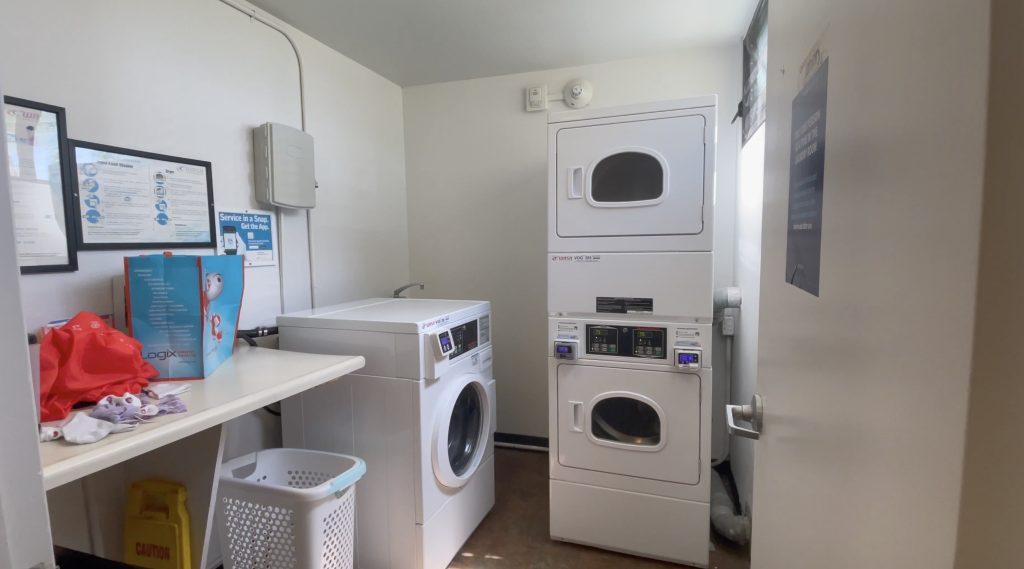 Pepperdine's former contract with WASH Laundry ended in July, which allowed HRL to explore alternative providers, Bost said.
Madeleine Zilligen, junior and Banowsky Hall resident advisor, said the previous laundry machines were difficult to use. Zilligen said she and her suitemates frequently put in maintenance requests on their WASH Laundry Machines.
Smart-O-Mat gives customers exceptional service and assistance through mobile technology, the Housing Office wrote in a Jan. 6 email to residential students. Residents can submit maintenance requests through email or phone, according to the Laundry Services website.
Through Smart-O-Mat, students can sync laundry machines with the PayRange app, the Housing Office wrote.
"Besides exceptional service, students will be able to use the PayRange app on their smartphones to pay for their laundry," Bost said.
PayRange allows users to pay with contactless payment methods at a variety of businesses, including laundry services, coffee shops and parking garages, according to the App Store.
Through the PayRange app, users can use a credit, debit or Electronic Benefit Transfer card to pay for and check the status of their laundry. Alternatively, students can pay for their laundry with coins, according to the Laundry Services website.
An EBT card gives eligible families and individuals financial assistance for food.
Ethan Barragan, junior and Seaside resident advisor, said he tried to use an EBT card to pay for his laundry with no success.
"I wish that could be an option for students who have the help," Barragan said. "A few cycles add up."
The cost of laundry remains the same as last semester at $1 to wash and 75 cents to dry per load, Bost said.
First-year suite-style residence halls received a second washing machine over break, the Housing Office wrote.
"Before, those particular laundry rooms only had one washer," Bost said.
First-year Diliana Iltchev said she enjoys the convenience of the PayRange app and appreciates an extra washing machine in her dorm.
"I don't think the new washers wash significantly better than the old ones, but I am very happy that HRL added another washer for us," Iltchev said.
As an alternative to the laundry system on campus, students can enroll in Tide Laundry services. Students can drop off their dirty laundry on Monday mornings on Lower Dorm Road and pick up clean clothes the next week, according to the Tide Laundry website.
___________________
Follow the Graphic on Twitter: @PeppGraphic
Contact Terra Hernandez via email: terra.hernandez@pepperdine.edu.