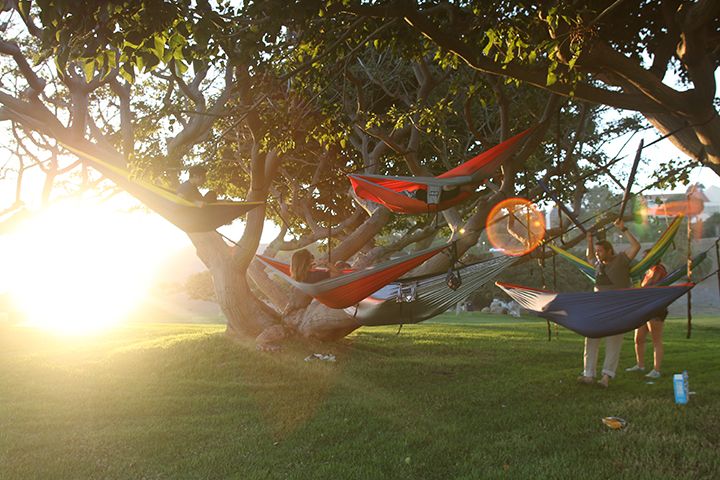 Photo Courtesy of Megan Duncan
The one-stop shop for hammock needs 
Eno Double-Nest $70
As the cheapest option on the list, ENO certainly does not measure up to the rest in terms of quality, but if a quick, casual hammock is what you're after, the DoubleNest is a reliable option. While this model is built for two, it has a carrying capacity of 400 lbs. It is definitely a fun hammock, but any serious hammockers should note that it lacks length, which leaves the user laying at an odd angle. Still, the ENO is sold by REI, and it lends itself nicely to an afternoon on Alumni Park.
King-Size Yellow Leaf $250
Yellow Leaf hammocks' premium price tag funds a social initiative aimed at supporting the Mlabri tribe in northern Thailand. The website boasts that each hammock is 100 percent hand-woven by hill-tribe artisans in rural southeast Asia. Each weaver can reportedly support five members of their family and provide education for their children. With a focus on sustainability and environmentalism, Yellow Leaf hammocks are perfect for those looking to invest charitably in a high-quality design.
Kammock Roo $100
With the motto, "the world's best camping hammock," the Kammock Roo is certainly a bold choice. With a variety of upgrade options, the Roo is a roomy and luxurious option. If you need more convincing, every hammock, bug net or rain tarp you purchase from Kammok provides five children in Africa with malaria vaccinations.
Hennessy Expedition Asym Classic $160
For a lightweight, weather-proof camping setup that fits in a glove compartment and is cheaper than a tent, Hennessy Hammocks are the way to go. They are durable, comfortable and easy to set up. The hammock comes with netting that keeps away bugs and an optional rainfly that guards against even harsh weather. Be warned, it provides no warmth whatsoever and can be miserable in chilly weather. In the heat, it is far better than a tent. For an extra 20 bucks, invest in two sleeves patented "Snakeskins" to make setup and tear-down a breeze.
__________
Follow the Graphic on Twitter: @PeppGraphic