Active members of Kappa Kappa Gamma embrace their new members after receiving their bids in Firestone Fieldhouse during Bid Night 2019. Pepperdine's Panhellenic Association decided to hold sorority recruitment virtually this semester. Photo courtesy of Megan Thomas
Pepperdine canceling all in-person instruction for the fall 2020 semester meant the University's Greek organizations would have no chance of holding their typical in-person Recruitment events. Despite the difficulties with online recruitment, the majority of Greek organizations elected to hold recruitment in the fall and saw normal turnout levels in potential new members.
Without on-campus community, joining Greek organizations have become a way for students to meet new people. Senior Matt Hempy, Alpha Tau Omega's Recruitment chair, said fraternities want to have traditional in-person Recruitment in the spring but will still hold online events this semester to garner interest from potential new members.
"We're in the process of figuring out what that looks like," Hempy said. "It's tough, you know — it's tough to get creative with that."
Social Fraternities
Pepperdine's fraternities decided to wait until the spring to do their Recruitment. Hempy said ATO executive board members made the decision shortly after Pepperdine moved the fall semester online.
The fraternities' executive board members spoke to each other after Ato made its decision, and Hempy said they all supported postponing Recruitment.
ATO moved its recruitment to the spring mainly because it hopes to have a normal Recruitment process next semester. Hempy said executive board members from other fraternities shared ATO's concerns about the efficacy of online Recruitment.
"It's tough, at least in our experiences, to get to know dudes just from talking," Hempy said. "I think you need to have different physical activities to see how potential new members carry themselves and operate."
Although postponing Recruitment gives active members and potential new members a better chance of having the full Recruitment experience, Hempy said it also runs the risk of lowering engagement levels all around.
Hempy said active members could become less engaged without the normal Recruitment events, and potential new members might not go out for Recruitment at all without the typical events in the fall.
"Every year, there are always kids who are on the fence," Hempy said. "I think we're definitely running that risk this year because maybe some of the people who are on the fence about it might not choose to do it in the spring because they've already found their groove, or they've found their people and their niche."
Hempy said ATO and the other fraternities will hold at least two online events each this semester to interest first-year students in joining their organizations. He said the fraternities already put on a Meet the Chapters event and are in the process of planning other get-togethers.
Business and Science Fraternities
Alpha Kappa Psi and Delta Sigma Pi, Pepperdine's business fraternities, held online Recruitment this semester. AKPsi President Alex Melnik said her experience taking Zoom classes made putting Recruitment online a hard decision.
"I was worried about our chapter experiencing Zoom fatigue," Melnik said. "How would transitioning to virtual operations affect participation and attendance and our commitment to build brotherhood?"
Melnik said more than half of active AKPsi members, including herself, graduate this year, and that greatly influenced the decision to have Recruitment online. She said Recruitment went well and her expectations were exceeded.
Melnik said AKPsi and DSP normally recruit separately and made their decisions to have Recruitment online independently of each other.
Beta Psi Omega, Pepperdine's natural science fraternity, held a three-day online Recruitment two weeks after AKPsi, DSP and the sororities.
Sororities
Pepperdine's Panhellenic Association oversees the University's seven sororities, and Kappa Kappa Gamma President Leila Anawalt said Panhellenic made the decision to hold sorority Recruitment online. Anawalt said she enjoyed the virtual events and thought Recruitment went well.
"Some people were worried that you couldn't get a good sense of someone based off a video and Zoom call," Anawalt said. "But it actually translated nicely, and we got to know the girls pretty well."
Kappa gave out 22 bids this year as opposed to the normal 25, but Anawalt said all the sororities' pledge classes were smaller than most years.
First-year Valentina Muñoz joined Kappa this semester. Muñoz said she had no intention of joining a sorority when she applied to colleges last year because all she knew about American Greek life was what she saw in movies.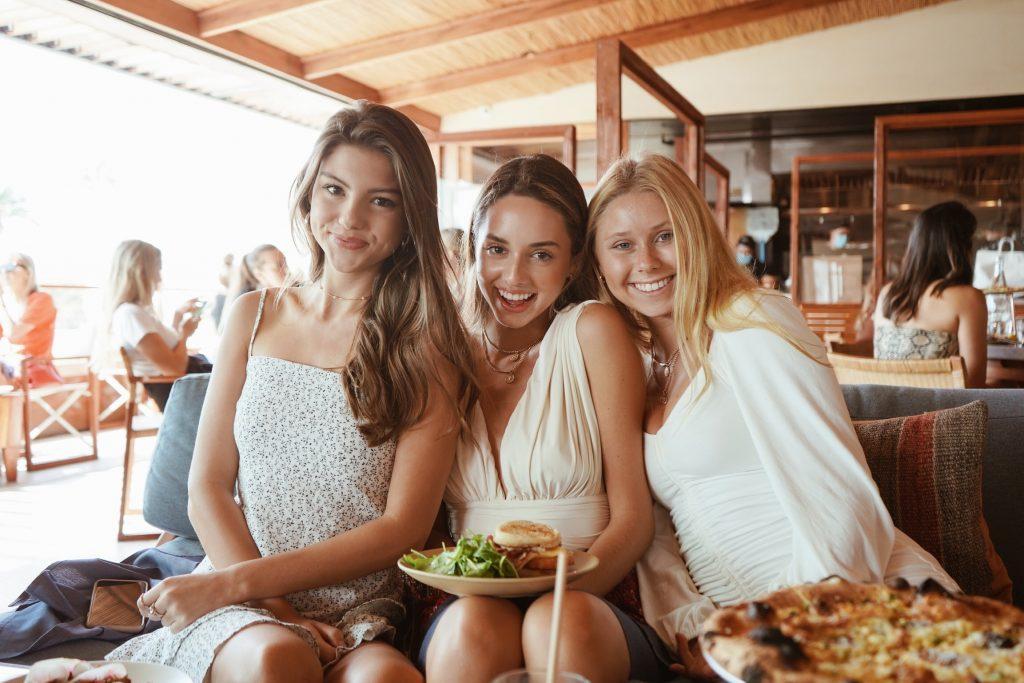 "When I finally got accepted into Pepperdine and saw how the school was, I was able to talk to people and ask them about what rush was like and what it meant at Pepperdine," Muñoz said. "From pretty much everyone, I got the same answer that it's not anything crazy and scary and intimidating — it's just a process that you go through where you can meet people and connect with them and socialize, have a good time."
Muñoz said holding Recruitment online meant she never felt intimidated, but she felt she did lose out on some of the traditional in-person activities.
"We definitely miss out on such a big aspect of that social, intangible part," Muñoz said. "I've seen Instagram pictures where the girls on bid day are screaming, having a good time, hugging each other — that's something so personal."
Munoz, however, said online Recruitment saved her time and energy.
"I was talking to the girls, and I remember how they told me, 'Recruitment in person is just so exhausting — you're out there for hours running around back and forth talking nonstop,'" Muñoz said. "Over Zoom, I think it was even better for me — it was manageable; I was able to like take a break, and when the cameras were off, I could take a breather."
Originally from Brazil, Muñoz and her family moved to Miami earlier this year. She moved to the Los Angeles area to live with a roommate for the semester. Muñoz said joining a sorority gave her an opportunity to meet people to spend time with around L.A., something which junior Peyton Lee had fewer concerns about before she joined Delta Delta Delta this semester.
Lee lives in San Clemente, CA, about 90 miles south of Malibu. Lee said she considered joining a sorority her first year but decided against it when her academic adviser expressed concerns about committing time to a sorority while majoring in Chemistry. She instead joined Beta Psi Omega, Pepperdine's natural science fraternity last year, but said she still craved more of the social aspect of sorority life.
"I felt like I still had enough time, having been into upper-division classes for my major and being in Beta," Lee said. "So this year, I decided that I was finally going to join a sorority as well."
Lee said she participated in Recruitment this semester because she had already made up her mind before it went fully online. She said she thought she might meet fewer new people with an online Recruitment, but she felt comfortable in the virtual setting.
"As an upperclassman rushing, I felt like the online format was not as bad because I knew a lot of people, so it wasn't intimidating," Lee said. "I think as a freshman, it would have been a lot harder to face it in an online format."
Despite the virtual Recruitment, Lee said she has been able to connect with her new sisters online and occasionally in person. Lee visited Malibu earlier this semester.
"I have a lot of sisters living in Malibu, so I was able to see a couple of them while I was up there," Lee said. "This week, one of the sisters was in Orange County, so she was dropping off our new Tri Delta stuff — like our backpack and T-shirts and our bids — to Orange County girls, so I was able to see her for a bit as well."
Muñoz and Lee both said they connect with their out-of-state sisters through group chats and online events that their sororities plan.
________________________
Follow the Graphic on Twitter: @PeppGraphic
Contact Kyle McCabe on Twitter: @kyledotmccabe or by email: kyle.j.mccabe@pepperdine.edu