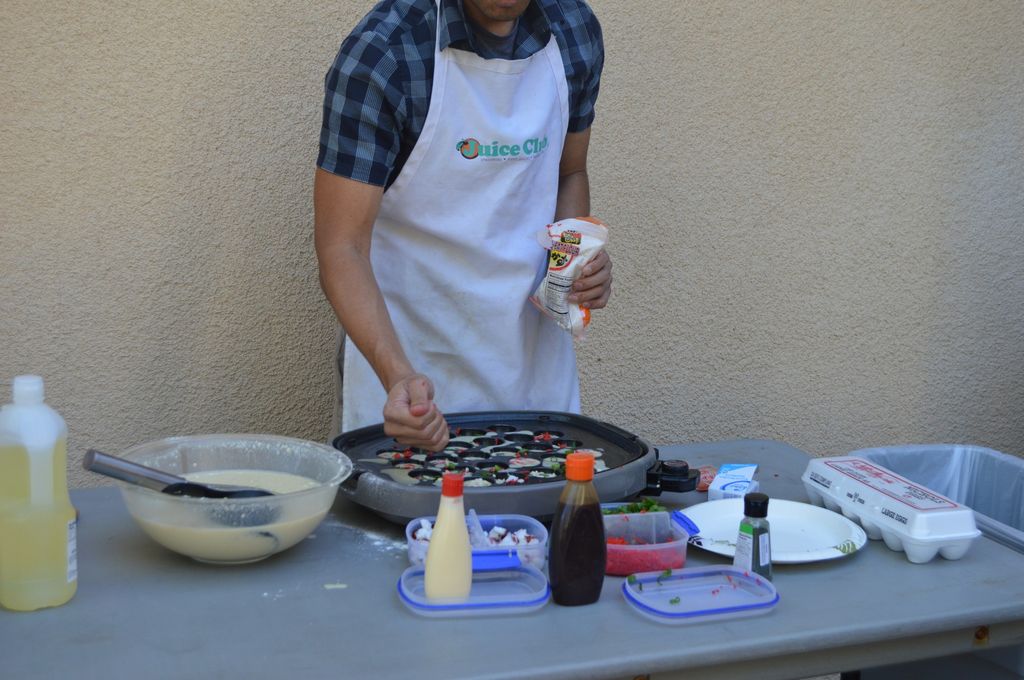 Photos by Madeleine Carr
The staff of Global Programs at Graziadio School of Business and Management served up authentic Japanese and Korean cuisine outside the Graziadio School Oct. 19 in an information session on the school's one-week international opportunities.
While cooking, staff discussed the four study abroad locations offered at the end of April 2017 for Graziadio's business students: Oxford, England; Dublin, Ireland; Japan/South Korea; and Italy/Switzerland.
"Students get on-hand experience on the ground, so they're able to apply what they learn in their classes actually on the ground at businesses in these countries," Kallan Picha, director of Global Programs, said. "They get a snapshot of what business looks like in another part of the world."
The Oxford trip centers on political economy, where the Dublin trip focuses on globalization of digital economy and the Japan/South Korea excursion concentrates on entertainment business, Picha said.
"It gives them access to unique areas of the world but also unique areas of business," Picha said.
Applications for these week-long trips open Nov. 5, each trip taking about 20 to 30 students. Global Programs fills the trips on a first-come, first-serve basis. Last year, the programs were full in a matter of 10 to 15 minutes.
"If you're not there with your hands poised above the keyboard, then you're out of luck," Picha said.
These brief programs provide students with the chance to meet some of the most prominent companies in their fields. Students traveling to Dublin get to talk to companies such as Facebook, Google and Airbnb, Seram Lee, Coordinator for Global Programs, said. Those going to Japan and South Korea get to meet with entertainment companies such as Nintendo.
Students in Oxford get to discuss how Brexit will affect Britain's economy with distinguished lecturers at Oxford University.
"We try to use a combination of company visits, organizational visits with also cultural excursions," Picha said. "Students get to talk to CEOs and CFOs and really find out how business actually works, but also get to experience the country."
These week-long April trips allow students to travel abroad without missing classes, Picha said.
At the event, many exchange students stood with plates in their hands, speaking various languages and laughing over ddukbokee, a traditional Korean dish.
"I wanted to try some food and meet some different people," Mia Ding, a 28-year-old exchange business student from China, said.
_________________________________________
Follow Madeleine Carr on Twitter: @madeleinecarr23