Photo by Milan Loiacono.
Mary Margaret Davis contributed to the reporting in this piece.
On Jan. 17, 1994, Los Angeles went dark.
The Northridge earthquake caused a mass power outage — 625,000 households lost power, hundreds of fires broke out and approximately 2 million Angelenos had the opportunity, many for the first time in their lives, to see the Milky Way.
The quake hit at 4:30 a.m. Residents walked out to their lightless streets and saw a sky full of stars.
Griffith Observatory and the Los Angeles Police Department later reported instances of concerned residents calling to ask about a 'giant, silvery cloud' in the sky, according to Phys.org.
The Los Angeles skyline, as seen from Griffith Observatory. Photo by Milan Loiacono.
"People didn't realize that there were stars in the sky," said Physics Professor Gerard Fasel, who teaches astronomy. "So that should tell you something about what light pollution does."
Light pollution is the excess use of light from street lamps, commercial properties, advertising, sports venues and other forms of internal or external lighting, according to the International Dark Sky Association (IDA).
Across the globe, 80% of the world's population lives under a skyglow that obstructs the ability to see the stars, according to the IDA.
"The night sky is beautiful," Fasel said. "There's a certain ambiance with the dark, night sky. But with light pollution, we lose that."
Fasel said light pollution negatively impacts his ability to study the night sky.
"[Light pollution] affects data," Fasel said. "The light scatters and gets into the sky. For observatories that are looking at the sky, it has an effect on what you can see — it inhibits it."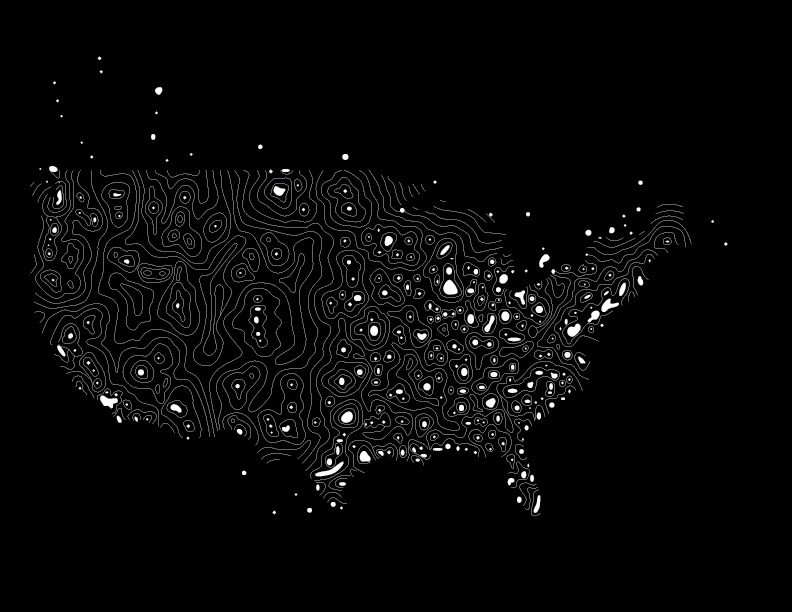 Dark Maps track light pollution (ex. NASA). In this artistic rendition, the dots are 'brightspots:' concentrated centers of light pollution usually denoting big cities. The lines radiate from these points much like a topographic map, tracking levels of light pollution as they fan across the country. Maps like this one help photographers and avid stargazers navigate polluted zones and search for an unmarred sky. Graphic by Natalie Rulon.
Encroachment on the environment
The biological activities of wildlife have depended on the rhythms of night and day for billions of years. With the advent of artificial light, humans have disrupted nature's cycles.
"Light pollution shapes habitats in the same way that, say, the construction of a road will," said Ariel Simons, an environmental biology student at the University of Southern California. "A road will chop up a habitat. … Light can do the same."
Light pollution threatens sea turtles the most out of all species, according to the IDA.
Mother sea turtles must find dark, natural beaches to lay their eggs. Hatchling sea turtles have evolved to look for bright horizon lines over the ocean to direct them into their final destination: the sea.
Rather than finding the safety of the ocean, hatchling sea turtles are often led toward brightly lit roads, cities and, ultimately, their deaths.
The IDA reported that millions of hatchling sea turtles die every year due to the impact of light pollution.
Simons said in other cases, species adapt to the harsh conditions.
"For example, if you're a mountain lion and you survived [the effects of human interference], you're going to quickly learn to avoid really loud or bright areas," Simons said.
Light pollution disrupts the activities of almost all nocturnal animals, according to the National Park Service. Predatory animals need the dark to hunt, while other animals need it to avoid their predators.
There are measures humans can take to lessen the effects of light pollution on wildlife. For example, Fasel said sodium lights, which are not as bright as the more commonly used LED lights, are becoming increasingly popular around observatories.
Cities are redesigning their street lights to point downward, redirecting excess light away from the sky.
Similarly, Pepperdine switched from globe lights, which projected light in 360 degrees, to downward-angled lights, said Lee Kats, biology professor and vice provost for research and strategic initiatives.
Impact on human health
Like animals, humans rely on a circadian rhythm that tells them when to sleep. Human bodies produce the hormone melatonin to help them fall asleep. Better sleep strengthens the immune system, according to the IDA.
Constant use of artificial light sources disrupts this rhythm and the production of melatonin, leading to less sleep.
Fasel said light pollution has a resonating impact on the mental health of humans as well.
"To me, the light pollution is not only about diminishing what we can see in the sky but also about a sense of well-being," Fasel said. "Having it is like having all this noise. You see all these lights? It's not a time where you can meditate and be quiet."
In the midst of a busy city, the light takes away from a greater sense of understanding, which can impact people in various ways, Fasel said.
"People are not aware of the universe that surrounds them because we have all this noise that goes out there and basically washes it out," Fasel said.
Check out NASA's dark map on Google Maps here.
Junior Rae Williams grew up on a farm in southwest Missouri, where the light from the nearest cities did not impact sky visibility.
"At times, [my grandparents and I] would go out and try to find the Big and Little Dipper," Williams said. "Now that my grandfather has passed, even when I'm out [here in Malibu], I can still go and find the Big and Little Dipper and it makes me feel close to him in some way."
Williams said growing up being able to see the stars has shaped her outlook on life.
"You lose a lot of your surroundings and the environment that was created for you when you move into an urbanized area," Williams said. "It has made me consider whether or not I do want to live in a big city because you're missing out on the world that was created for us and all there is to it."
To some, light pollution is a part of daily life.
Senior Ben Chiang grew up in Hong Kong, reportedly the worst city for light pollution on the planet, according to the South China Morning Post.
Chiang described his first time seeing the night sky without light pollution as an amazing experience.
"Not only were all the stars visible, I could also see planets," Chiang wrote in an email. "The more you begin to look, the more there appear to be. It was an endless experience."
Fasel, who regularly makes trips away from the skyglow of Malibu to less polluted areas in the north, expressed a similar sentiment.
"There's this sort of peace that permeates through the darkness," Fasel said.
___________
Email Vernie Covarrubias: vernetta.covarrubias@pepperdine.edu