Photos by Caroline Laganas
Golden sun rays stream down on the swarms of people meandering along Abbot Kinney Boulevard. The Friday air is full of fragrances, ranging from smoky pulled pork sandwiches to the sweetness of fresh crepes dusted with cinnamon and sugar. Trendy clothing shops and small restaurants advertising "Happy Hour" are scattered above the sidewalk. The streets are lined with vibrant food trucks, making it impossible to commit to just one.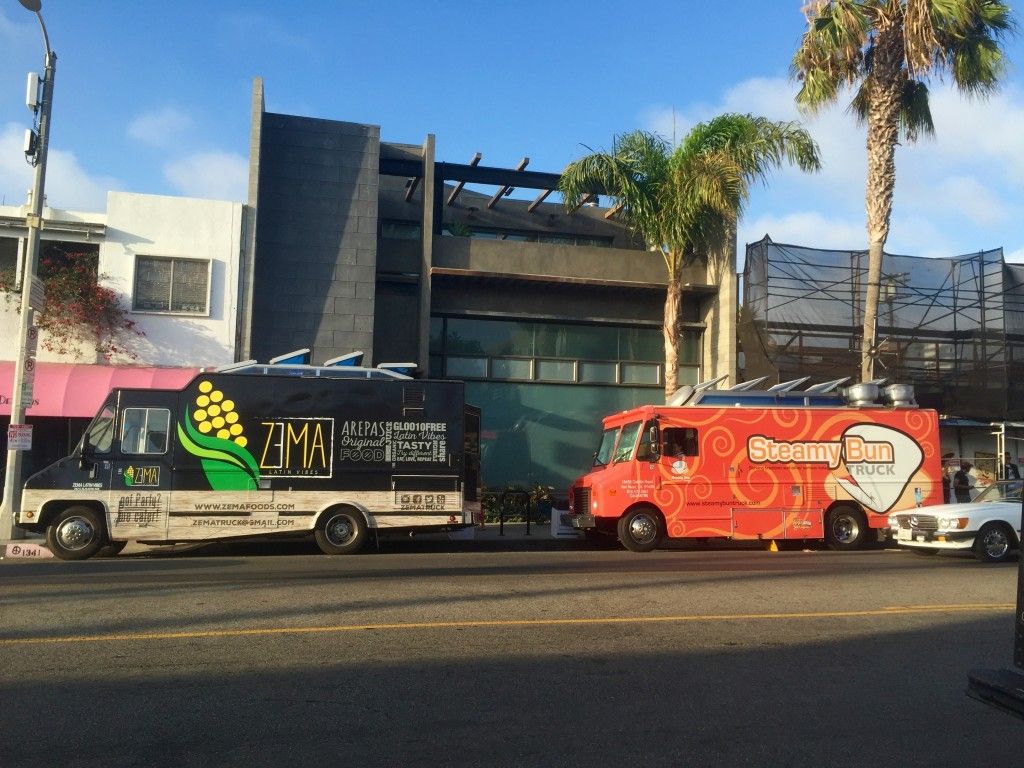 Every first Friday of the month, a plethora of food options and growling stomaches gather in nearby Venice for First Fridays. From 5 to 11 p.m., Abbot Kinney Boulevard is a place to explore exotic foods, try new cuisines such as "wachos" (waffle fries smothered with nacho toppings), combine homemade familiars with all-time favorites (grilled cheese sandwich filled with mac and cheese), quench a simple thirst or satisfy a sweet tooth.
First Fridays accommodates numerous cravings, no matter how specific. Whether it is a waffle topped with ice cream or chicken wings, Maine lobster, Korean BBQ, pudding, or red velvet ice cream between homemade cookies, a food truck eagerly awaits to take an order.
"It's a little overwhelming if you have no idea what you want to eat," says Pepperdine junior Abby George. She notices that as the sidewalk broadens, so do the meal choices (and her appetite).
No two food trucks are alike, so attending First Fridays can give you the best of multicultural worlds. For health-conscious eaters, food trucks offering organic and gluten-free options such as "Organic Fusion Cuisine" serve meals ranging from veggie wraps to low-calorie salads. For the person craving a Southern dish, the food truck "Peaches" supplies savory fried chicken. "RICHEEZ" attracts grilled cheese and sandwich lovers alike. "Mad Pambazos" boasts delicious sourdough bread dipped in salsa, which is then crisped panini style.
"Thankfully there will be more First Fridays so I can come back next month for whatever I missed out on!" says George as she takes a bite out of her caramel-filled Creme de Leche cupcake.
Similar to the cuisine, First Fridays also attracts a diverse group of people. An elderly couple holding hands strolls past a clique of hipster-dressed middle school girls waiting in line for their ice cream cones. A family of five squeezes into a picnic table while the mother assists her toddler with holding a burger too big for his own hands. The venue is scattered with Pepperdine and other college students, adults coming straight from work, bright-eyed teenagers, families, and children.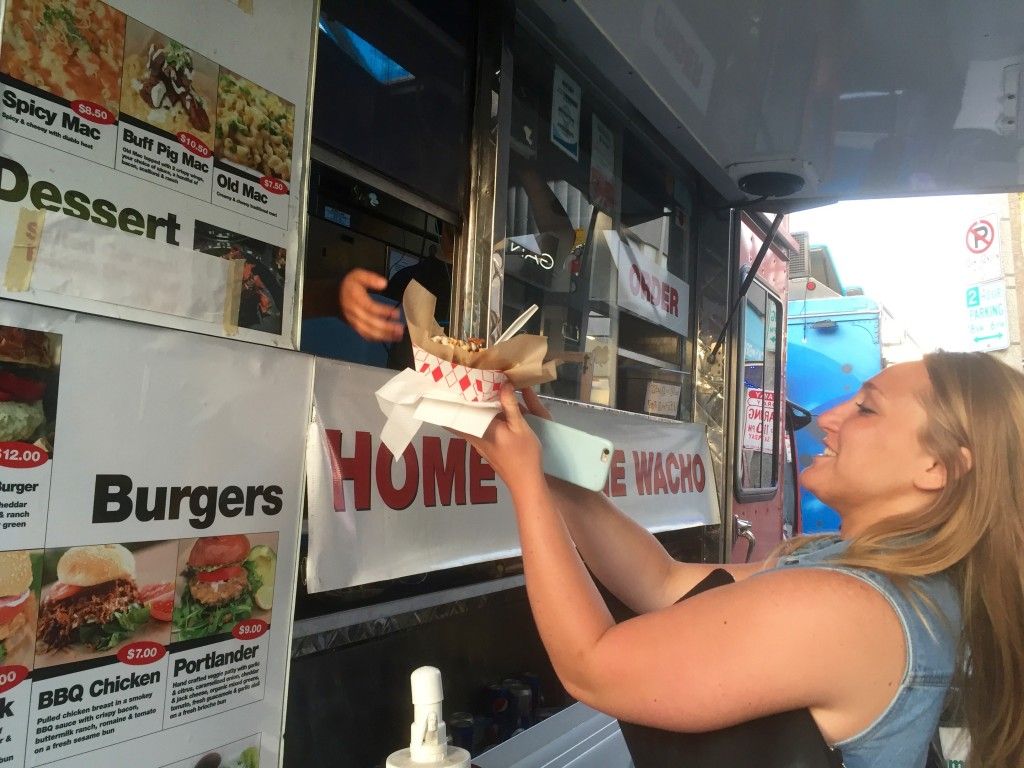 On select side streets along the boulevard, picnic tables are assembled with food trucks surrounding them. Seating can be difficult to find, so many people resort to eating their meals on restaurant patios, standing and savoring with friends and family in front of the trucks or simply resorting to enjoying their cuisine on the curbside.
Regardless of where your hankerings take you, First Fridays offers an electric atmosphere to socialize with friends, meet new people, seek out unique dishes, and leave with a satisfied stomach. When the food trucks and people at First Fridays are blended together, Abbot Kinney Boulevard transforms into a true melting pot.
_______________
Follow the Graphic on Twitter: @PeppGraphic