From left to right: Julian Johnson, Izzy Loya, Angela Ross and Adrian Johnson.
Alumnus Izzy Loya ('13) and his band have secured an April residency at TRiP
You can't quite put a finger on their sound. Los Angeles based band Jonny Come Lately's sound is a fusion of a lot of different genres — ska, rockabilly, rhythm and blues, and soul — just to name a few.
"Mix it all together, and we call it 'skankabilly soul,'" said lead singer and guitarist Izzy Loya.
Loya and the rest of Jonny Come Lately have secured an April residency at TRiP Santa Monica, a local bar and concert venue. The band will perform a show every Sunday night in April. The band's first show of the series was on Sunday, April 6.
[youtube phGJtqSvrmI]
Loya and the other band members — Julian Johnson on standup bass, Adrian Johnson on guitar, didgeridoo and other percussions and Angela Ross on drums — have been performing on and off at TRiP for years. Loya's sister, Briana, sometimes lends her vocals to the band as well.
Years ago, Loya walked into the bar one day and introduced himself to the bartender. He gave him a link to their videos, and explained how the band finished in the top 20 of NBC's "America's Got Talent" in 2007.
 * * *
The band formed in the spring of 2006. Ross was playing in two bands simultaneously and eventually fused the two together — thus Jonny Come Lately was born.
After gaining national recognition on "America's Got Talent," the band was "offered a couple of record deals," but their parents encouraged them to pursue a college degree instead.
Loya graduated from Pepperdine University in 2013 with a major in sports production. During his time as a Wave, Loya was heavily involved in the university's communication department. He was a producer for NewsWaves, a student-produced news show. He was also a reporter and anchor on "The Sports Report" and a commentator for athletic events in Firestone Fieldhouse. Today, the 23-year-old is the head weekday sports producer at KTLA 5, an LA television station.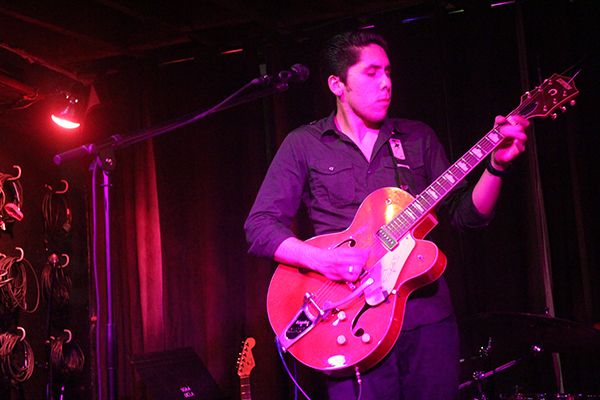 When he's not producing sports, music offers him a creative outlet. Loya said playing live and recording music with Jonny Come Lately is his catharsis.
"Music means everything to me that I hold dear," Loya said.
 * * *
If you weren't able to catch Jonny Come Lately at their first show, you have three more chances. They'll be performing at TRiP* on April 13, 20 and 27. Grab yourself a drink because the group is admittedly "always late to gigs."
*Must be 21 and older
_____________________________________________________________________________
Follow Whitney Irick on Twitter: @Whit_Ashton
Follow Darlene Melendez on Twitter: @DarleneMelendez