Photos by Terra Atwood
Perched atop a chair in her dining room, senior Hannah Cooper leans over the table to get the perfect picture of her meal.
"She does this all the time," her roommate, senior Mary Mattingly said. "I'm not allowed to eat until she's taken a picture."
Cooper, a Nutrition major, runs the Instagram account @califoodielifestyle in her spare time.
"I started a food blog because I was gluten-free," Cooper said, "It was a way for me to reach out to other people that were gluten intolerant. Once I got to college, I switched over to Instagram. It was a quicker way to reach people."
Cooper credits her switch to the amount of time people spend on their smart phones. Since she originally started her online food blog in high school, Instagram has become one of the most downloaded apps in the world, with about 800 million active users as of September. Within the world of Instagram, you'll find the subculture of food bloggers.
One example, New York-based food blog @feedyourgirlfriend, has over 120,000 followers. Another account, @instafood_lover, has over 400,000 followers. While dietitians and nutritionists teach you how to cook the best meals for your body at home, accounts like @plantbasedjane, with over 180,000 followers or @earthyandy, a plant-based mom with over 800,000 followers, focus on the healthier side of food blogs.
Each individual can find an account that fits their wildest food dreams, no matter the nutritional value.
"I think a lot of it started out from indulgence, with crazy concoctions of desserts or fried foods. People saw those and lived vicariously through the pictures," Cooper said. "But now with the new healthy mind set of things, you can see how a lot of food Instagrams are switching over to more healthy but still aesthetically pleasing foods. It caters to the different side of the spectrum, where people are on Instagram to find ways to eat healthy."
Despite the newer, healthier side of Instagram Cooper finds herself drawn to, the indulgence side still has fans of its own.
One repost from a famous Instagram account and a restaurant may draw lines around the block, curving through city streets, filled with people who want to try the latest food trend.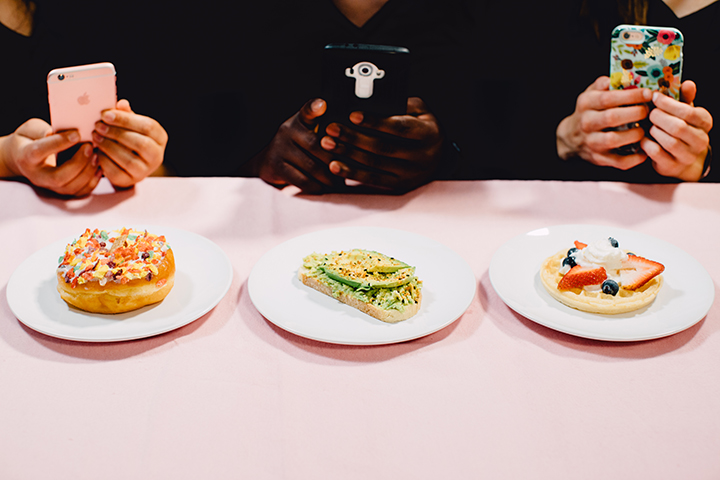 Dominique Ansel Bakery in New York nearly "broke the internet" with their watermelon soft serve served in a watermelon slice this past summer. The previously mentioned @feedyourgirlfriend posted a photo holding the slice and racked up over 5,000 likes, resulting in Ansel's selling out of the soft serve. Thanks to their social media popularity, Ansel's has since opened up a West Coast location and their first ever restaurant at The Grove.
This goes to show that people all over the world are traveling and seeking out the hottest trend, then waiting hours to get it, but is it always worth it? Cooper said no.
"It's fun, you get to go take pictures at all these places, but at the same time, you're paying a lot more," Cooper said. "I've been to that place where you can get black ice cream and drove downtown, and I stood out in that line, and I waited for 45 minutes for charcoal ice cream because it was trending, and I wanted to get that picture. In the end, it didn't even taste good and was not worth all the money."
Cooper is not the only person to feel this way. A recent article from Zagat, a restaurant review guide, reported that 60 percent of diners is the U.S. use social media to look at photos of food, and 75 percent of those diners have chosen a restaurant based on photos alone.
In the same report, Zagat said that 44 percent of diners take pictures of their food to share on social media, and among those polled, 60 percent admitted they have stopped friends from eating to take an "Insta-worthy" photo first.
Cooper is not the only one who's been drawn in by the photos she sees online of trending hotspots.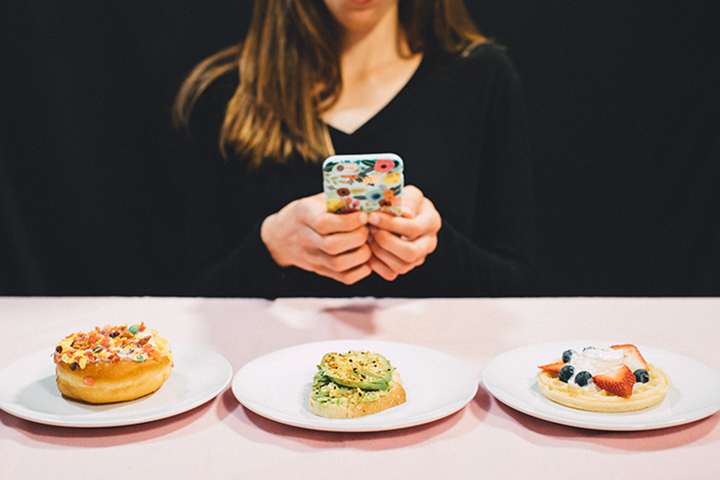 Senior Lauren Gottschall is a self-declared Insta-food connoisseur. Gottschall spends her weekends at the hottest LA restaurants. Armed with a folder of saved places on her Instagram, she is never short of new dining possibilities. While she does not run a food blog like Cooper, she often posts these meals on her Instagram Stories.
"Oh, I have a million new places and meals saved on Instagram," Gottschall said. "I mostly send them to other people, so the amount of food I look at is pretty endless, I think I send my sister and boyfriend at least two to three pictures a day."
Gottschall has only made a small dent in the hundreds of photos she's saved, saying, "It's definitely up over 50. Honestly I might even be lowballing it. But for sure somewhere up around there, I try to go to a new place at least every two weeks."
While some people are disappointed when reality doesn't live up to the picture perfect image they first found, Gottschall rarely runs into that issue.
"More times than not, I end up loving something on the menu," Gottschall said. "I wouldn't say I've ever been like, 'oh my gosh this is awful,' but there have been times where I built it up in my head a lot, and it could have been better."
People like Cooper and Gottschall, the "foodies" of Instagram, are constantly posting photos of new meals to their accounts. While Cooper's focus is on the healthy foods she loves and how to make them at home, Gottschall's is full of images including everything from rainbow grilled cheese to cotton candy made to look like Marie Antionette's head.
The world of food-oriented Instagram accounts truly has something for everyone; it just might cost you a drive downtown and a pretty penny.
________
Follow Currents Magazine on Twitter: @PeppCurrents