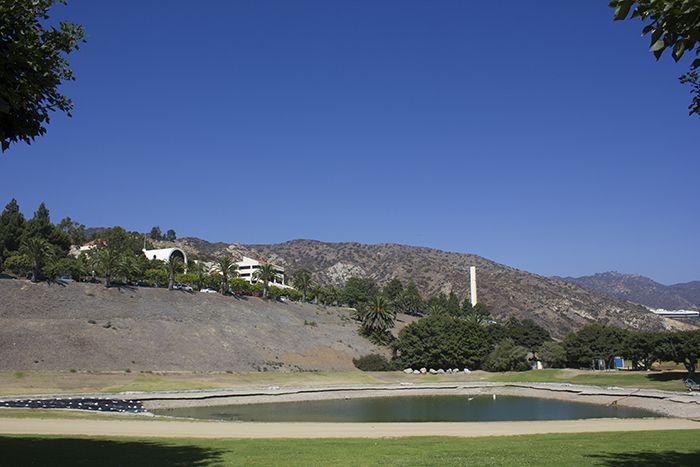 Photo by Sarah Malone
A new home— The recently discovered koi fish wil have to be relocated from the east pond. Koi fish are normally kept for decorative purposes and can grow up to almost 40 inches.
No one in Pepperdine administration has reported knowledge of where the koi came from. There has been speculation that an anonymous contributor gifted a small school in the campus' east reservoir of Alumni Field, but such speculations have not been confirmed.
The fish themselves were not discovered until early last week, when routine maintenance of the east reservoir — which included draining of the water and removal of surrounding plant life — caused several of the koi to go "belly-up."
Public Relations Associate Tiffany Wright said the reservoirs were constructed as reclamation pools to facilitate irrigation across campus and are "not meant to support aquatic life."
Wright added that the removal of vegetation, which diminished the water's oxygen supply and caused the deaths of multiple koi, was necessary to preserve the reservoir. The roots of the removed plants were undermining the liners and beginning to create holes, which would have resulted in the reservoir's water loss and no home for the mysterious fish.
Koi fish left unattended also carry a reputation for causing turbidity, a self-destructive reduction in water quality that could have eventually rendered the reservoir uninhabitable.
No matter what outlook, it seems the koi cannot win.
However, the university reacted quickly to this "koi calamity," and more than 60 specimens have been safely transferred into the west reservoir, which is not scheduled to see similar maintenance.
"We are considering having the fish relocated entirely," Wright said, "but, as koi are not native to California, the California Wildlife Center is unable to do anything."
For now, the future of the koi is as murky as their past. Until the university learns more about potential relocation sites for the fish, they will continue swimming in the waters of the west reservoir — enigmatic icons of perseverance in adversity.
_____________________________________________________________________________
Follow Alex Free on Twitter: @alex_pepperdine
As published in the Oct. 3, 2013 issue of the Pepperdine Graphic.