Photos by Ali Levens | Mike Rivera and Alex Abdalla smile at the crowd after being honored at halftime of the soccer game Saturday.
"Come on, Pepp, remember who we're playing for — let's go!"
Those were the words sophomore Trinity Watson said in the 20th minute of the women's soccer game versus Pacific University on Oct. 26.
During halftime, the Pepperdine soccer team celebrated the first responders from last November's tragedies. Woolsey Fire responders from Station 88 in Malibu, Alex Abdalla and Mike Rivera, attempted to score goals to commemorate their heroic actions one year later.
"We're honored that you guys have us over here," said Rivera, who spent 14 days fighting the fire. "The public here has been receptive with us and warm, so we appreciate that. You know we're always here to help you guys do anything we can. We do appreciate it."
All first responders received free admission to the game, as well as a special "Team 27" patch for the number of fire engines sent out during the first hour of the Woolsey flames, according to the LA Times.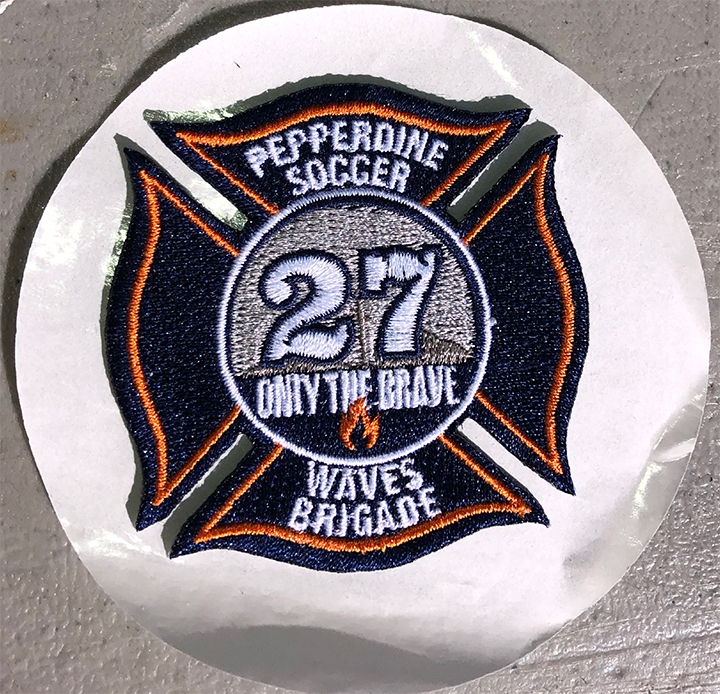 The first responders received a "Waves Brigade" patch.
Abdalla was at the station the day the Woolsey Fire began, which was also the same day as the Borderline Shooting, and ended up serving six consecutive days to combat it.
"You never forget something like that," Abdalla said. "It's definitely something that is on my mind, and the healing process is going to be long. It's one year later, but at the same time, it's fresh in everybody's minds, [and] the best thing we can do to help is prevent something like that from happening again."
The healing process of serving in a tragedy is difficult, as 7-to-27% of firefighters meet the requirements for having PTSD, according to verywellmind.com.
"There're certain things that affect me more than others, but luckily we have the guys we work with, we talk about it," Rivera said. "[We] talk about it in the rig, and we talk about it when we get back. We also have certain phone numbers that we can contact that specialize in that. We can have resources to help us do this, but mainly it's just between us. We talked about it and feel better and help each other through it."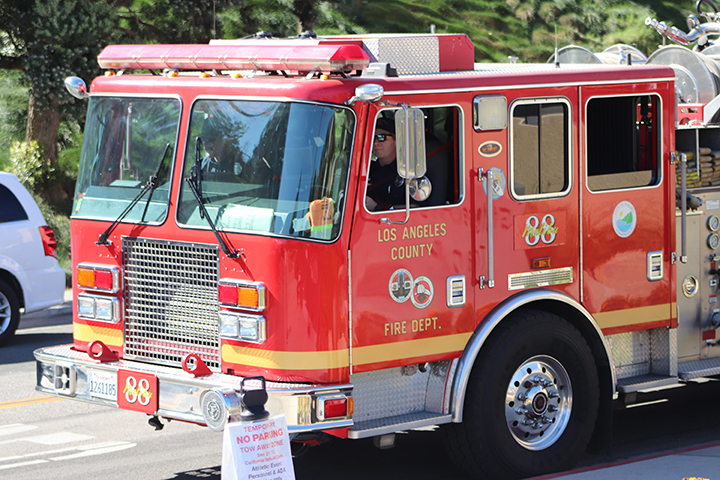 A fire engine from Station 88 in Malibu.
While the first responders said they are in the healing process, the players on the soccer team said they believed it was important to compete for those who risked their lives to help the community.
"It was all in the back of our minds that we were playing for people who fought for the campus and saved so much of it, including our own field," sophomore Isabel Nelson said.
The soccer team dedicated the entire 2019 season to the first responders during the game.
"Just to have an opportunity to say thank you was great, 'cause it's been in our hearts all year," Head Coach Tim Ward said. "Our girls were really moved and affected by what happened a year ago."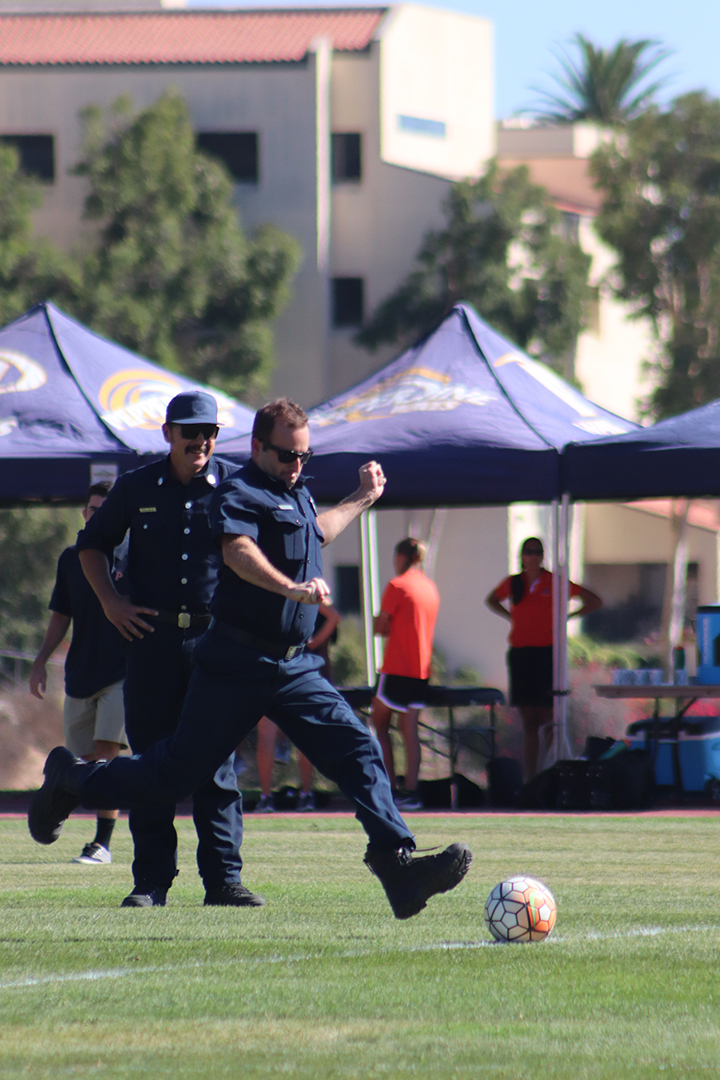 First responder Alex Abdalla prepares to make contact with the soccer ball while coworker Mike Rivera watches.
Fighting fires is a complex and challenging occupation, as firefighters can get severe burns, can be injured from falling structures and are prone to lifelong health problems from being around smoke, according to the Houston Chronicle. As dangerous as it is, both Abdalla and Rivera said they are proud of what they do to help those in need.
"[Being a first responder has] been real rewarding just because on any given day, anything can happen," Rivera said. "It's when people have a crisis, and that's the biggest crisis in their life that they've had, and for us to be able to go there and help mitigate the problem, put them at ease, and that's real comforting to be able to do that."
Responding to tragedy is best overcome by banding together and comforting one another, Rivera said.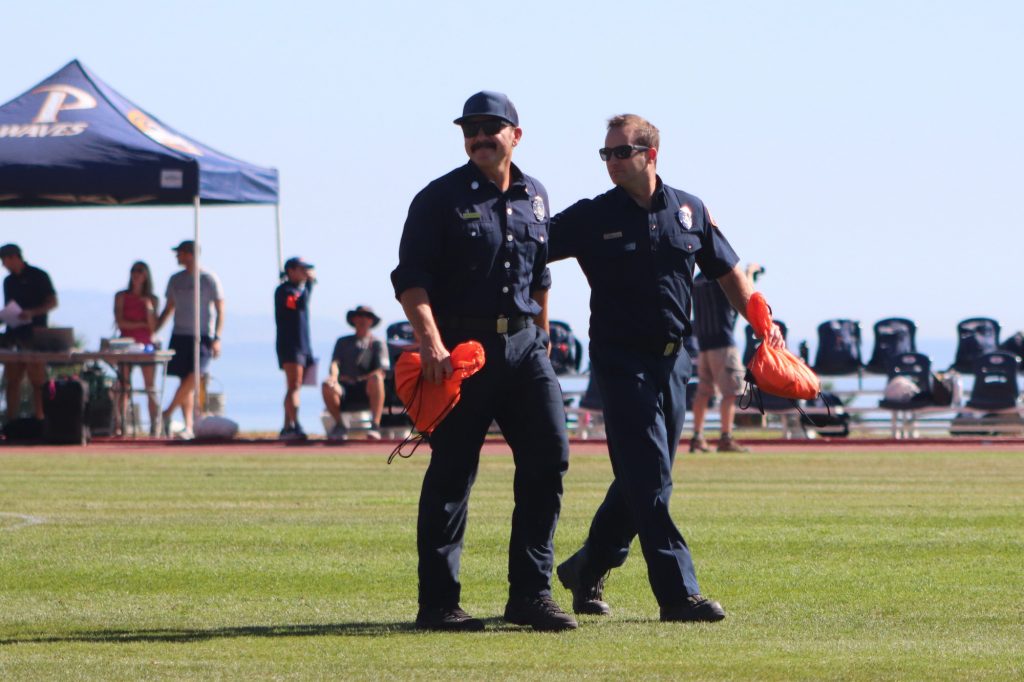 Mike Rivera and Alex Abdalla smile at the crowd after being honored at halftime of the soccer game Saturday.
"Things do get better, things will get better," Abdalla said. "The human body is very resilient and people are strong. Being able to come together as a community, that's the most important thing to help with the growth factor."
The Waves dominated the Pacific Boxers, 4-0.
____________________________
Follow The Graphic on Twitter @PeppGraphic
Contact Ali Levens: ali.levens@pepperdine.edu or Austin Hall austin.hall@pepperdine.edu