Photos by Shawn Jones
As freshman Matt Zupan glided down Lower Dorm Road to class on his Razor scooter on Nov. 4, his joyride was halted by the flashing lights of a DPS patrol car. He was pulled over and reprimanded for his method of commute and was told further use would result in a write-up, much like a parking ticket. Instead of surrendering his scootering days to Public Safety, he began a petition to allow their use on campus.
The night of his DPS encounter, Zupan used the website www.change.org to create his petition, "We are commuters who just want scooters." Currently, scooter, rollerblade and skateboard use is forbidden on campus; however, bicycle use is permitted.
Regulation 2.10.00 in the Pepperdine Parking and Traffic Regulations list states, "Riding skateboards, rollerskates, inline skates, and Razor scooters (or similar recreational devices) are prohibited on campus and may result in a citation, confiscation of the equipment and/or disciplinary action."
Zupan could not afford a bicycle, but found an alternative, time-saving method for getting around campus. Enter the non-electric scooter. Walking around main campus, more students are seen wielding a scooter than a bicycle. Due to their popularity and his encounter with DPS, Zupan saw a need for a petition that would ensure the livelihood of Pepperdine's scooter culture. His main arguments why scooters should be allowed over skateboards or rollerblades is because they are easier to control with their braking systems, handlebars and two wheels.
"I literally Googled how to use a petition — they were totally free and made it easy to say what you wanted to say," Zupan said.
As of last night, 49 students had shown their support, leaving comments after signing the petition that highlight their desire for scooter freedom.
"I have sprinted to class far too may times to not support this noble cause," freshman Elle Lemco commented on the petition's website.
Zupan said the number of signatures on the website is not necessarily significant, but tracking how many others have signed does help motivate students to join the movement. In addition to the petition, Zupan has emailed President Andrew K. Benton and the Student Government Association requesting the regulation be changed. While a reply has not yet been received, Zupan said he will continue to fight for commuters wanting scooters.
"If worst comes to worst,  I will keep mass-emailing AKB to see what we can do," Zupan said.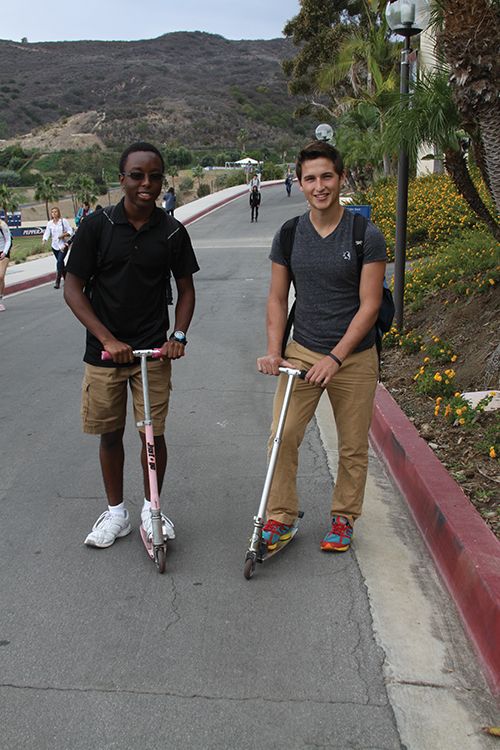 The DPS officer's reasons for stopping Zupan and other commuters with scooters deal primarily with safety precautions. While he was told the steepness of campus makes scootering dangerous, Zupan highlights in the petition how their allowance would maximize time and productivity and also addresses the incline issue.
"We really just want to scoot on Upper and Lower Dorm Road because it's not very steep there and is where all of [our] classes are."
Riding up to Convo yesterday on his scooter, sophomore Jeremy Erisman expressed his full support for the change in regulation. He had been sent an invitation to sign the petition through Facebook and continued to spread the news by sending the link to his friends after signing it himself. Living in the furthest dorm on Greek Row, Erisman agrees with Zupan that using a scooter makes getting to the caf and classes much quicker "because all of the hills on campus . . .   and walking is a pain."
According to legalize scooter use over that of skateboards or rollerblades is their similarity to bicycles, as both have a brake system, two wheels and handlebars that allow for better control. Although the safety of students is a major concern of the university, Zupan said he would be willing to compromise and wear a helmet if the university felt strongly about the safety issues.
"Ultimately it would be fun to scoot around, but the main purpose is it would just save so much time and be so handy that it would be worth the helmet," he said.
Zupan said even though his run-in with DPS was embarrassing, it resulted in something that may be a positive change for many students. "There were people around. Women saw me. It was really humiliating, but I feel like I have street cred now," Zupan said.
For now, he is hopeful SGA will become involved to help him continue to fight for the right to scoot.
__________
Follow Katrina Kirsch on Twitter: @Katrina_Kirsch