Photos courtesy of Pepperdine Graziadio Business School
The Pepperdine Center for Women in Leadership partnered with the Pepperdine Institute for Entertainment Media and Culture to present "Women in Creative Leadership," a screening of Cady McClain's documentary film "Seeing is Believing: Women Direct" followed by a panel of female directors and industry professionals including McClain, Bethany Rooney, Lizzie Borden, Finola Hughes and Carla Garapedian. The event took place at the Pepperdine Graziadio Business School Monday, March 19.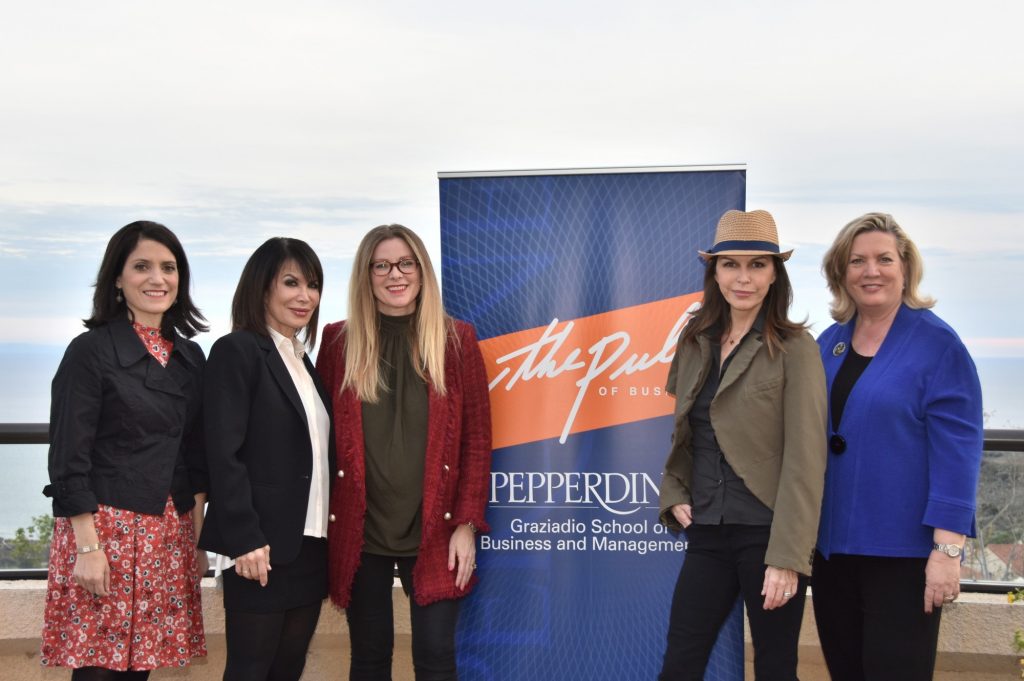 From left to right: Carla Garapedian, Lizzie Borden, Cady McClain, Finola Hughes and Bethany Rooney
McClain moderated the panel. She said she wanted to invite viewers into a unique conversation with women on the front lines of directing film and television, and she wanted to detail how women can successfully overcome creative, cultural and professional obstacles to be outstanding leaders.
"We're here because we wanted to be great leaders," McClain said.
Speakers talked about their obstacles as female pursuers of directing roles in the film industry and about the unpredictability of creative teamwork.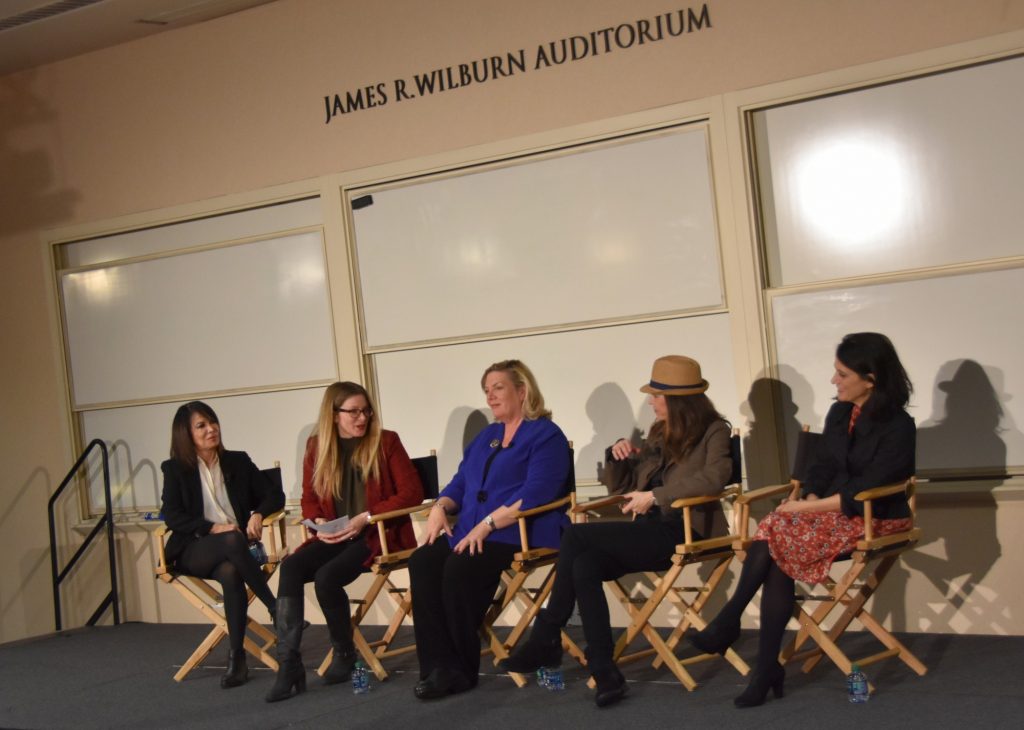 From left to right: Lizzie Borden, Cady McClain, Bethany Rooney, Finola Hughes and Carla Garapedian
"The early 2016 statistics were that women directors made up eight percent of television," Rooney said. "In 2017 it went up to 16 percent, and the most recent statistics are that women directors [represent] 23 percent."
The speakers also talked about how widespread education in gender equality has helped the numbers grow and how they sometimes feel "benefitted" from being women.
"I think I've benefitted from people not taking me seriously [as a director]," Garapedian said. "I can go under the radar [and] that way I can actually observe people's behavior and make decisions before anybody condemns it."
The wider topic, however, focused on the challenges of being a woman in the workplace, including forming relationships with male crewmembers.
"Men are afraid that women will laugh at them. Women are afraid that men will kill them," McClain said, quoting Canadian writer Margaret Atwood. "Being a woman on a set when you're dealing with an ingrained paradigm of male dominance, and being a woman knowing that this might be in some men's minds, how do you communicate with them and inspire them to become members of your team?"
The speakers answered, discussing how they've had experiences where they have had to deal with men with big egos.
"There's a moment where you can panic," Hughes said. "But you need to learn how to deal with the system and learn your voice."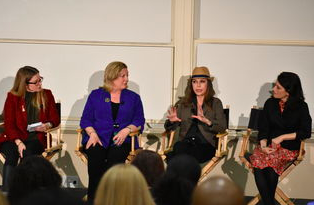 From left to right: Cady McClain, Bethany Rooney, Finola Hughes and Carla Garapedian
After the panel, the directors answered questions on a one-on-one basis with the audience. Before the end of the panel discussion, McClain gave some tips to aspiring female filmmakers.
"Don't quit," McClain said. "It's tough out there, but we want you to be great leaders. We want you to use your voice."
Senior Moises Barba Jr., media production major, said the documentary screening and panel discussion was eye-opening for him.
"I thought that no matter who you were in the audience, the words that the women on screen had to share were empowering," Barba said. "I felt incredibly encouraged and more conscious of the role that men have to play with this new generation of filmmakers in relation to women."
Sophomore Amber Jaycox said she's glad Pepperdine is hosting events that can empower female students.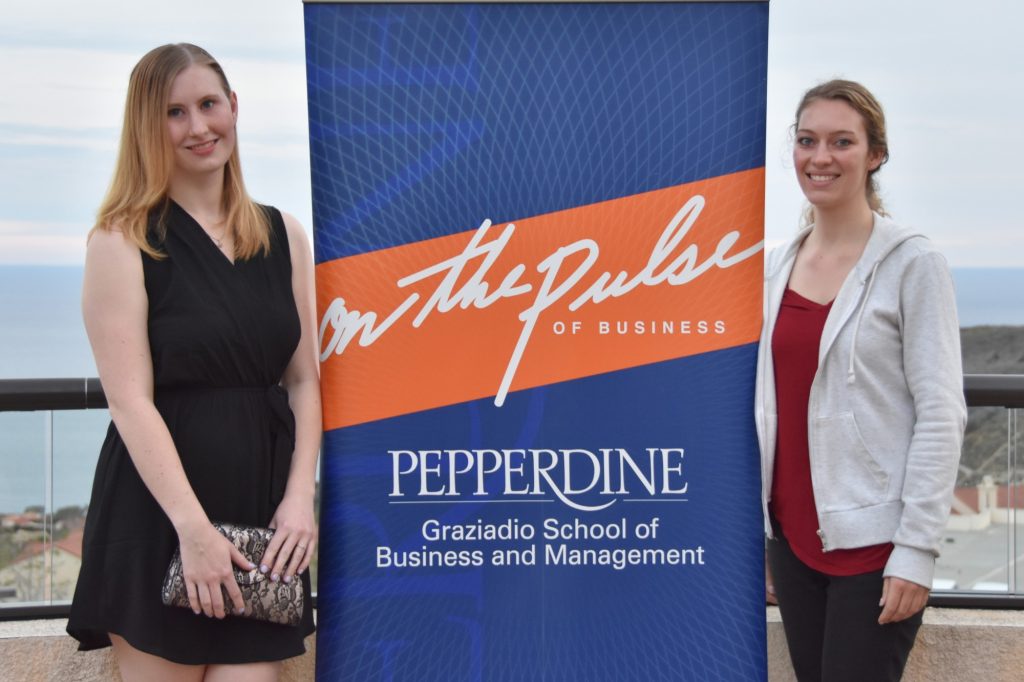 From left to right: Amber Jaycox and senior Callie Shelley
"I thought [the event] was really inspiring because you're seeing these women in the industry, and they're making it," Cox said. "But it's also really eye-opening because you realize that if this is something that you're passionate about, it is going to be a very long road."
___________
Follow the Pepperdine Graphic on Twitter: @peppgraphic