Photos by Kristin Vartan
Vibrant signs filled Pershing Square Saturday morning for the second annual Women's March in Los Angeles: "Girls just want to have fun-damental rights" and "Teach girls to be somebodies, instead of somebody's," to name a couple.
LA Marchers — women, men and children alike – expressed their soliditary for women's social and political rights through contagious chants and posters, but many used another medium as their signage: their style.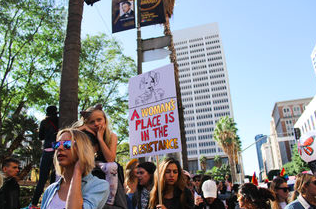 Demonstrative dress has been a feminist idea as early as the Suffragette movement in England, according to The Guardian. Women world-shakers decided to intentionally wear garments fashionable and traditionally feminine during that age to eliminate the stigmas of female progressives being against feminity all-together. Their strategy not only brought attention to their cause from the media, but expanded it by drawing liberal and conservative women alike to the inititaive.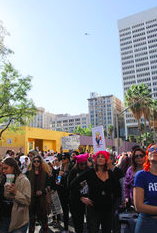 The 2018 Women's March LA featured an array of clothing genres: pink hats that reperesented parts of the female anatomy, T-shirts with feminist slogans on them, but also ultra-feminine garb.
LA Native and Loyola Marymount University student, Aurora Schurr, who identifies as an "ally, a woman," and a "queer person," walked the streets in head-to-toe pink. Schurr adorned her bubblegum pink jacket with slogan buttons and constructed her skirt out of vintage, princess-themed bedsheets.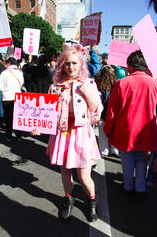 "I love pink — if you can tell from my hair. And I really enjoy dressing in hyper-traditionally feminine clothes, sort of as a statement to the point that there's so much pink, and there's so much going on that it's almost aggressive or abrasive in a sense," Schurr said. "I also have my cat ears as a statement for the pussyhats." The Pussyhat Project, started by designer Jana Zweiman, is a pointed pink hat movement. March attenders wear the hat to represent those who are unable march, but want to participate, according to the Pussycat Project website.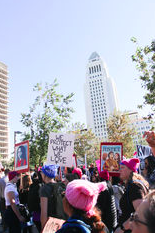 Orange County native Lily Young also personalized her clothing as an expressive tool. Young took a thrifted brown leather trench coat and painted over it like a picket sign. The coat featured slogans such as "men of quality do not fear equality."
"I was going to make a sign, but last year I got tired of holding it up," Young said. "So I said, I'll just make a huge coat and put everything that I would have put on the sign on the coat.' It's like a wearable sign."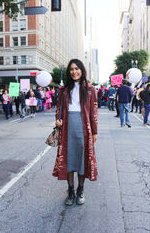 Celebrity speakers also tailored their fashion choices to their message at City Hall —many of them wearing the notorious "Time's Up" T-shirt in black with its contrasting white logo. The "Time's Up" initiative used a "black out" dress code to bring attention to the movement, according to Vogue.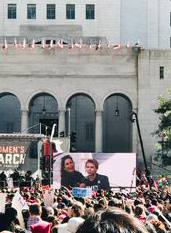 Celebrities like Natalie Portman, Rowan Blanchard and Scarlett Johansson took the 5th and Hill center stage in coordinated "Time's Up" T-shirts, using the same coordinated clothes for a cause tactic at the Women's March. Johansson accessorized hers with a charcoal grey blazer and these powerful words:
"I stand before you someone that is empowered, not only by the curiosity about myself and the active choices that I am finally able to make and stand by, but by the brightness of this movement, the strength and the unity that this movement has provided," Johansson said before marchers at Los Angeles City Hall. "It gives me hope that we are moving toward a place where our sense of equality can truly come from within ourselves."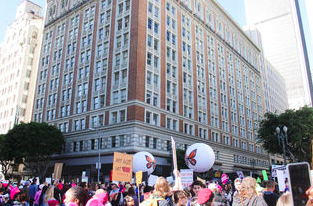 From the stage to the streets of Los Angeles, the fashion medium became the message. Public figures and private citizens exemplified solidarity in their stitching–all diverse threads that knitted together one powerful initiative.
_____________________
Follow Kristin Vartan on Instagram