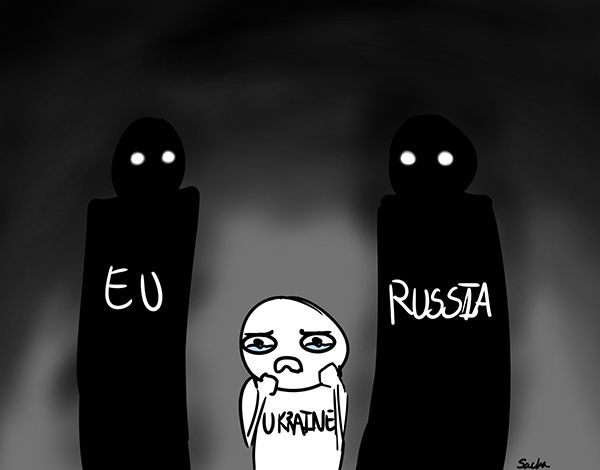 Art by Sacha Irick
In 1991, the people of Ukraine and Crimea voted for the independence of both states from the Soviet Union. Only three years later, Ukraine agreed to give up its nuclear arsenal — the third largest in the world — in the 1994 Budapest Memorandum. In exchange, Russia, the neighboring country, agreed to protect Ukraine and its sovereignty from any foreign threats.
Ironically, today Russia is doing the exact opposite — Russian troops have already taken command of several military and air force bases as well as civilian and military airports within Ukraine's borders.
In 2008, Russian President Vladimir Putin reminded the Ukrainian government of their 1994 no-arms agreement when the former-Soviet state considered joining the NATO alliance as part of the Bush administration's missile defense program. Putin threatened to launch nuclear missiles against Ukraine if it joined the NATO alliance. Ukraine complied with Putin's order and stepped down from the negotiation.
Since its independence from the Soviet Union, the young nation has struggled to break free from the strong and undeniably intimidating influence of its former mother government, Russia.
In recent history, however, Ukraine has branched out and partnered with other powers such as the European Union. Such partnerships gave way to agreements regarding industrial, economic and financial reforms that promoted and strengthened trade between both parties.
As was also the case with other eastern nations that partnered with the EU, the government of Ukraine failed to meet some of these reforms — including the initiation of humanitarian reform and economic legislation that would advance the nation's economic transparency and freedom. Such efforts would weaken Ukraine's ties with Russia and reshape the nation's previous political framework into a new, previously alien western governing system.
President Viktor Yanukovych's failure to sign an agreement to strengthen Ukraine's ties with the EU last September left the nation in shock, causing widespread opposition and citizen protests that have been violently suppressed by Yanukovych's armed government forces.
The opposition has led its major protests in Independence Square, the central square in Ukraine's capital city, Kiev. A total of 100 protesters died on Feb. 20 alone, according to a CNN report from Feb. 21. Yanukovych fled Kiev the next day.
Once openly sympathetic to the EU, Yanukovych's controversial decision last September to discontinue partnership agreements with the EU has led to strong speculation as to why he gave in to Russia instead. Aside from the obvious, direct threats that Russia imposed on Ukraine to force its compliance in recent history, taking a closer look at the EU's offers in comparison to Russia's sheds light on other possible explanations behind Yanukovych's reasoning.
The new agreement between Ukraine and the EU would have established reforms on trade that, in the short run, would not help pull the nation out of its economic recession — stringent quotas on produce and limited to no access of Ukrainian goods to the European Union market.
Seeing that presidential elections were just around the corner in 2014, signing an agreement that would not show any rapid, short-term results to Ukraine's already staggering, receding economy would certainly not help Yanukovych's campaign for reelection.
The association agreement that Yanukovych put off between Ukraine and the EU called for reforms that would bring about drastic changes to the nation's economic model. In order to foster the conditions necessary to become eligible to participate in the European market, Ukraine must comply with drastic European reforms to reduce the nation's deficit. Receiving loans from foreign powers might throw the already weak nation into deeper debts with foreign powers.
Many would agree that the EU-Ukraine association agreement is a beneficial option for both parties; however, given Ukraine's situation, I consider it important to analyze whether the EU's full-blown western economy and market model is the best option for a small nation that hopes to recover from serious political turmoil and start slowly building itself as a sovereign nation.
Right now, Ukraine is fighting to become independent from all Russian influence, and an agreement with the EU seems appealing, but let's remember that the nation itself is politically, socially and economically stagnant and by no means prepared to embrace the EU model and jump into its competitive market. Even if this does end up happening, the financial help it will need from other powers and the debt this will create only makes me wonder: If you want independence all together, agreements with the EU will not only liberate you from the influence of Russia, but they will also throw you in the hands of all the other powers that loaned you everything you needed to get there.
Timeline of events in recent history:
1991 – Ukrainian independence
1994 – Budapest Memorandum on Security Assurances is signed: Ukraine gives up its nuclear arsenal in exchange for guaranteed sovereignity
2004 – "Orange Revolution"
2008 – Putin threatens to point nuclear missiles at Ukraine if it joins NATO alliance
2009 – Russia and Ukraine sign 10-year deal on gas transit
2010 – Viktor Yanukovych becomes president
Nov. 21, 2013 – Yanukovych rejects EU deal and strengthens ties with Russia instead. Protests erupt in Kiev
Jan. 28, 2014 – Ukraine prime minister steps down
Feb. 22, 2014 – Yanukovych flees Ukraine
Feb. 28, 2014 – Russian military storms in to Crimea
March 6, 2014 – Crimea's parliament votes in favor of annexation by Russia
_______________________________________________________________________________
Follow Maria Prada on Twitter: @chuzac
Follow Sacha Irick on Twitter: @GraphicSacha