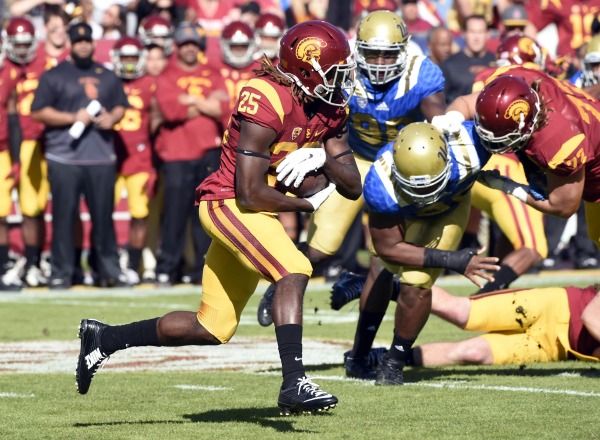 Photo Courtesy of USC Athletics
As another school year dawns upon the collegiate population, students across the country anxiously await the return of fall Saturdays and good ol' college football. For schools with competent football programs, game days are an official, yet unofficial holiday. Comparable to Christmas, but instead of presents you receive… Well, I guess I don't know how to complete that untimely Christmas-college football metaphor.
As some at Pepperdine may have realized, our institution has a pitiful football culture. There are many contributing factors to the shortage of enthusiasm, but the the most prominent would have to be Pepperdine's lack of a football program. While students of pigskin-proud institutions enjoy the unparalleled atmosphere that surrounds Saturday football games in autumn, students at Pepperdine have to settle for watching flag football at the intramural field. As entertaining as it is to watch me attempt a Cam Newton impersonation, only to throw four interceptions, I think most would prefer an actual team.
There's an entire culture that falls through the cracks with the absence of football on campus. Pepperdine students will never experience the aura a home game cultivates. There'll be no 10 a.m. grilling of hot dogs and burgers. No rowdy college kids butchering the words to "Jump Around" by House of Pain. No copious consumption of liquo — umm I mean, liquid. H20 to be exact. Pepperdine is part of the dubious conglomerate of Division I schools — 97 out of 347, to be exact — that don't fund football programs.
Now, before this piece incites student led riots demanding the construction of a football stadium, it's important to acknowledge that Pepperdine will never in a million years have a football team. While the idea of a team sounds great, making that a reality would be a logistical nightmare. Between the exorbitant costs of putting together a team and the campus's financial and facility restraints, a Pepperdine football team seems to be all but impossible.
But students shouldn't let the excruciating sorrow of Pepperdine not having football put them in a bad mood. What's the key to curing the weekly "fear of missing out" that our football-less school invokes? Just bandwagon some other college football team and stop complaining.
Here's a preview for USC and UCLA.
USC
If you're in the market of latching onto another school's football culture, USC is your best geographic option. Essentially in Pepperdine's backyard, SC's Coliseum in South LA is just a hop, skip, jump and a 26-mile bike ride away. In their 2015 campaign, the Trojans had moments of greatness that were matched by moments of underperformance. One week they pummeled Arizona State 42-14, only to fall 17-12 to a mediocre Washington team the next week.
The inconsistency could certainly be attributed to the tumultuous situation former head coach Steve Sarkisian made the Trojans endure. Contrary to popular belief, head coaches probably shouldn't show up drunk to practices. With the departure of Sarkisian, as well as three year starting QB Cody Kessler, SC begins a new era. The Trojans enter the season ranked 20th according to the Associated Press, as they return most of their explosive offense. The only new cog in the system will be five-star quarterback recruit Max Browne.
Athletic director Lynn Swann did no favors for the Trojans as they play six ranked teams including Stanford, UCLA, Notre Dame… And oh yeah, a week one matchup against the no. 1 ranked Alabama Crimson Tide. I guess the 1985 Bears were busy, because if not, they'd probably be on the slate as well. It'll be trial by fire for head coach Clay Helton as he begins his first season at USC's helm.
UCLA
Much like the Trojans, the Bruins had their own Jekyll and Hyde complex in 2015: A few solid wins, matched by a few embarrassing losses. Last season concluded with an 8-5 record, and a loss to Nebraska in the oh-so-prestigious Foster Farms Bowl. Second year QB Josh Rosen will look to build upon a learning freshman year, while explosive receivers Ishmael Adams and Darren Andrew look to establish themselves as go-to-targets.
On the defensive side of the ball UCLA has one of the best secondaries in the country. Their running defense on the other hand? Not so much. With the graduation of first round drafted linebacker Myles Jack, the Bruins have a depleted a rushing defense that wasn't exactly state of the art last season. Defensive tackle Eddie Vanderdoes returns on the defensive line, but some major question marks still loom large. In contrast with USC, UCLA plays a very favorable schedule with their only ranked opponents being Stanford and the aforementioned Trojans.
_______________________

Follow Steven Baer on Twitter: @StevenBaerJr