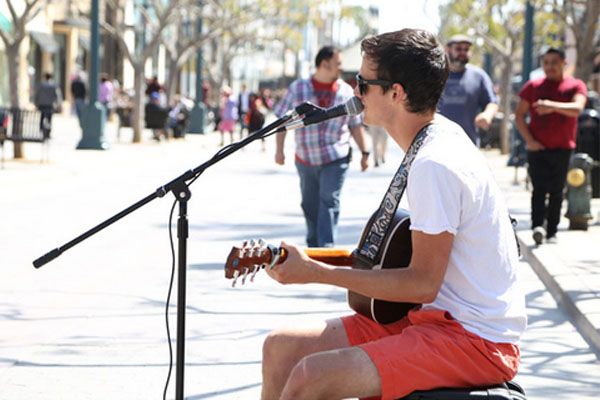 Photo by Alysha Tsuji
With a mom who received a classical music degree, a dad who rocked out as the lead guitarist of a small band in the '80s and a sister who competitively excelled in the saxophone and flute, it seems fitting that 22-year-old Mike Holland strives to succeed in the music world.
He picked up the guitar early in his childhood as his mother, Beth Holland, gave him lessons up until seventh grade. She said that by the time Mike entered high school, his classical guitar skills surpassed her own. He played the guitar, trumpet, saxophone, piano and drums throughout high school, went on to the Berklee College of Music and now resides in Los Angeles.
However, Beth never anticipated any of this to happen. When asked if she had planned on influencing her son's musical journey, she said flat-out: "No. I didn't want either of my children to go into music."
Her reasoning was that both Mike and his older sister, Madison, were quick and enthusiastic learners in math and reading when they were young. She believed they could do "so much more." Although, she added that since Mike has chosen his artistic path, it has been a joy for her to see his music skills flourish, and that she's proud of what he has accomplished.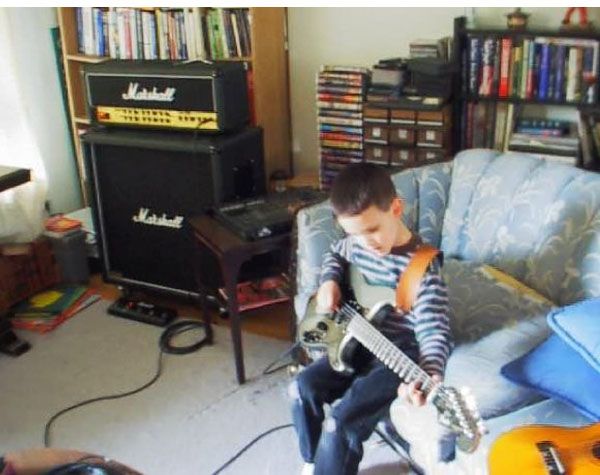 * * *
While attending Bloomingdale Senior High School in Valrico, Fla., Mike owned the stage. His father, Mike Holland Sr., watched all of his son's performances and said that every single one stands out to him.
Mike's father recalled a specific show during his son's freshman year when his son played "Always With Me, Always With You" by Joe Satriani: "He stood up there and filled the auditorium. I still listen to that (recording) often to this day."
Mike's friend, Jon Hall, went to Bloomingdale High at the same time and said that everyone was aware of Mike's extraordinary talents. Post-graduation when Mike chose to go to the Berklee College of Music in Boston, no one was surprised.
"The Hollywood Reporter" ranked Berklee as the top music school in the world in 2013. Berklee alumni have snagged 239 Grammy Awards as of 2014, according to the school's website.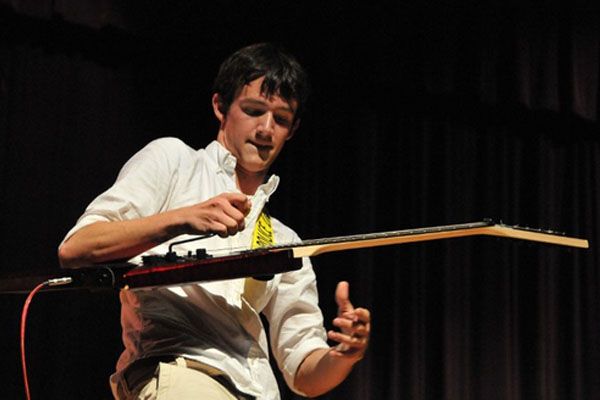 * * *
To get into Berklee, Mike auditioned using an instrumental rock piece called "Blasting Zone" that he wrote himself. He practiced for eight months to perfect it. Then, upon enrollment, he also aced the placement test. He said with the average incoming student marking a two or three, he scored a seven, with eight being the highest score.
Initially, the intensely focused music environment was inspiring for Mike, as talented peers and faculty surrounded him.
"The first semester was life-changing and perspective-changing," Mike said.
In an email, Mike's uncle, Joe Glass, described Mike as having "a little ants-in-my-pants syndrome," and perhaps that's what happened in Boston two years ago. Two days into his last semester at Berklee (he was already set to graduate a year early), Mike dropped out of school and boarded a bus to Maryland.
Mike described the process as a two-night ordeal in which he arrived on campus, registered for classes, lay in bed one night, and decided he was tired of school and that the student loan debt wasn't worth the education he was receiving.
Prior to leaving school, he had worked out a temporary living situation with his uncle and aunt, Glass and his wife, in Maryland. His parents weren't amused, though, and his father said they didn't speak for a few months. His mother admits she's still "heartbroken," and that she hopes he'll finish off his degree somewhere in the future.
"The act of moving out of Boston was awesome, but once I got to Maryland it was like, 'Woah, someone hit the breaks a little too hard,'" Mike said. He spent about a year bouncing around different homes of his extended family in Maryland and West Virginia, trying to complete the recording of his first album. That proved unsuccessful.
Mike said the negative backlash he received from his parents put a damper on his spirits. Rather than wallowing in debt and sadness, he made another spontaneous decision: to travel across the country to the City of Angels.
* * *
In April 2013, Mike and his Taylor guitar touched down in LA And while his parents disparaged him for dropping out of Berklee, he has their full support in his move to the West Coast.
Likewise, Mike says he's happier as well, and that the freedom feels good. He works on-call at the first class lounge for American Airlines at LAX. During his free time he engulfs himself in music.
"24/7 I'm listening to recordings, editing, working on music, writing on the computer or playing my guitar," Mike said. "I have zero other hobbies."
Three months ago he published the acoustic version of the first song he ever wrote, "Bring You Down," to his YouTube channel. Additionally, he has two albums outlined on his laptop with album art ready.
The reason he hasn't released either of them? Mike said he's not sure if it's "stubbornness or selfishness," but that he knows exactly how he wants them to sound and that he's "super close" to finishing.
His goal is to self-record all his songs on an independent budget. As he explained his motives, he made a light comparison to Macklemore and Ryan Lewis.
"I see music as art, rather than music as … a business," Mike said. "My goal is to reach a level of popularity where I can get some kind of ball moving and inspire people."
Since moving to LA, he sometimes attends open mic nights and other times performs on the street at the Third Street Promenade in Santa Monica. He announces his public showings on his Twitter feed.
Meanwhile, Mike will continue to edit his albums and build his following.
"For his biggest dream to come true and for him to become a huge, famous musician," Mike's high school friend, Hall said, "I think he is one of the very few people that deserves it."
To hear more of Mike, click here.
__________________________________________________________________________
Follow Alysha Tsuji on Twitter: @AlyshaTsuji