Whether it be for the extra cash or joy of it, Shelby White, director of Student Employment, said about 1,800 Pepperdine students balance on-campus jobs during a typical school year. Students often hold multiple jobs, filling about 2,100 positions.
Students share how they maintain their academics and jobs, as well as why they chose to work. White said because of the magnitude of students working on campus, Pepperdine would not run as efficiently as it does without their student employees.
"One good thing about on-campus jobs is that there's so many you can apply to," first-year Allison Hilliard said. "And a lot of people a part of the job are also Pepperdine students, and you can make friends and have good conversations and connections."
Hilliard said while she dedicates more time to her academics, she manages to fit in two on-campus jobs. Hilliard referees at Firestone Fieldhouse for the open gym at night. In the early evening, she tutors for math courses 103-151, except 140 and 141, at the Student Success Center.
White said data survey shows the main reasons students choose to work on-campus jobs are the flexibility, valuable work experience and living expenses.
"It's also a great opportunity to connect with the greater University community [and] learn more about how the University runs," White said. "We have students working in so many different areas on campus that they're really learning a lot."
Hilliard said finishing her school work before her work shifts begin is most efficient.
"Those few nights where I do have to stay up until midnight or later, it's a little tough if you have an 8 a.m., or any type of early classes that are not really good on your sleep," Hilliard said. "But I understand that it's the only time that probably works for anyone."
Having previously been a referee for intramural volleyball, Hilliard said she finds the environment of the open gym relaxing, as she's able to be around an activity she enjoys. She also said she finds satisfaction through tutoring — an activity she's been well-acquainted with since high school.
"The best part is just being able to help other people because you know that you're benefiting their life in some way," Hilliard said.
Similarly, junior Kimberly Banda said her overall purpose is to help others. Being a first-generation student away from her home in Texas, Banda said she needed to step up to provide for herself at Pepperdine.
Besides double majoring in Hispanic Studies and Political Science and minoring in Sociology, Banda works three jobs. On campus, Banda works at the Financial Aid Office. Outside of Pepperdine, she is a hostess at Malibu Farm and a sales associate at Urban Outfitters. To maintain all these commitments, she said she sets blocks of time to complete academics.
"Even though I'm doing a lot, I don't feel tired because I'm doing things I love," Banda said.
Banda said she especially enjoys working at the Financial Aid Office, having experienced the difficulty of figuring out the process herself.
"I did not know how to navigate financial aid or anything with FAFSA," Banda said. "Being in this job, I feel like I can supply others like myself [on] how to navigate that because it's a lot of information, and it can be scary."
Banda said she had to help herself in order to help others. A firm believer in self-care, Banda said she manages to fit in days for herself at least twice a week.
"I have made many mistakes in overworking myself to [the point of] getting burnt-out and finding your own balance," Banda said. "I feel like every person has their own way of functioning."
Sophomore Hannah Gang is a Biology major on the pre-medicine track. Gang said she dedicates about 50 to 60 hours per week to her studies but makes time for her job at Payson Library, where she checks out books and answers questions at the front desk.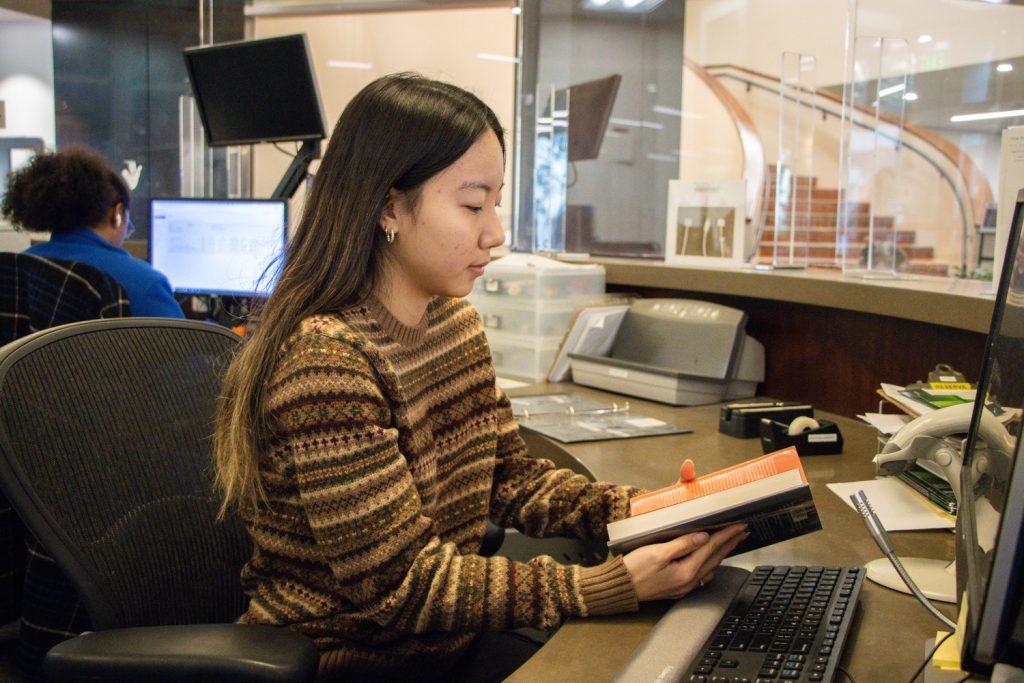 "I'm always at the library because I'm always studying, so I thought it was just convenient to be able to do both," Gang said. "I'm able to do my school work, but at the same time, I'm not slacking off at my job."
Weekends are still academically packed, but Gang said she still tries to make the most of her time for moments of rest.
"Even though I lose sleep or I don't do anything fun during the weekdays, I try to finish everything and get ahead, so during the weekends I have more downtime," Gang said.
White said the Student Employment Office posts on-campus job openings to Handshake.
The best advice White said she could offer to students seeking on-campus jobs is to reach out to students already employed and ask if their employer is hiring or reach out to faculty members for connections.
White said she reminds supervisors that students are students first. Sometimes she has difficult conversations with students, especially first-years, who tend to pile too much onto their plate.
"The most important aspect is that they do well in their courses, that they're involved and they're healthy physically and mentally," White said.
__________________
Follow the Graphic on Twitter: @PeppGraphic
Email Faith Oh: faith.oh@pepperdine.edu