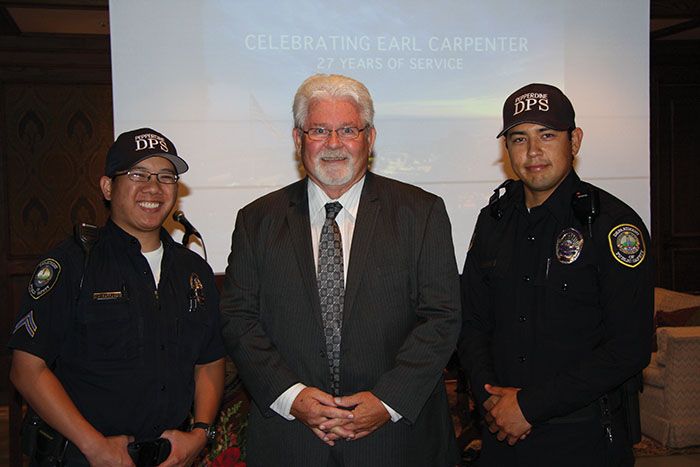 Photos by Sylvia Hartley
Associate Vice President and Director of Pepperdine's Department of Public Safety Earl Carpenter has retired after 27 long years of dedicated service. He began his work in 1987 and has served as deputy director since 1994.
A retirement celebration was held in Carpenter's honor Wednesday in the Seaver Board Room located on the fourth floor of the Thornton Academic Center. Faculty members, staff, students, Carpenter's family, DPS staff members and even members of the Malibu and Simi Valley Sheriff's Department attended.
Not only does Carpenter have an extensive resume, but he is someone who is revered by his colleagues and members of the Pepperdine community. He is vice president of the California Peace Officer's Association, and also a member of the University Working Group for the U.S. Department of State's Overseas Security Advisory Council.
President Andrew K. Benton praised Carpenter. "From the beginning I have seen in him a deep sense of service and duty and also, his humility and essential goodness," Benton said. "Frankly, it is hard to find those with strong law enforcement credentials who are so personally constant with how we want those in our community to be treated."
Carpenter promised his wife that he would retire after his 71st birthday last spring. He has been working only a couple of days a week on special projects in his office. He's had a long and successful career in public safety, but said he is ready to spend more time with his wife, children, grandchildren and even do some traveling.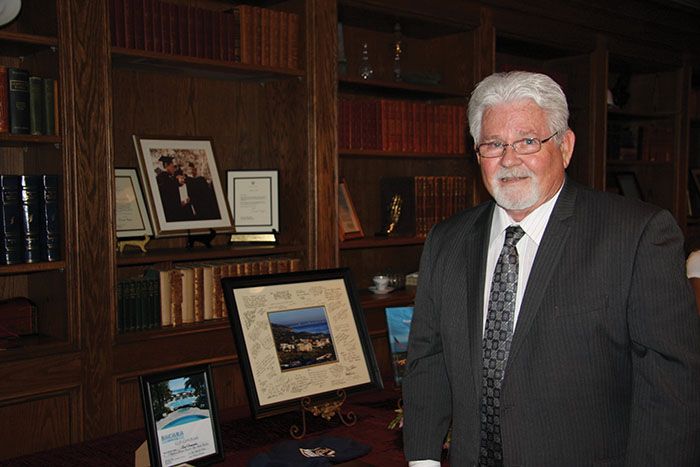 The word repeatedly used to describe his experience and time at Pepperdine was "blessed."
"I am very blessed in my opportunity to have worked beside the people we have at the university," Carpenter said. "I am going to miss them but am looking forward to spending time with my family and traveling."
Carpenter wasn't only concerned with the safety of the campus and its students but also the officers that keep everyone safe.
One of the areas he is most proud of however, are the student workers who commit both their time and energy to the betterment of the campus as a whole. "I am proud of the students that serve. They are so dedicated to it. They are the best Pepperdine students and a joy to work with. I am going to miss them. They are so supportive and are truly partners in our campus preventions."
Carpenter said he knows that student DPS workers are something that are very unique to Pepperdine, and he said he believes that is something very distinctive in a public safety student environment. When he first became Director of DPS, he said the focus was more on playing a service-oriented role in the community. He has transformed that focus into the students.
"It's all about the students," he said. "Our relationship with them, protecting them, building the bond and trust with them and even the officers getting to know them. That is unique in a public safety student environment."
This year, there are a total of six student workers who are undergoing the process to be hired. Karre Lawson, a graduate of the class of 2014, was the 16th DPS student worker in history.
"Working as a student service officer for the department is such a unique experience because it is unlike any other student worker position that the campus has to offer," she said. "You are given a higher sense of responsibility and are exposed to a different side of campus life that you wouldn't otherwise see or even hear about."
Lawson said she enjoyed getting to know and being able to work alongside the full-time officers who were all so different and made her more "self-aware of the world outside the bubble we tend to create here living in Malibu as students."
Although Carpenter was a man of few words to her, those words were always powerful and encouraging.
Carpenter's commitment and dedication to his job and the safety of the campus was evident in all of his work.
"Earl Carpenter is the kindest, most dedicated, and thorough watchman this campus will ever know," Deputy Director of Public Safety Dawn Emrich said. "Not a day goes by when the safety of this community isn't his number one priority."
Carpenter's clear, steadfast commitment has shaped the Pepperdine community to be more aware, responsive and prepared to deal with problems. The students were his top priority, and he said he enjoyed working alongside them.
Some of Carpenter's recent achievements have included collaborating with infrastructure, planning and risk management. He and his team have been able to improve the life safety systems for monitoring Public Safety, improve student residential fire alarms, improve security cameras in new areas of campus and update those in all of the offices, and implement the card access control to increase security in student areas.
A man who worked closely with Carpenter was Deputy Director of Public Safety Robert J. McKelvy.
McKelvy first met Carpenter 30 years ago when he was just providing consulting services for Pepperdine on shaping the future of DPS.
"He is a man that leads by example, treating everyone with the highest level of dignity and respect," McKelvy said. "He has displayed confidence in every difficult situation we have faced over the years, and I have always been so proud to call him my colleague and friend."
Vice President for Administration Phil Phillips began the ceremony with a brief speech commemorating some of Carpenter's finest moments at Pepperdine.
"I always say that Earl is one of the finest men I have ever known. He epitomizes honor, dedication and friendship … I think of different crises we've had, and I always knew that Earl would be there to give both selfishly and sacrificially," Phillips said.
Phillips even joked that he's spent more time in the middle of the night with Carpenter than his wife.
Benton summed up Carpenter's career at Pepperdine: "You [Carpenter] understand the importance of Public Safety on this campus. You are not just a person carrying a badge. You were a father and a grandfather. And you even wanted to be a friend to someone you had to confront on campus."
Benton then presented Carpenter with a key to Pepperdine.
Benton continued by saying that it is a hard thing to model Christ, but that Carpenter modeled Christ for him.
Carpenter was noticeably moved by all of the kind words from his colleagues and friends as he thanked everyone for the unbelievable support during his career at Pepperdine, and how he will miss working with the dedicated members of not only his team but the whole university.
__________
Follow Veronica Felicity Johnson on Twitter: @Veronajohn36