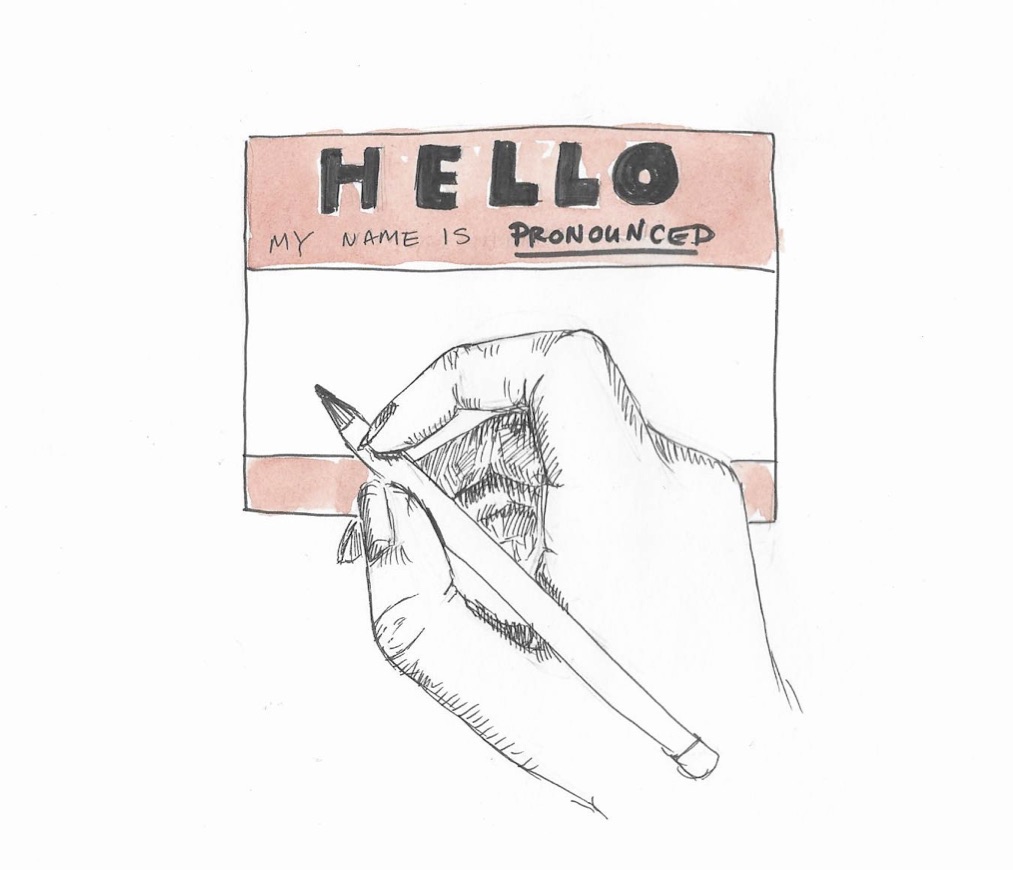 Art by Ally Armstrong
I have heard it all.
The name "Anastassia" pronounced as ana-STAY-zhuh, ah-na-STAH-shyah, ah-na-stah-SEE-ya, or worse, watered down to Stacy, Annie, Ana, Stas. The question, "What pronunciation do you prefer?" was the hardest one to answer. I simply wanted to say, "Whatever is easiest for you." Over time, I realized that equated to, "Whatever fits better in your mouth," forcing me to stretch the veil of my identity to accommodate the one that failed to recognize the history and culture that lives in my name.
The U.S. Citizenship and Immigration Services published an article dispelling the belief that once immigrants arrived to Ellis Island, they were met with clerks who could not communicate with the immigrant and thus resorted to assigning the immigrant a descriptive name. In reality, passenger lists were not created at Ellis Island but abroad, close to the time an immigrant purchased their ticket. These people came to America because they envisioned a better life for themselves and their future kids.
How special, then, that parents traveled across the world on tortuous, unforeseen routes, by boat or plane, with the names for their future kids already picked out — names which served as remnants of their former lands which they still cherished.
Demanding a name be pronounced correctly is not a microaggression. Rather, it is a micro–affirmation — a celebration of the meaning behind it, and its very cultural significance and identity. I refuse to believe that people's parents immigrated across the world for their names to be watered down and adjusted to one's liking, as milk can be added to coffee to tone down its original earthy taste.
No better is this illustrated than by the poetry piece, "To All the Girls with Heavy Names" by Elisabet Velasquez and the Indigenous Goddess Gang.
"To All the Girls with Heavy Names / Correct them / when they say your name wrong then watch their tongue stumble / over its own discomfort / as it tries to find its footing / on a land it cannot steal," Velasquez wrote.
Rather than coming from the view of a bitter victim of an ongoing racial struggle that minorities encounter on a regular basis, Velasquez's poem is one of triumph — triumph in the everyday small victory of correcting people who seek the easiest and often most destructive path of disregarding the value of someone. This parallels the reclaiming of land from colonizers and renews the need for an emphasis on the meaning behind names.
Names hold stories of the pasts, moments of the present, and dreams of the future. It's why objects have common names and humans don't – to differentiate one's unique God-given talents from those of the other 8 billion people on this Earth. It's why American writer Dale Carnegie wrote, "A person's name is to him or her the sweetest and most important sound in any language."
It's why Democratic candidate Alexandria Ocasio-Cortez was so quick to call out political commentator John Cardillo on Twitter for his efforts to discredit her by misrepresenting her upbringing. "Your attempt to strip me of my family, my story, my home, and my identity is exemplary of how scared you are of the power of all four of those things," Ocasio-Cortez wrote in an attempt to correct his ignorance.
The name given to people by their guardians serves to represent these four aspects — a name that comes with much pride, and much responsibility. Yet every day, people fail to correct people's mispronunciations or settle for an Americanized version of a name that is closely tied to their heritage – "Walter" instead of the Polish "Waldek," "Laurie" instead of the Croatian "Lukrecia," "Joseph" instead of the Mexican "Jose," for example.
Humanity, then, has a duty to continue to keep the candle of its family history burning, burning so hot it sears the tongue of the one that attempts to ruin a name so unique and so strong by fitting it into a box that knows only one syllable names.
________________________
Follow the Pepperdine Graphic on Twitter: @PeppGraphic