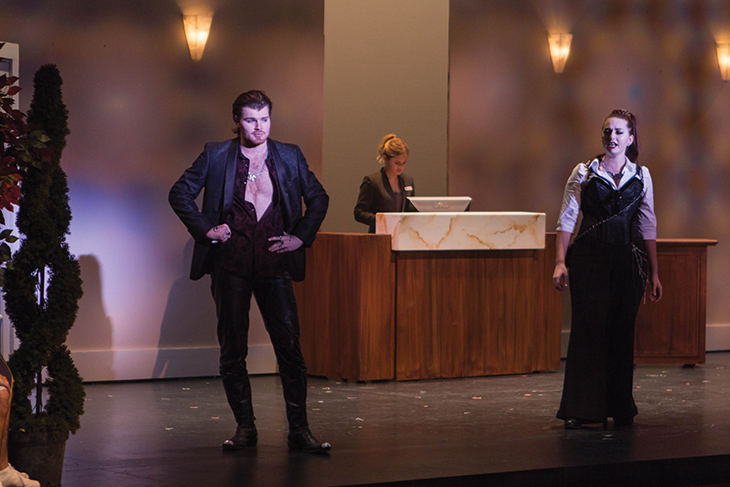 Photos by Brett Bean
The themes of seduction, murder and egotism are not foreign to a modern viewer. They are themes that are just as likely to pervade our changing political climate as they do a Marvel movie. In Pepperdine University's Flora L. Thornton Opera Program's performance of Mozart's "Don Giovanni," which debuted Thursday, Feb. 23 at Smothers Theatre, these themes are explored in a setting that has become paramount to Los Angeles' ritzy and celebrity-driven image — the city of Beverly Hills.
Directed by Music professors Henry Price and Tony Cason, this rendition of Mozart's masterpiece transports audience members to a time foreign to Mozart but familiar to modern viewers.
Alexander Papandrea, who plays Don Ottavio in the opera, wrote in an email that the modern-nature of the production will resonate with Pepperdine students.
"Our production of 'Don Giovanni' is set in 1999, so the costumes and sets are relatable to what most Pepperdine students saw as children," Papandrea wrote.
Don Giovanni, named after the fictitious Spanish libertine Don Juan, is reimagined in this production as "Don Jovi" (Bon Jovi), played by Turner Staton, with the leather pants and chest-bearing shirts to prove his machisimo, along with his comrades; Donna Elvira, played by Alexis Raymond, who bares a striking resemblance to Madonna; and Don Ottavio, played by Alexandra Papandrea who represents Justin Timberlake, wrote Papandrea. The moniker "Don Juan" has become a term used to refer to a womanizer, and womanizing indeed is what Mr. Don Jovi does.
Giovanni's womanizing tendencies are on display immediately in the opera. After assaulting Donna Anna, played by Michelle Pina, and killing her father, Il Commendatore, played by Keith Colclough, he embarks on a lascivious journey that involves seducing a married woman, Zerlina, played by Kaley Casenhiser, in the midst of intermittent dalliances with his former lover Donna Elvira. The cast also included Andrew Leidenthal as Masetto and Fernando Grimaldo as Leporello.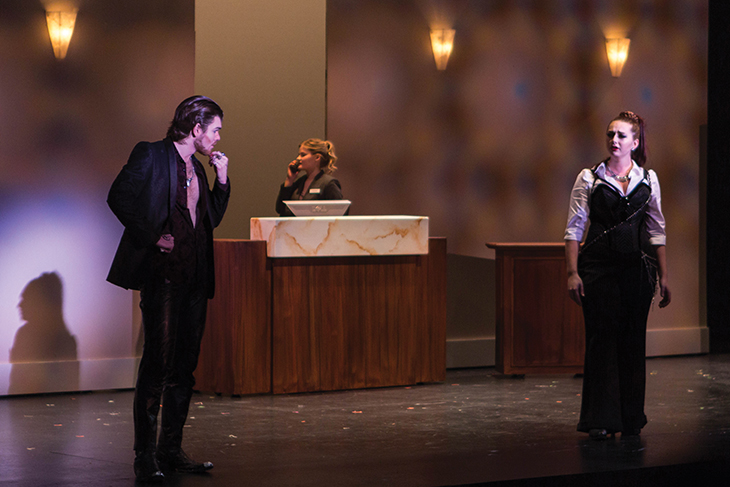 ‪Although death and revenge are at the heart of this opera, according to Papandrea, comedic relief helps to mitigate the intensity of the sometimes grave subject matter.
"Death and revenge are at the core of this tale — Mozart's masterful conclusion of the opera constantly leaves any listener or audience member in awe. It must be one of the greatest scenes Opera has ever seen," Papandrea wrote. "Mozart, however, incorporates a fine amount of comedy in the show. Fernando Grimaldo, who plays as Leporello, Don Giovanni's servant, steals the show with the comedic relief we all seek when we go to the theater."
Leporello, clad in clothing that would have been anachronistic for Mozart's time — a Lakers jersey (Shaquille O'Neal's number 34), hat and plaid Bermuda shorts, undoubtedly got the greatest amount of laughs — all while singing in Italian.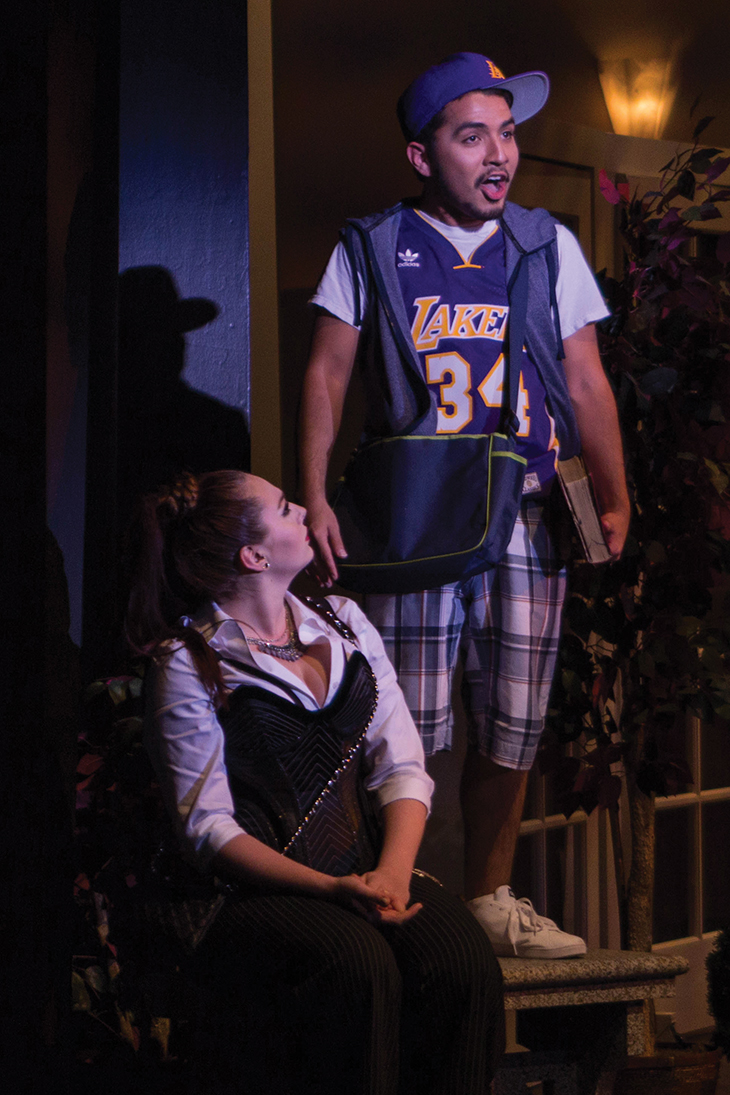 Natalie Leonard, part of the ensemble in the opera, wrote in the email that the themes that pervade the opera are still relevant today, also echoing her fellow cast member's comments that the humor of the opera makes it appealing to audiences.
"This opera premiered in 1787, and even today it includes humor that still makes us laugh, issues that are still relevant, and the moral that pride and self-gratification leads to the path of self-destruction," Leonard wrote.
Although Leonard wrote that she does not have a title role in the opera, the experience to participate in this opera is still rewarding.
"I am part of something that was crafted nearly three centuries ago by one of the great musicians of history, and I have the opportunity to breathe life into it once again," Leonard wrote.
Michelle Pina, who played Donna Anna in the production wrote in an email that the experience playing Donna Anna was different than playing Pamina in the past year's production of "The Magic Flute."
"In this production I play Donna Anna, and she is a much more difficult character to play than Pamina," Pina wrote. "Anna is fierce, strong, and graceful in her moments of weakness. 'Don Giovanni' is hilarious, sad, shocking, and all around a very entertaining show."
Daniela Yniguez, one of the few Pepperdine students in an audience populated by an enthusiastic elderly crowd that dug through their pockets for hard candy in moments of silence, said that she enjoyed the production, her "first opera," and perhaps, the first of many more to come.
"I thought it was really good," Yniguez said. "The set was amazing, and 'Don Giovanni' did really well. When Donna Anna did her solo at the end, she hit those high notes and they were amazing, I was blown away. I had never gone to an opera before so this was a new experience, and I didn't know if I would like it, but I ended up liking it a lot." Laughing, Yniguez added, "And it makes me want to sing now!"
The audience and the rendition of the opera itself was a fusion of old and new as timeless as the story of Don Giovanni himself.
___________
Follow the Pepperdine Graphic on Twitter: @PeppGraphic