Photos courtesy of Pepperdine Athletics
For the 2018-2019 school year, the Pepperdine Riptide Rally Crew aims to have its most significant impact to date. Riptide is a student-led rally group focused on elevating the spirit of home games through organized cheering. They are led by Hilary Koenig who joined the Pepperdine Athletics staff in June of 2017. She works as the Marketing and Events Manager for the Athletic Department and has made strides in establishing Riptide as a highlight of every home game. Here's an in-depth look at Riptide and some of the events that they have planned this year.
Koenig explained that Riptide is more than just a student section. All members are accounted for in this hands-on organization and they take every game seriously.
"It is our student-led cheering section at all Pepperdine home games. It's fully student-run with all of our 19 leaders on staff. So when you're at a game you'll see anywhere from two to five rally crew leaders," Koenig said. "They're gonna be there to bring the energy, bring the hype, dance to the music and lead the full student section that we call Riptide."
One of those leaders is sophomore Aaron Barnhouse who enters his second year on staff and can't wait for what Riptide has in store for this year.
"I think this year is going to be very exciting because the teams themselves are making a large push to make a connection with Rally Crew and the crowds," Barnhouse said.
What Barnhouse is most excited for is Riptide's new addition to Women's Volleyball home games that has already been put to use during the home opener.
"I'm also excited for the new 'Splash Zone' for Women's Volleyball that has us right behind the baseline for games," Barnhouse said.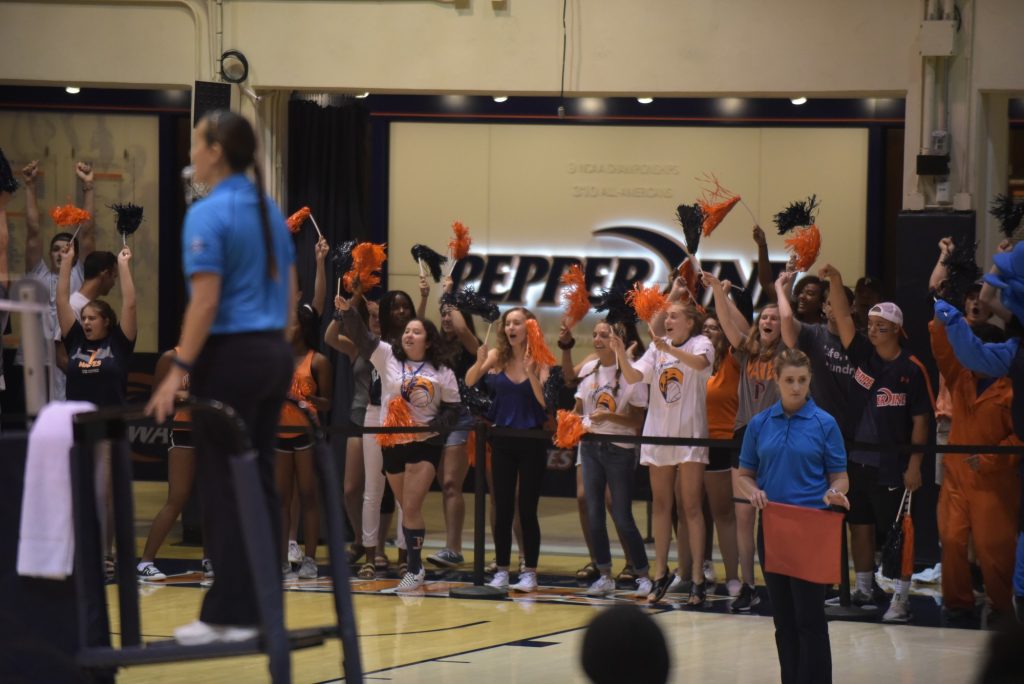 For the "regulars" at the sports games, it is difficult to miss the level of pep and passion that Riptide brings. Sophomore Skiddy Payson saw firsthand at many home games last year.
"Rally Crew really seemed to give energy to Pepperdine Athletics last year, especially at volleyball games," Payson said. "Seeing all the rally crew members at every game I went to brightened my day and made it way more fun to watch."
A big eye-catcher at any home game is the orange jumpsuits that all student leaders wear. It's a tradition that has been around since before Koenig arrived.
"[The jumpsuits} were actually from before I started. The creators of Riptide wanted the participants to almost be 'in character,'" Koenig added. "If you talk to any of the leaders, they love their jumpsuits. That is their uniform for the day and it's game day for them too. It fits with the hats, wigs, ties, glasses and every sort of goofy thing you can put on."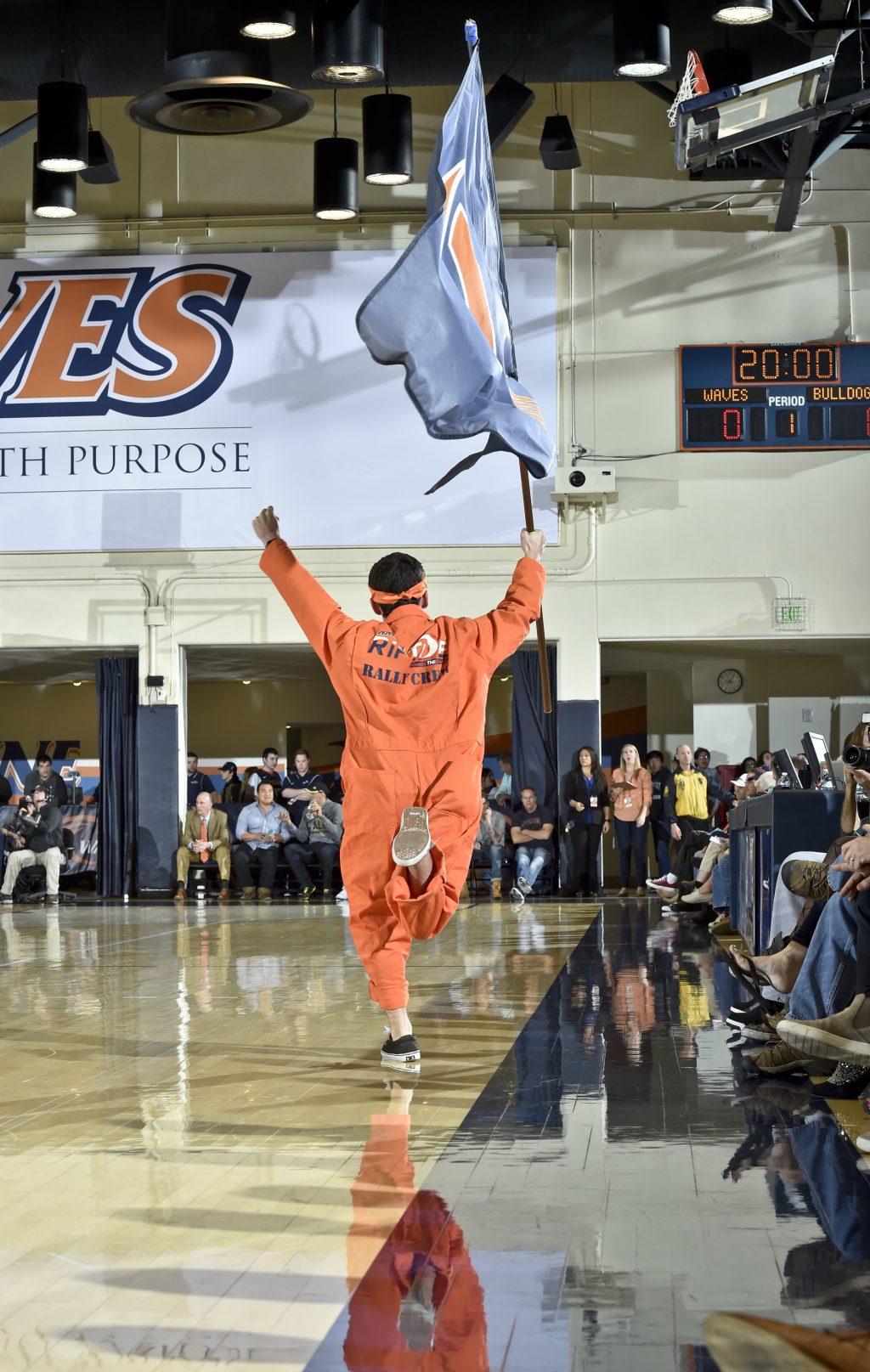 Koenig mentioned that this is a very important year for Riptide and unlike some of the years prior.
"One of the biggest changes is with our marquee sport: basketball. The team is gonna be part of the next big event Blue and Orange Madness, a big event where we introduce our Men's and Women's Basketball team," Koenig said. "We also have Won by One perform, the Homecoming Court and our Step Team. This is Athletics' opportunity during Waves Weekend to celebrate Pepperdine."
Koenig loves to work closely with the students behind the scenes. As the student leaders go out and do something that they love every day, she said, it reminds her what her favorite aspect of Riptide is.
"Whenever they bring their ideas and their eyes light up, it's awesome how they get to follow through with it and really enjoy it," Koenig said. "I love empowering them to do that. It reminds me of Blue and Orange Madness last year. All rally crew was present and the energy was so high."
Sophomore Riptide veteran Daniel Chier appreciates Rally Crew for the sense of excitement it brings to Pepperdine's campus.
"Our undergraduate school is 3,300 strong, and yet I do believe with my truly amazing crew, we rival the school spirit of our rivals, who have [more than] 10,000 students," Chier wrote in an email.
Koenig also had a message for students on what she needs from them in future home games.
"We need just an eagerness and excitement to be there. That's all. Come excited, interested, ready to learn and ready to have fun," Koenig said. "You don't even need anything with you. We'll have poms and rally towels, just be decked out in blue and orange."
The biggest takeaway from Riptide is that it's more than just a student section or a pep crew. It's a group of students who care about the other students showing spirit and they're not afraid to show it.
"If it's your first game, Rally Crew will be there to give you a hug and welcome you to the family, and if it's your 100th game they'll welcome you back," Koenig said. "We're just excited to build this community within athletics and in the campus community as well."
Look for those bright orange jumpsuits at any home game this season as Riptide aims to extend its family every week.
Follow the Pepperdine Graphic on Twitter: @PeppGraphic