Photos by Kayla Lee
Pepperdine's Debate Team hosted its first public debate on immigration in Elkins Auditorium on March 14 — a kickstart to the team's new "Let's Argue" debate series. After drawing a crowd of roughy 180 who used the hashtag #wavesdebate to Tweet questions, the team now plans to host at least two Let's Argue debates each semester, according to Assistant Director of Debate and Professor of Communication Abi Smith.
What about the refugees/ immigrants in those regions that are christian, are they considered less of a threat? #wavesdebate

— Eve Lovato (@elovato14) March 15, 2017
What can Americans do to conquer their fears of easily being threatened by those who look/have different values from us? #wavesdebate

— Eunice Yang (@_euniceyang) March 15, 2017
"We've all been really excited about the notion of getting people to talk to each other about things that they don't want to," said Smith, who has been working with the Pepperdine Debate Team for five years. "There's a lot of difficult issues that are polarizing our campus and the thing we can't do is stop talking about it."
The next public debate, "Let's Argue: Feminism," is planned for April 19. Graduate Programming Adviser and Debate Assistant Jean Michel Habineza, who came up with the Let's Argue series, said the idea is based off Professor Richard Mouw's notion of "convicted civility."
"Part of what we're trying to do with this series of public debates is to really make people uncomfortable and get people to question their own beliefs," Habineza said. "Especially for a Christian institution, I always think at the end of the day embedded into our arguments needs to be a sense of humility and understanding that I don't have all the answers. Someone believing something different than me does not make them an enemy, first of all. It doesn't make them less than me."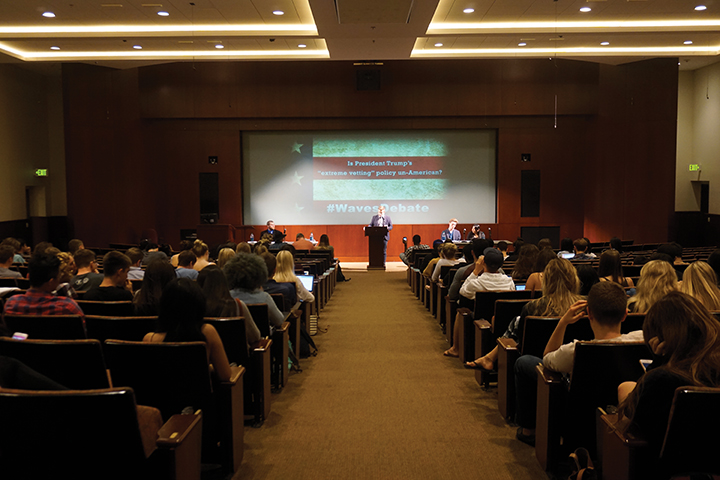 Of the 10 involved students, Pepperdine's Debate Team is relatively young, Smith said, comprised of five freshmen and no seniors. Junior Jeremiah Rondeau has been on the team for the past few years, and said it has taught him to learn "all sides of all issues." Rondeau spoke with the Graphic while in a Seattle for a debate tournament.
"I think one of the most important things about our format is that we learn about what topic we're going to do 15 minutes before we do it, and which side we're on is basically determined by a digital coin flip," Rondeau said.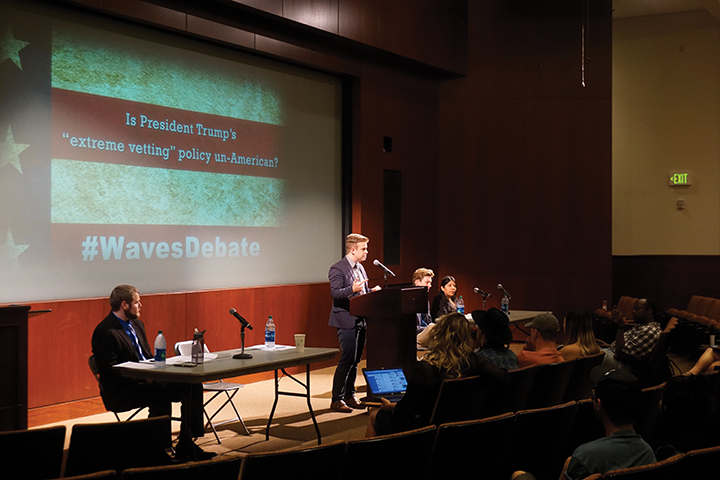 Smith has been working with the debate team for five years. She said the debate team wants to give people the opportunity to "hear sound arguments, not just sound bites."
"There's the competitive side of the team, but there's also community engagement [and] campus engagement," Smith said. "I have a lot of ideas of how I want to take the team in that regard. We want [people] to recognize that there are other well meaning, reasonable human beings that disagree with them."
The "Let's Argue: Feminism" debate will take place on April 19 in Elkins Auditorium. Keep up with the Pepperdine Debate Team's events through their Facebook page or by searching the hashtag, #wavesdebate.
_________________________________________________________
Follow Julia Naman on Twitter @julianamanmusic