Image Courtesy of Pepperdine School of Public Policy
Freedom of speech is guaranteed for Americans under the Bill of Rights, but are college campuses restricting that right? This is the question the School of Public Policy's forum seeks to address.
"Are American College Campuses 'Free Speech' Zones?" will take place Thursday Jan. 31 through Pepperdine's School of Public Policy, partnering with Steamboat Institute. The event will be a discussion between University of Pennsylvania Law School Professor Amy Wax and Harvard Law School Professor Alan Dershowitz. Professor Robert Kaufman of the Pepperdine School of Public Policy will moderate the event.
"This discussion will provide insight from different points of view as to whether American campuses are 'free speech zones,'" according to the Pepperdine Public Policy website.
Pete Peterson, the dean of the School of Public Policy, said in a phone interview this event is part of a larger goal of the School of Public Policy to encourage viewpoint diversity.
"This is the concept of, whether in campus speakers, or academic hiring or just in what in students can say in the classroom, there's a respect for diversity in opinion," Peterson said. "We're hoping it's another step in showing how people, even at different parts of the political spectrum, can agree on the importance of the freedom to express your opinion and to do it in a civil way. "
Peterson said the School of Public Policy also wants to show viewpoint diversity not just for conservative people or for people of faith, but to encourage all people to feel free to share their ideas and beliefs.
"As a policy school, we're preparing people to go into politics, and that's a pretty rough field these days," Peterson said. "But at the same time, I think if we can prepare people both in the classroom and through events like this to talk about contentious issues in a civil way, frankly, that's the only way we're going to solve the biggest challenges that are facing the country and our communities."
This is not the first time Pepperdine has hosted controversial speakers. In April, conservative political commentator and writer Ben Shapiro spoke about acceptable political discourse and institutionalized racism. The sold-out event caused a stir on campus and prompted a discussion between club leaders, students and faculty on how to best create a welcoming and respectful atmosphere.
Shapiro said this meeting was a "bitch-fest," which he later partially retracted and said, "I apologize for calling it a bitch-fest if it was not, in fact, a bitch-fest." People who supported or opposed Shapiro's views attended the event and were allowed to question Shapiro in a question and answer session.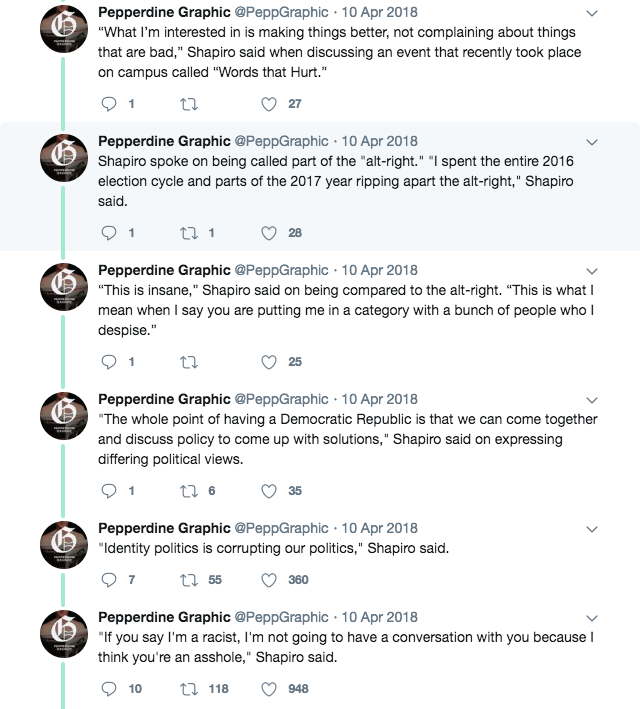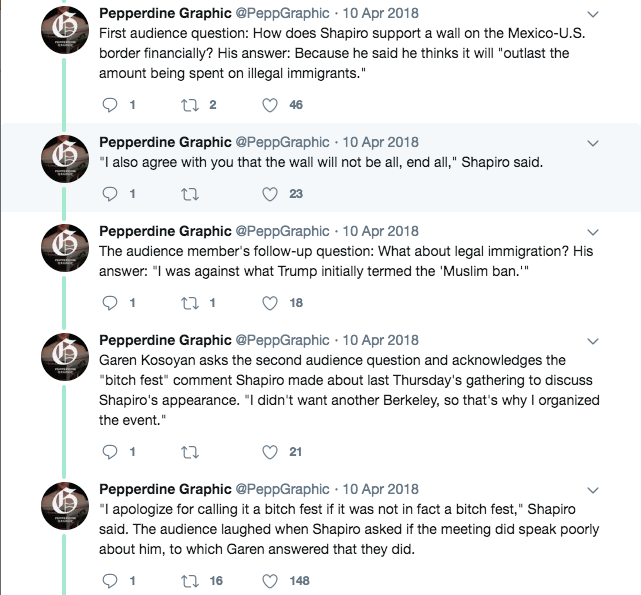 "Are American College Campuses 'Free Speech' Zones?" may not be as controversial as hosting Shapiro, but both Wax and Dershowitz are known as prominent figures in this debate.
Peterson said there has been little to no pushback from this event however, which is encouraging to him, as it shows a general support.
The event is not designed for a particular audience but rather to make a space for open and honest deliberation and disagreement, Peterson said.
"These are two brilliant people [and so] you're going to hear extremely thoughtful opinions," Peterson said. "We need to find opportunity for people of different political persuasions to talk about important issues in civil ways. The university has that phrase, 'convicted civility,' and I think [the event] is going to be an evening of how we demonstrate and witness convicted civility right before us."
The event will take place at 7 p.m. in Smothers Theatre. The event is free to the public and refreshments will be served after. The speakers will be selling their books and participating in a book signing as well. Those interested in attending can register on the Public Policy website or for more information can e-mail sppevents@pepperdine.edu or call 310-506-7490.
_______________________________________________
Follow the Pepperdine Graphic on Twitter: @PeppGraphic