Photos by Cassandra Stephenson
Conservative political commentator Ben Shapiro shared his views on acceptable discourse, White privilege and institutionalized racism with members of the Pepperdine community Tuesday night in a lecture and Q&A.
In what he dubbed one of the "best" lectures he has attended on college campuses around the U.S., Shapiro said his overall goal of the evening's discussion on Pepperdine's Malibu campus was to have "everybody treating each other as individuals."
"This is one of the best ones we have done, and I've really enjoyed this university," Shapiro said.
Pepperdine College Republicans (PCR) hosted the event, which was paid for by nonprofit conservative youth organization Young America's Foundation and other outside donors and attended by at least 200 people. Austin Welch, Student Government Association president and PCR president, said he wanted the event to be both inclusive to those who agree and disagree with Shapiro.
"I am so thankful that there are students that came out that didn't agree, and I'm so thankful that they did it in such a civil and respectful way," Welch said.
Shapiro Talks Pepperdine "Bitch Fest"
During his lecture, Shapiro acknowledged a meeting hosted by several Pepperdine student organizations that took place Thursday, April 5, to discuss the controversial speaker's upcoming on-campus appearance.
"There was a two-hour bitch-fest about how terrible I am … and I guess that one of the complaints is that I am a racist, which is absurd on every level," Shapiro said.
Shapiro later partially retracted that statement after some students who were present at the meeting said that the group referring to him as a "racist" was untrue.
"I apologize for calling it a bitch-fest if it was not, in fact, a bitch-fest," Shapiro later said.
Welch was present at the meeting where students discussed Shapiro's anticipated lecture, and said he was happy those who opposed Shapiro's views attended the event.
"We were not hoping to pack a room full of people that completely agreed with Ben Shapiro, and allow that thought to be just kind of stagnant and not allow those students to feel welcomed into that space," Welch said.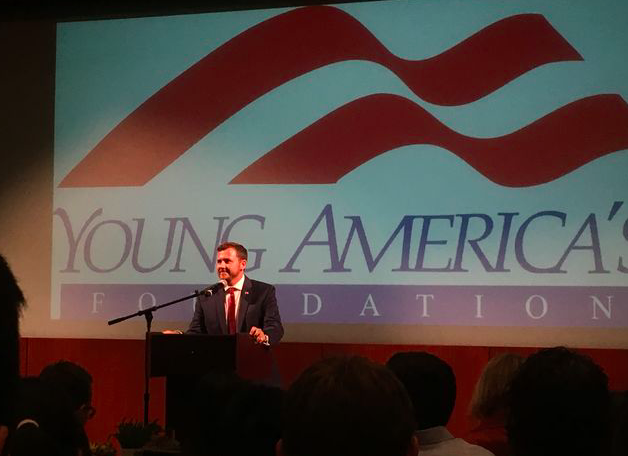 Sarah Neiman, senior and co-president of LGBTQ+ club Crossroads, said after the event that no one at the meeting called Shapiro a racist.
"The whole purpose of that meeting was to talk about how to have a civil dialogue with somebody you don't agree with, and how do you show respect to that person, even if they don't show respect to you," Neiman said. "So it wasn't a bitch-fest."
Neiman said that those at the meeting did question whether Shapiro believed in institutionalized racism, "because he has made comments of that in the past where he does not believe in institutionalized racism."
Promoting Inclusivity in Political Discourse
Senior Halee Dobbins helped organize Shapiro's appearance and said she thought the event, which filled up Elkins Auditorium, went "incredibly well."
"The goal now is to let the students respond to it, in their communities and in their groups, and think about these issues and think about his perspective — whether they agree or don't agree — and then build off of that," Dobbins said.
In Shapiro's lecture, he frequently referred to the term Overton Window, the range of "acceptable discourse," or which ideas are deemed "acceptable" to discuss publicly.
Shapiro said "the left" — a term he differentiated from average "liberals" as those who take liberalism too far — is shrinking that window in what he calls "one of the biggest problems that is facing America's college campuses and universities" as well as American public discourse in general.
Shaprio described three categories of speech: acceptable discourse one agrees with, acceptable discourse one disagrees with, and unacceptable discourse. He accused "the left" of shrinking this into two categories: "The acceptable are views that agree with you. The unacceptable are everybody else," Shapiro said.
One issue, Shapiro said, in identifying speech as unacceptable is the idea of White privilege, which he said purports that White people cannot understand the issues that Black people and other minorities face because they have not shared their experiences.
"If your notion is that we can't understand each other as people to the extent that your ethnic identity matters more than your viewpoint, that is an un-American perspective," Shapiro said.
The Cambridge Dictionary defines white privilege as "the fact of people with white skin having advantages that other people do not have," such as greater access to legal and political institutions.
He went on to say that "identity politics is corrupting our politics."
"While it's true, I will never experience what you experience, and you won't experience what I've experienced; the whole point in having a democratic republic is that we can speak to each other at the level of policy so that we can come to solutions," Shapiro said.
Shapiro Addresses Institutional and Systemic Racism
Valentine Douglas, a member of the Black Student Association, challenged Shapiro's views on institutionalized racism during the Q&A. Douglas cited a poor education system, police murders of Black individuals, disproportionate representation in prisons and lack of representation in the entertainment industry as effects of "blatant racism of the past."
"How can we not call that institutional racism?" Douglas asked. "Thus, those who do not face the problem, hold the privilege."
Regarding police "getting off for shooting innocent Black people," Shapiro said, "statistically speaking, this is really not happening," referencing a National Bureau of Economic Research study that found Black people were "less likely to be shot by police in similar circumstances than White people." He also said an issue is that "cops get off on everything," which is not race-specific, and Black people tend to have a higher rate of crime.
The issue in the education system, Shapiro said, is "locking people into their local schools." He said a potential solution to this is school choice for working class families. He also said that cultural issues — not specific to any particular race — exist in that parents are not putting enough emphasis on education.
Racial reality that has contributed to an economic and psychological reality for Black people must be acknowledged in the conversation, Douglas said.
"If we don't acknowledge that, and we're just talking about, 'Well there's no racist policy that's making this happen,' we're ignoring the racial reality that's creating the psychology that's causing those crimes that we're talking about," Douglas said.
In terms of psychological impact, Shapiro said, "Studies tend to show that people who focus a lot on all the wrongs that have been done to them over life, by the system, by anybody, tend not to succeed."
Shapiro recommended going to college, making a "crap-load" of money, and getting power to change policy. "The only way this happens is by taking responsibility as individuals," Shapiro said.
Responding to Shapiro, Douglas pointed out situational disparity.
"If I have to jump through five hoops, jump over a … volcano and do all this to reach my success, and you swim across the pond, [do] you get what I'm saying?" Douglas asked.
In response to Douglas, Shapiro said he rejected any blame for the family he was born into and the socioeconomic environment in which he was privileged.
"On a positive level, that's unfair." Shapiro said. "That's not something that can be cured by government, and that's also not my fault that I was born across the pond."
Continuing Discussions On-Campus
The last three rows of Elkins were reserved for attendees who brought signs they wished to display during the lecture to prevent anyone's view from being obstructed. All posters were viewed by administrators before being allowed into the venue.
Pepperdine also marked the area surrounding the fountain as a space for demonstrators, but as of 6:30 p.m., no demonstrators were present.
Although she said she did not agree with a lot of what Shapiro said, Neiman said she got a lot out of the discussion, and she hoped others did as well.
"I'm really glad Pepperdine had it," Neiman said. "I think it is a good move in the right direction of having discussions about differing viewpoints."
Welch said he hopes to promote diversity of thought on campus by bringing in more speakers and hosting more events like Shapiro's appearance.
"This is not the end-all be-all. This is the starting point," Welch said. "This is the beginning of where these conversations can go from here."
Check out the Graphic's live-tweet of Shapiro's lecture and Q&A here.
______________
Follow the Pepperdine Graphic on Twitter: @PeppGraphic