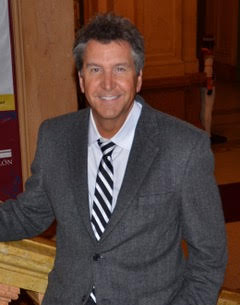 Photo courtesy of Charles Hall
Charles Hall will be stepping down from his role as dean of International Programs after the 2018-2019 school year. Hall will take a one-year sabbatical leave and return the following year as an associate professor of Sociology for Seaver College.
Hall has served as dean of International Programs since 2005. Over the past 14 years, Hall oversaw the creation of the Shanghai and Lausanne programs, and he led International Programs to being ranked No. 1 in the nation for the past three years by the Institute of International Education.
He most recently launched the Global Fellows Program to provide students with experiences and courses that will shape them into more globally minded individuals. To be a Global Fellow, students must complete an academic year in one of Pepperdine's overseas programs and complete one semester in the Washington D.C. program where they will intern with an organization that an international scope.
Prior to serving as Pepperdine's dean of International Programs, Hall was a full-time sociology professor at Cal Lutheran University. Hall said he is ecstatic to be back in the classroom.
"I turned 60 years old last week, and whenever you hit those milestones in life, you ask yourself what do you want to do for the next 10 years, and I think when I really asked myself 'what do I miss?' I miss the classroom," Hall said.
Hall said he is devoting his sabbatical leave during the 2019–2020 academic year to getting back into the field of sociology.
Although he does not know which sociology classes he will teach, Hall said he looks forward to the daily routine of interacting with students.
"When you're in the IP dean role, you do not have much connection with students," Hall said. "You do stuff that affects students, but you don't have the day-to-day, wonderful encounters in the classroom when you help mentor, help educate and sit in dialogue with students."
Hall said his favorite memories from serving as dean include starting the Lausanne program in 2007 and starting the Shanghai program in 2008.
"I really enjoyed looking at the possibilities of opening Pepperdine to China because I knew it was a culture that we needed to understand," Hall said.
Senior Brianna Beiler, who serves as the Global Fellow Intern for the office of International Programs, said she considers Hall one of the most influential mentors she has had during her time at Pepperdine.
"He is the epitome of civility, encouragement and strength to me," Beiler said. "His stable, constant presence is hard to come by, and it makes me thankful that I got to work with him and learn from him during my time here at Pepperdine."
Michael Feltner, dean of Seaver College, said Hall has greatly improved the quality of IP's education programs.
"There's a reason why International Programs is viewed as one of the most positive experiences for students," Feltner said. "A large part of that has to with programs Charles has added and enriched. I think it's through the people he's hired, and it's ultimately a result of his leadership."
Feltner said he especially values Hall's ability to lead in moments of crisis.
"He has poured himself into each of those situations and helped really bring a sense of wisdom, a sense of calmness in terms of managing toward an effective solution," Feltner said.
Feltner said Hall served as International Programs' second dean. The first dean of International Programs was Williams Phillips, who is currently an emeritus professor of physics for the university.
Pepperdine will begin a national search for Hall's successor this fall.
__________
Follow Kayiu Wong on Twitter: @kayiu_wong