Photos courtesy of Victoria Thorsen
Authorities are warning the community to pay particular attention to their vehicles following a series of car break-ins in the Malibu area. Several students and community members reported smashed windows and stolen valuables in the past few weeks.
Victoria Thorsen, a senior Sports Medicine major, reported being victim of a car break-in at the Malibu Country Mart on the evening of last Wednesday, Jan. 17. Thorsen said she parked across the street from Starbucks on Cross Creek Road at approximately 8 p.m. to go eat at BurgerFi, accompanied by fellow Pepperdine student and friend, Gracyn Lewis.
When the two students returned to Thorsen's Jeep Grand Cherokee at approximately 8:50 p.m., they found the right passenger door window smashed.
"They snatched me and my friend's bags. We lost wallets, computers, my iPad and all of our school stuff," Thorsen said.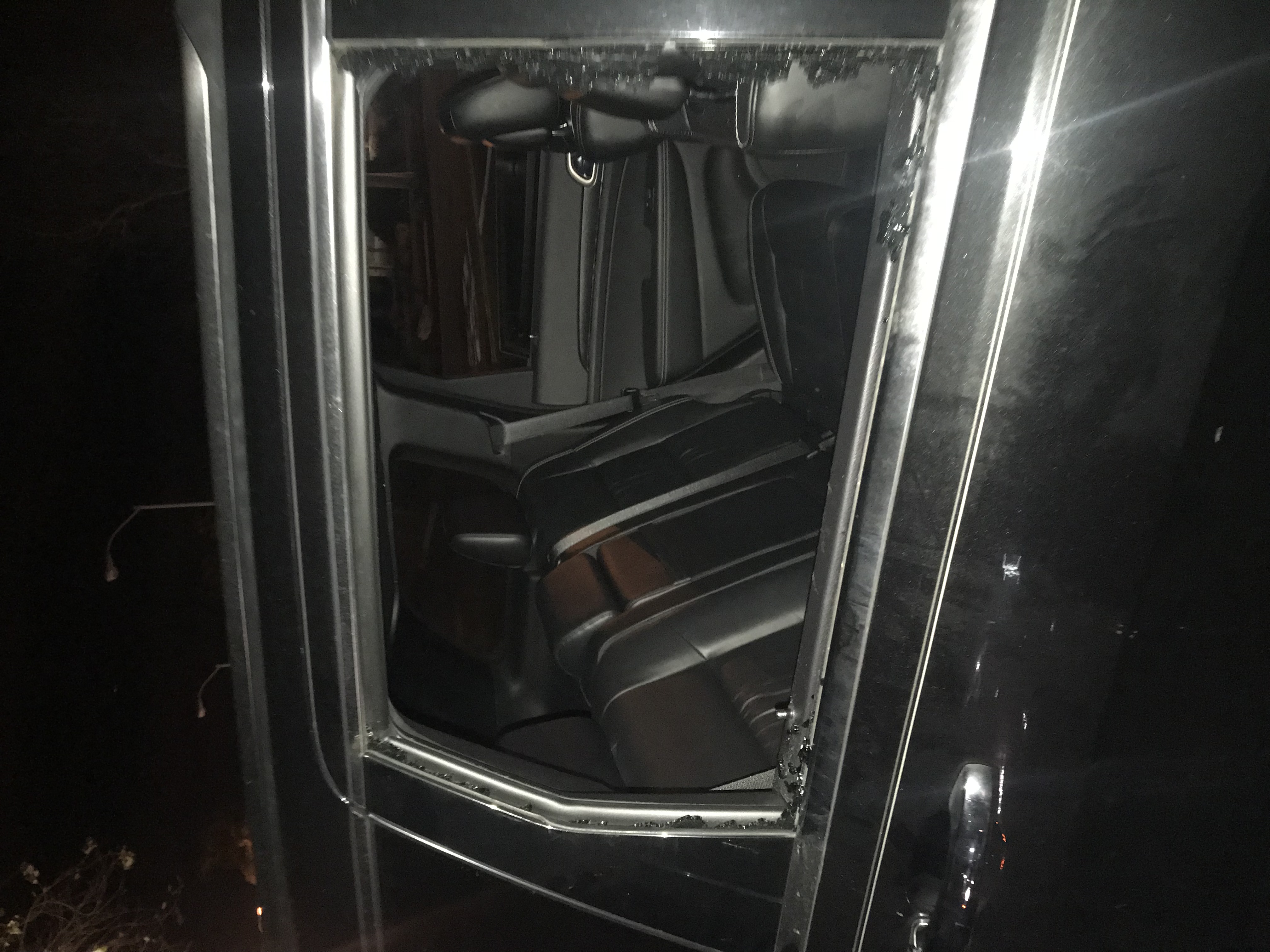 Thorsen said the police told her these car break-ins have become common occurrences in the past weeks.
"The police took awhile to get there because they said that they were dealing with six or seven other similar calls that night," Thorsen said. "He (the police officer) showed me his laptop and showed me all the [car break-in] incidents in the area … He said that there was about 30 to 40 incidents in the last month."
Louise Ramirez, crime analyst at the Malibu and Lost Hills Sheriff Station in Calabasas, said that only two car break-in incidents had been formally reported in the area in the past few weeks.
The discrepancy between the reports of Ramirez and Thorsen's account of the police officer's statements remains unclear, but may be due to incidents that were not formally reported.
"I only have the reported crimes in the system. If it's not reported, then I can't see it and don't know if there's a problem," Ramirez said.
According to Ramirez, the first reported incident was an occurrence at Malibu Cross Creek where a Pepperdine student's backpack, tablet and school supplies were taken, presumably referring to Thorsen's incident.
After the incident, Thorsen said she and Lewis drove around nearby areas checking places where their backpacks may have been dumped. Thorsen said that during this time at approximately 11 p.m., the women saw police attending to a different car burglary near Duke's as well as smashed glass near the Malibu Pier.
Thorsen and Lewis' backpacks were later discovered near the Malibu Vet Clinic and returned to the students. Their electronic items and wallets were not found.
Director of Public Safety Dawn Emrich wrote that she was "not aware of any [car break-in] incidents occurring off campus," but did report "an incident, reported as vandalism, that involved a car window being broken on Seaver Drive and an incident of auto-burglary that occurred at Pepperdine's Encino campus (the latter was reported this week)."
Bartender Michael Romero is another individual who disclosed being victim of a car robbery in Malibu. The thief broke into Romero's 2012 Honda Accord outside of his place of employment, Ollo restaurant near CVS, while he was working last Wednesday, Jan. 17.
"I went out at about 8:30 p.m. to put something in my car and then when I came back an hour later at about 9:30, I found that my passenger side window had been smashed," Romero said.
The thief took only Romero's nearly empty soccer cleat bag, as there were no other valuables present in the car.
Romero said he called the police but then chose not to formally report the crime, reasoning that the approximate 45 minutes wait for the officers to arrive on the scene would not be worth it, since nothing of major value had been stolen.
"I decided to just count my losses and head home," Romero said.
The second formally reported burglary occurred near the Ralph's grocery store, Ramirez said. The window was smashed and property, such as a backpack and laptop, were stolen from the floorboard of the vehicle.
"It's important that Pepperdine students know about this because [car burglars] obviously are going to target us. They know we leave our backpacks and laptops in our cars and they can tell which cars we drive from the Pepperdine stickers and out-of-state license plates," Thorsen said. "Don't leave anything in your car."
Emrich reiterated practicing caution when asked for her professional input on how the community can avoid falling victim to these crimes.
"The best practice is to avoid leaving valuables in your vehicle or place them out of sight. Always locking your vehicle and parking in well-lit areas can also help prevent this kind of crime," Emrich wrote.
__________
Follow the Pepperdine Graphic on Twitter: @PeppGraphic