Photos Courtesy of Campus Recreation
Life's a beach, but stop playing in the sand since you can now jump in the water with Pepperdine's Campus Recreation Equipment Shack's new rentals of aquatic beach toys.
The Equipment Shack now offers cheap daily rentals of kayaks, stand up paddle boards (SUP), surfboards and wetsuits. Daily rentals of wetsuits are $7, and it's $8 for surfboards, $20 for SUP's and $15-20 for kayaks. For more information about pricing visit: http://community.pepperdine.edu/campusrecreation/outdoor/equipment/
Assistant Director of Campus Recreation Denton Jones said that these activities have always been in high demand, but now Campus Recreation can support students needs for these aquatic activities at a reasonable price.
The Equipment Shack now has seven stand-up paddle boards (SUP), six kayaks and roughly 15 surfboards in stock. Campus Recreation purchased them mostly from Malibu Surf Shack and NSP Surfboards, according to Jones.
Jones stressed how reasonable the rental prices are. "If you look at the rental prices around Malibu, you may pay up to $40 for renting for two hours," Denton said. "Even though we're only open for a couple of hours in the day, it's a better deal."
Surf Convo, which is Wednesday mornings at 7 a.m. on Zuma Beach, has become increasingly popular and is an organization with which the Campus Recreation Equipment Shack has paired up.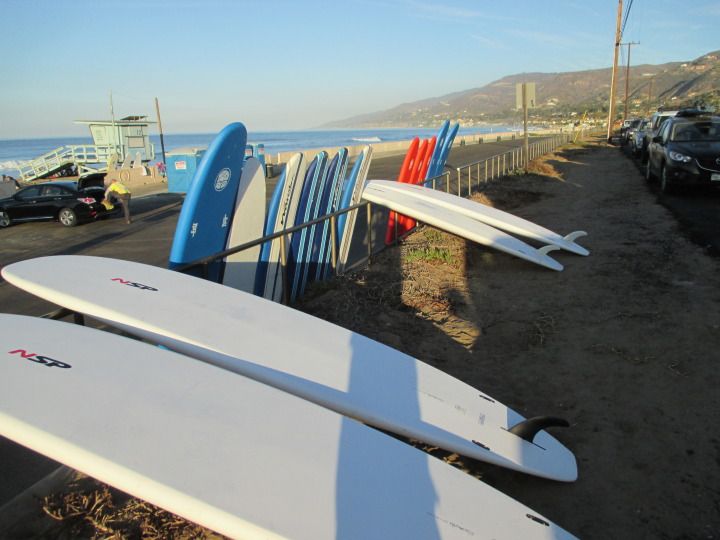 The Equipment Shack is located under the bleachers at the Harilela Tennis Stadium.
"We wanted to support Surf Convo, so we send two employees to Surf Convo every week and loan out 20 to 25 surfboards," Jones said.
Senior Whitney Gilliam said she thinks it's amazing that Pepperdine loans boards to students on Wednesday morning at Surf Convocation. "We get to surf and praise the Lord — the best of both worlds," Gilliam said.
Sophomore Desmond Herring, who works for the Student Programming Board, said he is excited about the prospect of renting out aquatic equipment. "Now, we can plan an event where it's kayaking at Zuma as opposed to paying more money to go to a company which would charge a large amount of money to rent out the equipment along with instruction," Herring said.
Herring said whenever the Board needs sports or recreational equipment, they go rent it from Campus Recreation. "Even when we did a retreat at the beginning of the year for training, we rented lanterns, tents and other necessary supplies for the trip from Campus Recreation," Herring said.
Student Manager of Club and Intramural Sports senior Mike Norfleet said the cheap rentals are good for students living in Malibu who haven't necessarily had access to these things before."It promotes wellness and good health, while having fun," he said. "Also, when the ocean is in your backyard, it makes sense to utilize it."
The Equipment Shack doesn't just do daily rentals for students. "We take the kayaks and surfboards on trips," Jones said. "This past month we went to Point Dume. We had a rock climbing instructor and other beach toys."
Around 16 students participated in this low cost trip, where all the equipment was included.
Junior Christopher Burns said Campus Recreation is a fun atmosphere to work in, knowing that everyone has the same goal of facilitating physical health for students.
"We live in an absolutely beautiful place, with all kinds of outdoor things to try, and I think it's great that Campus Rec has a mission of getting students outside and exercising," Burns said. "Hopefully the new beach toys are just another way for students to enjoy living here in Malibu."
__________
Follow Veronica Felicity Johnson on Twitter: @Veronajohn36