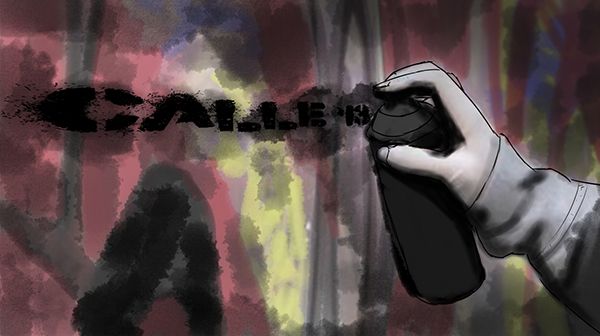 Art by Sacha Irick
Picture a rap, hip-hop or reggaeton music video — we all know what they look like almost by instinct. The formula is the same: At some point, the lyrics mention success and endless amounts of money and images in the music videos serve the purpose of making it seem that way.
Latin American hip-hop phenomenon group Calle 13 released their new album this year, and on March 6 they released the music video for their first single, "Adentro." You can guess what the video looks like just from its genre label — that is, of course, if you've seen enough Pitbull or Macklemore videos.
When I first watched Calle 13's music video for "Adentro," I was able to see all the same repeating elements: black and white shots of young men who appeared to be part of a gang. All of the 'characters' in the video had inked skin and flamboyant (fake) diamond piercings, wore wife-beaters, cradled extremely fancy guns and weapons that matched perfectly with their buzz cut and chunky, gold chains draped from their necks. Then, of course, a shot of a Maserati — the luxurious car, an essential element for any mainstream hip-hop, rap or reggaeton music video that wants to seem legit.
Visually, the video met the overdone status-quo of mainstream media. The content of the lyrics, however, is what makes this acclaimed rap and hip-hop band so important to me and to their listeners.
As the images unfold through the song, the words that the singer recites are completely opposite to the visuals. What is he rapping about? It's something I'm sure no mainstream hip-hop artist or rapper — yes, Kanye fans, not even Yeezus — would have the courage to sing about and confess to the public.
"I have released five albums already, and I'm still not rich," lead singer Rene Perez raps. "My sexual performance is the lowest, and mocking bald guys, I grew bald myself," he continues.
How refreshing — a famous rapper who isn't rapping about his or her crazy sex life or the physical and economical appeals or failures of the music industry.
As the video continues, we learn that the Maserati is actually Perez's own car. During a shot that focuses on the silver, luxurious car, Perez sings, "Before understanding the inequalities of people, I bought a used Maserati that now doesn't work."
The moment of shock comes at the end of the video in which we see Perez destroy his very own Maserati with a bat before pushing it off a cliff. The video ends with a shot of the flaming, now unrecognizable figure of his silver Maserati.
I went online and immediately looked up the behind-the-scenes information of the video. The car was his own, and he decided to get rid of it once he realized that the car was not necessary for him to live a happy life and that owning such an expensive car was a form of insult toward the marginalized, impoverished communities around the world. With the amount of money that a single Maserati costs, he could have been able to rebuild their communities, get access to clean water and even improve education in more than just one place.
Many people look down upon hip-hop, rap and reggaeton due all the negative money and sex-oriented ideals that the genre promotes most of the time. But Calle 13 has proven not only that this stereotype can be violated or ignored completely without jeopardizing the artist's success and popularity in the industry, but also that music should not only be an outlet to let out our frustrations or ignore all the problems surrounding us in our lives.
Rather than using the genre of urban music to express frustration or ignore daily troubles, Calle 13 has shown us that music can be used to address and fix these bigger problems.
In 2005, Calle 13 released its first album, in which the small Puerto Rican hip-hop group debuted with their hit single "Atrevete," which in Spanish means 'dare yourself.' Aside from the extremely catchy tunes of the song, Calle 13 was starting and promoting social equality movements through the seemingly empty-minded lyrics. "Dare yourself, come out of the closet, uncover yourself," are the lyrics from the chorus which resounded in nearly every bar, club or dance party throughout Latin America — the underground, reggaeton band was penetrating through the sexist, Latino culture that was holding back activists' attempts to advance gay rights in the region. From its very humble beginning in one of Puerto Rico's most poor, marginalized neighborhoods known as 'Calle 13,' the two step- brothers and their half-sister founded their musical group on their strong conviction for social and political equality. Two years after their "Atrevete" debut, Calle 13 released their second album, 'Residente o Visitante,' which earned them international recognition and even three Latin Grammys. Their third album, released in 2008, won Album of the Year at the 2009 Latin Grammy Awards.
Today, Calle 13 has a total of five albums, 19 Latin Grammy Awards — they currently hold the record for most Latin Grammy Awards a group or artist has ever received — and two American Grammy awards.
The lead singer, Rene Perez, who goes by the artistic name of 'el Residente' (the Resident) has been the face behind all of the controversy, scandals and public image of the group.
The singer and songwriter made headlines in 2009, when, while hosting the famous Latin American MTV Awards ceremony, Perez called the governor of Puerto Rico, Luis Fortuño, a "son of a bitch."
Perez started out by saying that "Latin America is not complete without Puerto Rico," and used the opportunity to express his anger against Fortuño's decision to lay off more than 10,000 Puerto Rican public workers a couple of days earlier.
Calle 13 just recently launched their fifth, latest album, "Multi Viral," and Perez also made headlines by asking Julian Assange to collaborate with Calle 13 in a song. By doing this, Perez has said in several interviews that he hopes to raise awareness around the world about human rights —most specifically, our right to privacy and freedom of speech.
Since Calle 13 started promoting "Multi Viral," Perez has used the media attention to voice concerns and awareness about revolutions, protests and demonstrations for freedom around the world. Among the causes the band has supported by raising awareness about are the "15-M" separatist protests in Spain, the youth's Arab Spring in Egypt and Mexico's university student-led "Yo soy 132" ("I am 132") movement against the current government and Mexican media's biased coverage of political events.
In response to the violent, authoritarian reaction of Venezuela's government toward the peaceful, anti-government protests that have been taking place in Venezuela since Feb. 12 of this year, Perez said during a concert two weeks later in Puerto Rico's capital city, San Juan, that the people should not allow the media to cheat nor deceive them. He called for nonviolent protest and peace across all nations.
Just last year, Calle 13 released a song and music video in collaboration with UNICEF which was titled "La Bala," ("the Bullet"), and the lyrics and video portray the dangers and irreparable damage and harm that violence and weapons cause in families and communities throughout the world. A Huffington Post Article from July 3 last year announced that the "Action on Armed Violence organization has named the band among the 100 most Influential People In Armed Violence Reduction." The report also makes note of the fact that the AOAV's recognition of Calle 13's efforts puts the band among the list of important historical figures that have been recognized by the organization in the past, such as former President Jimmy Carter and the Dalai Lama.
If you have some free time this week, I recommend you go check out Calle 13's music and videos. Many of the songs have English lyrics, and all of the music videos have an intricate, complex, political and social meaning, which is fascinating to see implemented in hip-hop music videos.
_______________________________________________________________________________

Follow Maria Prada on Twitter: @chuzac
Follow Sacha Irick on Twitter: @GraphicSacha