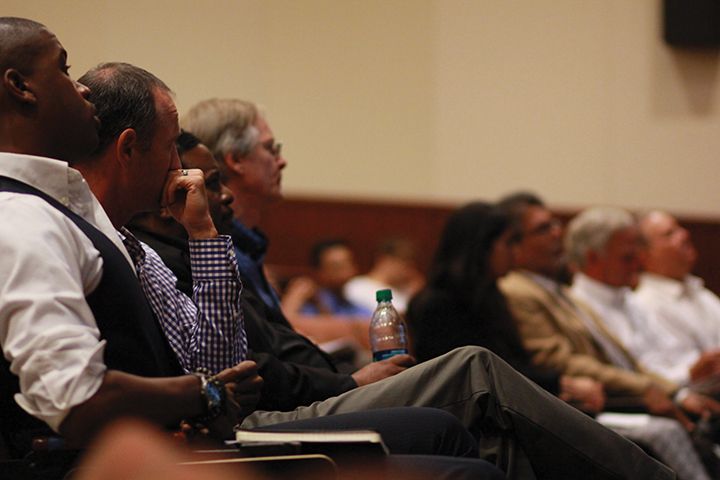 Photo by Arin DeGroff
Students, faculty and staff filled Elkins Auditorium yesterday for a Convocation event discussing Michael Brown and the situation in Ferguson, Mo. The Convo, "Mike Brown's America: Race, Policing and the Value of Black Life in America, a Christian Response," discussed racial issues in the United States involving black citizens.
The panel consisted of six faculty members from the social science and religion divisions, as well as two Seaver students. Each person on the panel was given five minutes to discuss the topic at hand from their personal perspectives. After the panel session of the Convo concluded, discussion sessions were held in three groups in the Plaza classrooms at 5 p.m.
Assistant Professor of Sociology Dan Morrison organized the panel. He was helped by Visiting Assistant Professor of Social Work and Director of Social Work Emily Scott-Lowe and Associate Dean of Student Affairs Tabatha Jones-Jolivet.
Faculty members on the panel included Associate Professor of Religion Ira Jolivet, Distinguished Professor of Political Science Dan Caldwell, Professor of Psychology Tomas Martinez, Professor of Political Science Joel Fetzer, Assistant Professor of Religion Raymond Carr and Associate Professor of Political Science Brian Newman. Sophomore Melissa Hurtado and senior Joshua Gray were the two student speakers on the panel. They are both staff writers for the Graphic.
Morrison said he spoke with many people across campus who expressed "real grave concerns" about what was going on in Ferguson and "other police killings" and what that meant "for us as a society."
"I think we witnessed one powerful event in an ongoing dialogue on race and social justice tonight. We all have a stake in this conversation," Morrison wrote in an email.
He said he also felt that students responded robustly to the both the panel and the following dialogue sessions.
Junior Paige Wandling said she felt the Convo was effective in opening up the conversation about race, specifically on campus.
"It's very easy to choose to neglect certain realities, but that doesn't mean they don't exist," Wandling said.
Senior Daniel Chang said he thought the Convo raised awareness about what minorities deal with "not only at Pepperdine but in the whole nation."
"I really feel that Pepperdine needs more Convos like this to raise awareness about minorities since our student body is predominantly white," Chang said.
Morrison said this will not be the last discussion on campus about race and racism in the United States.
"There are going to be a series of town hall events on race and racism, social problems and social justice on campus throughout the academic year. I think this Convocation event was a really nice way to inaugurate that series," Morrison said.
__________
Follow Breanna Grigsby on Twitter: @Bre_Louise