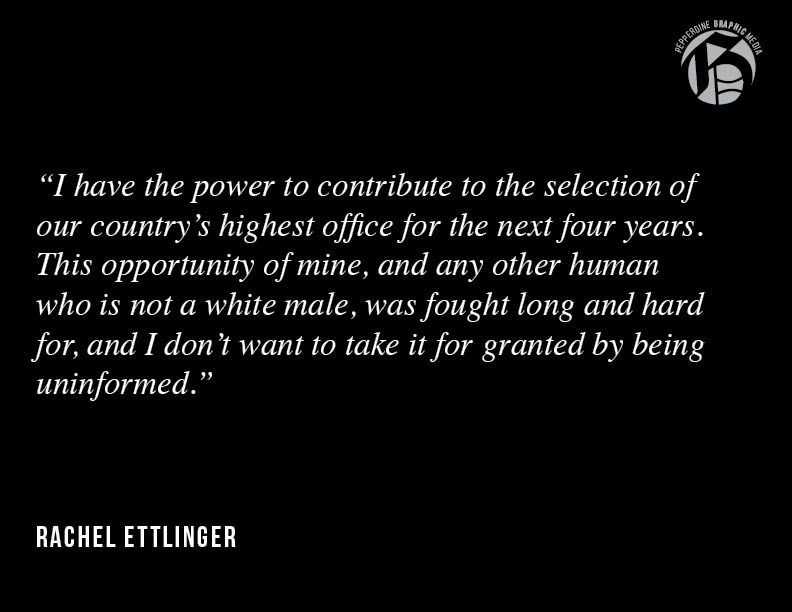 Art by Nate Barton
This will be the first opportunity for a majority of the undergraduate student population at Pepperdine to vote in a presidential election. To me, this opportunity is invaluable. I have the power to contribute to the selection of our country's highest office for the next four years. This opportunity of mine, and any other human who is not a white male, was fought long and hard for, and I don't want to take it for granted by being uninformed.
Without informed voters, we might end up like Britain, who recently left the European Union and then had a spike in google searches from those who wanted to know what the UK had just left. Whether you agree with Brexit or not, the fact that some voters had to try and figure out what they voted to leave is severely troubling.
But researching, googling, reading news or debating with peers, elders, youngsters and the like, develops more informed and educated voters, and I think this country can certainly use more of those.
Because of this, I forced myself to sit down just a little over a month ago to watch the entirety of both the Republican National Convention in Cleveland, Ohio and the Democratic National Convention in Philadelphia, Pennsylvania. Each four-day convention occurred just a week apart from one another, and each provided a different window into the propaganda of politics for each party.
My goal, besides to fuel my CNN addiction, was to fully immerse myself in each party, trying to see how each party attempted to unify itself in seemingly severely divided atmospheres. I concluded that both parties have a long way to go before unification of any sort is whole-heartedly achieved.
One isn't likely to get details on candidates' policies or their views on controversial topics, such as gun control, immigration, the economy and more, from these conventions. Instead, one witnesses redundant supporters speak on the nominee's behalf. There isn't a sufficient amount of research or factual information for voters to make informed decisions from watching conventions.
One can easily state "Trump is a racist" or "Hillary is a liar," but without evidence to back up those claims, those words are meaningless. Make your words count by understanding what it is you are saying and have evidence to back up your claims.
__________
Follow Rachel Ettlinger on Twitter: @Hey_RaRaRachel