Photos by Vernie Covarrubias
The Center for Sustainability unveiled a sculpture titled World at War alongside student artwork on Nov. 5.
Artist Blake McFarland said he created the piece as a way to bring awareness to the issue of human waste in the ocean and landfills.
"The figure is rising up out of a pile of trash, holding a crumbling earth," McFarland said. "It symbolizes how we as a society are destroying our earth with our bad recycling habits and climate deterioration activities."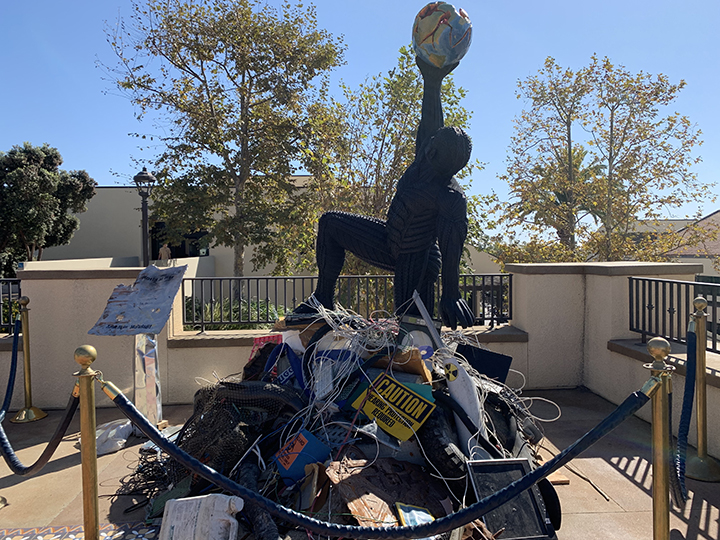 The sculpture is made of 100% recycled material. McFarland said he collected the materials from beaches and landfills in the Bay Area.
"My goal for this piece was for someone to walk by it and see something that they would consider trash and transform it into something very unique and thought-provoking," McFarland said.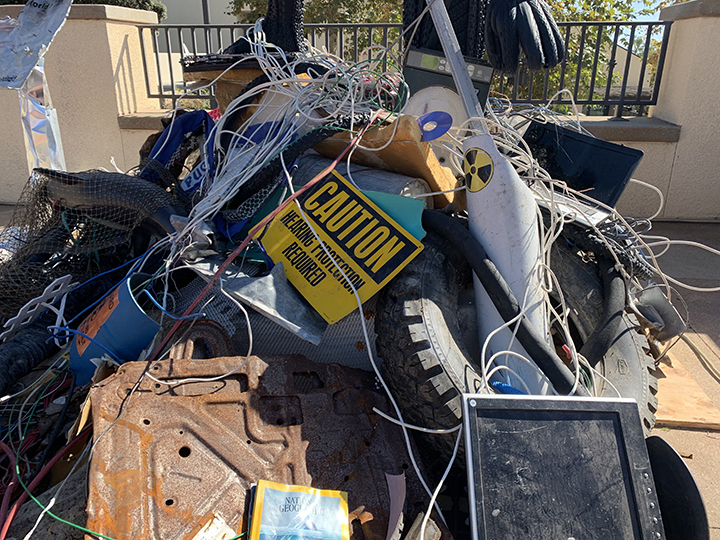 At the bottom of the sculpture, items such as nets, wires, plastic crates and discarded signs are piled together.
The hero character is made out of recycled tires, which McFarland said come in many different forms of tread.
"The interesting thing about tread is you can depict muscle structure very well," McFarland said. "So I went straight to the anatomy books and made the muscle structure as anatomically correct as I could."
McFarland said he considers it crucial for college students to be exposed to the artwork's subject of human waste.
"You see talk about ocean populations going down, you see overpopulated areas with trash everywhere," McFarland said. "I think it's really important to show that we can change our habits by eliminating single-use plastics and being better about recycling."
In addition to McFarland's piece, the exhibit displayed artwork that various art students and art club members made from recycled materials.
The Art for the Earth event was a part of a greater initiative the Sustainability Program is pushing on campus.
An Enjoyer ice cream cart was present at the exhibit with a variety of vegan popsicle flavors for students to choose from.
Additionally, representatives from Hyundai were present to promote the Fill it Forward Challenge, a $100,000 competition between Pepperdine University, Loyola Marymount University and Santa Clara University.
The challenge encourages students to track each time they refill their water bottles with a barcode sticker.
"There's an awareness already at Pepperdine about the importance of using a reusable water bottle," Center for Sustainability Director Camila Pupparo said. "But I think that could expand to more people in making them aware of how much plastic we waste. Most of it ends up in our landfills that are overcrowded or in our beautiful ocean."
The awareness about waste that the Fill it Forward Challenge aims to spread closely aligns with the inspiration behind his project, McFarland said.
Pepperdine will display World at War until Nov. 13.
______________
Email Vernie Covarrubias: vernetta.covarrubias@pepperdine.edu