Photos by Arthur Puu
Pepperdine's Center for Sustainability and Environmental Health and Safety partnered with Homeboy Industries to collect 1,476 pounds of electronic waste in its third annual campus-wide eWaste Drive.
The drive was held outside the entrance to the Music Building from 7 a.m. to 3 p.m. Participants who donated their electronics received a free pastry or sandwich provided by Homegirl Cafe and Bakery.
Assistant Director for Safety Learning and Engagement Liza Kabanova said the event's mission is to promote awareness for recycling electronics responsibly and the benefits it has upon the environment.
"We want to make sure our staff and students are aware of the fact that we shouldn't be throwing our electronics in the trash," Kabanova said. "It's an environmental issue and Pepperdine really cares about the environment. So it's something that is important to us and we want to make sure we spread the word."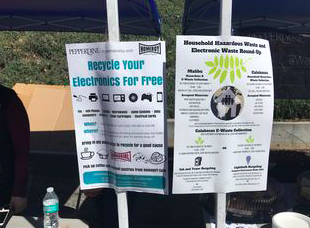 Items that were collected during the event included old computers, laptops, cell phones, printers, televisions and cable cords.
"I think a lot of people are really confused on what to do with their old electronics," Mead said. "They keep them in their houses for years and years and now we're finally giving them the opportunity to dispose of them properly in a sustainable way."
Mead also joked about the wide range of electronic artifacts people have brought in for the collection drive.
"We have a whole history of cell phone technology starting from your brick cell phone all the way to your modern iPhone," Mead said. "We'll take anything and it's fun to see the old stuff people tend to bring in. Some of the printers are really ancient."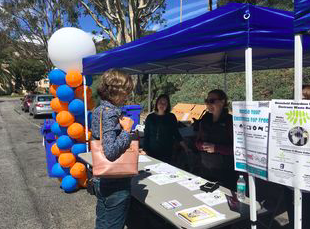 Last year, the event collected 3,146 pounds of electronic waste that was repurposed or recycled by Homeboy Recycling, but numbers for this year are expected to be lower than last year, Mead said.
Homeboy Electronics Recycling, a branch of Homeboy Industries, offers certified eWaste recycling, data destruction and IT asset recovery services. The branch also offers electronics repair and electronic equipment rentals.
"We were really excited to work with [Homeboy Industries]," Kabanova said. "We reached out to them last year about the last eWaste drive and it turned out they have Homeboy Recycling. They get all sorts of electronics and repurpose them and recycle them so they don't go into landfills."
This is the second year the Center for Sustainability and Environmental Health and Safety is partnering with Homeboy Electronics Recycling. They also look to continue working with Homeboy Industries for years to come.
"They were really excited to partner with us, and it went really well [last year] so they decided to do it again this year," Mead said. "We're planning to continue partnering with them for future years. They've been a great partner for us and we love working with them."
Pepperdine's partnership with Homeboy Industries extends beyond the event. The Rev. Gregory Boyle, the founder of Homeboy Industries, will be the commencement speaker for Seaver College in April. Boyle previously spoke during Pepperdine Bible Lectures in 2016.
A group of Pepperdine freshman students also visited the site of Homeboy Bakery back in 2013 for a New Student Orientation excursion.
Although the drive was a one-day event on Pepperdine's campus, Mead said recycling electronics is something that people can do everyday locally.
"The City of Malibu and City of Calabasas have regular drop offs for electronics, light bulbs, printer cartridges and batteries, so those hard-to-dispose items are always accepted at the city level," Mead said. "Even if Pepperdine isn't doing an event, you can always contact Malibu or Calabasas on how to dispose of eWaste."
For more information and resources on recycling electronics or ways to contribute, contact the Pepperdine Center for Sustainability at emily.mead@pepperdine.edu, via phone at (310) 506-6702 or on their website.
Updated 4/4/2018 with the number of pounds collected
__________
Follow Arthur Puu on Twitter: @arthurpuu