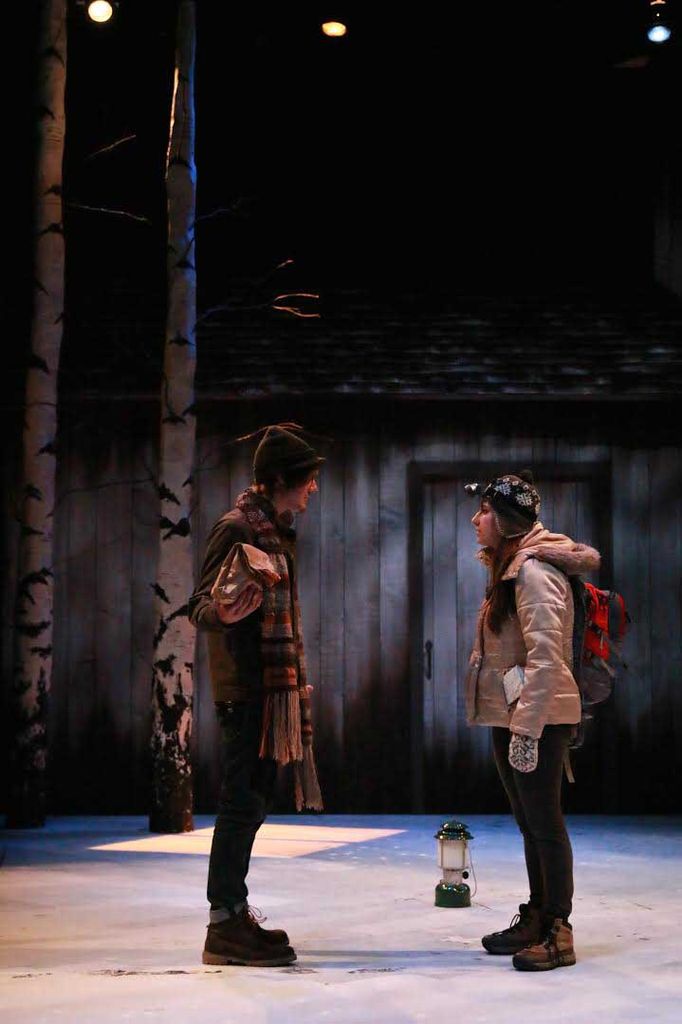 Photo by Danielle Romeo
If you're a fan of romantic comedies, you know the charm many love stories like "Love Actually" or "He's Just Not that Into You" can bring. Pepperdine Theatre is currently producing its own rendition of romance with "Almost, Maine," which opens in Lindhurst Theatre on Sept. 29.
"Almost, Maine" first premiered with the Portland Stage Company, and then opened Off-Broadway in 2005. According to the play's official website, the play has since been produced by more than 12 theater companies outside the United States and by more than 2,500 within the United States.
Directed by Professor of Theatre Scott Alan Smith, "Almost, Maine" is being designed and produced mainly by students. Junior Kylie Owens is the assistant director, junior Lauren Waller is the stage manager for the show, senior Paul Dufresne is in charge of scenic design, junior Brit Rivera is the properties designer and senior Danielle Pena is the lighting designer.
The cast consists of a talented mix of student actors: sophomore Will Craig, sophomore Billy Baker, sophomore Charles Dobey, senior Cameran Holiday, senior Kailee Rogers, junior Paige Elson and freshman Christine Galyean.
The play's website puts a clever spin on its synopsis. "Welcome to 'Almost, Maine,' a town that's so far north, it's almost not in the United States — it's almost in Canada. And it almost doesn't exist. Because its residents never got around to getting organized. So it's just… Almost."
That's right — the town's actual name is Almost. The show is comprised of nine short stories that depict how bizarre love really is. The characters' feelings and the way they rationalize their actions are inexplicable at times. However, this simply makes them more relatable.
"Almost, Maine" is the small town with which many are familiar. Everyone knows each other, not many leave and those who do leave don't always find what they thought they would. Although this scenario might make the play seem slightly predictable, the different stories provide plenty of twists and turns throughout. Sometimes what may seem like a disappointing ending turns out to be a hopeful beginning, and other times, perhaps all hope truly is lost.
"If you have ever been in love, or if you have ever fallen out of love, or if you ever hope to be in love, this play is for you," Smith said. "It's a very hopeful play, it's a very funny play, but it is a serious play as well because it deals with couples dealing with real issues."
Rogers mentioned how the show touches on all aspects of love and how love comes into play in each character's life.
"We always hear: 'Oh, you fall in love when you least expect it' and things like that, and I think the show really hits on that," she said. "It's not always love in the 'couple-y' way, but it's love in other ways too."
None of us have all of the answers. This play makes that truth evident. It includes stories of all emotional ranges. Audiences are meant to feel empathetic, sympathetic and perhaps even a bit pathetic when certain scenes are slightly too relatable. That's just part of the charm.
"I love the poetry of these scenes," Holiday said. "They are so poetically written without the language being poetic, and it's such a metaphysical way to describe exactly what we feel about love and when we say things. There is literal symbolism that makes the place of 'Almost, Maine' almost seem magical."
Do not miss the opportunity to see this play. For students, the cost is $5 at the Smothers Theatre box office if you show your student ID. The show runs from Tuesday Sept. 29 to Saturday Oct. 3 in Lindhurst Theatre.
__________
Follow Pepperdine Graphic on Twitter: @PeppGraphic