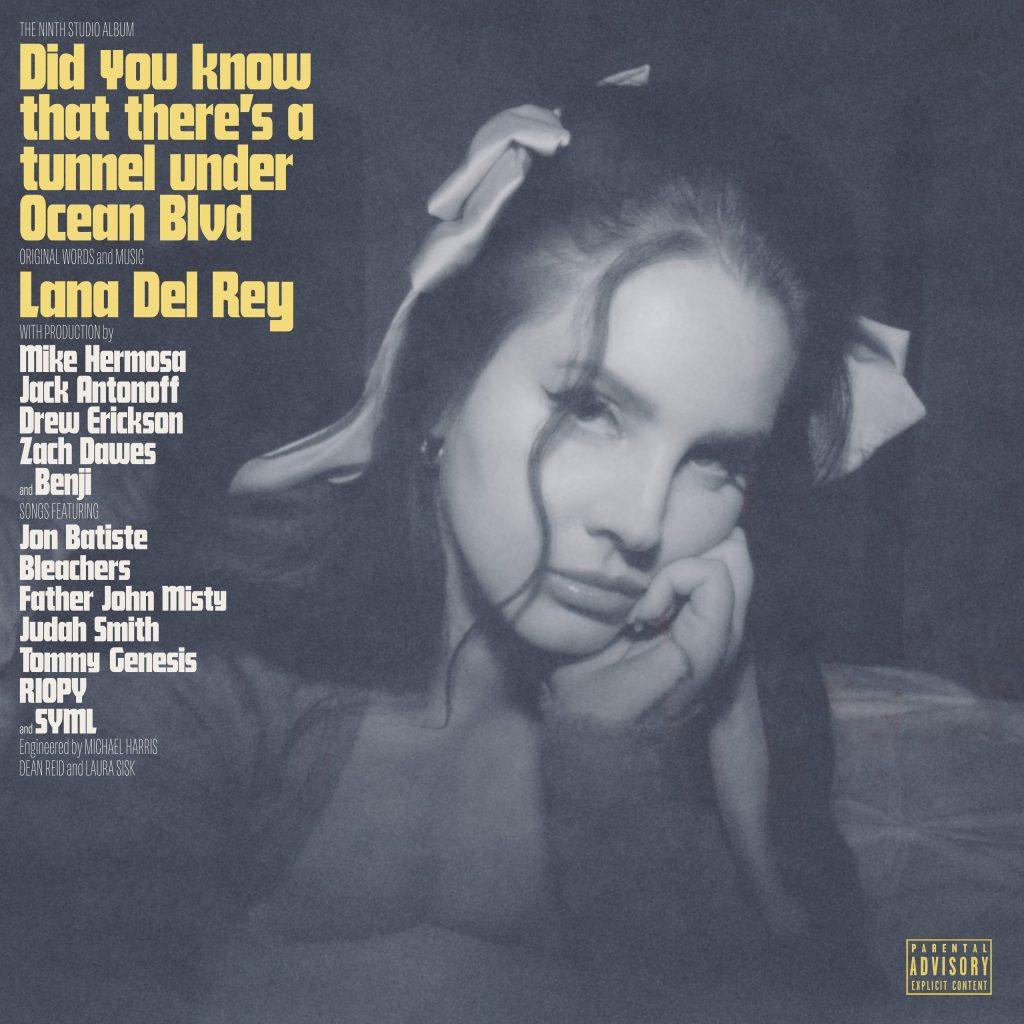 Lana Del Rey tilts her head while resting her chin on her hand on the black and white cover of "Did you know that there's a tunnel under Ocean Blvd." Del Rey released her ninth studio album March 24 and received positive feedback from fans. Photo courtesy of Interscope Records
Transparency Item: A review provides an informed and opinionated critique. These informed critiques are published to make a recommendation to readers. This review is the opinion of the writer.
Singer-songwriter Lana Del Rey has reached a level of lyrical expertise with industry experience that few recording artists can attest to. Del Rey released her ninth studio album "Did you know that there's a tunnel under Ocean Blvd" (DYKTTATUOB) to her 41.8 million Spotify listeners March 24. Del Rey received an abundance of well-deserved support from fans and critics online for her intimate songwriting capabilities and the record's softened sound.
The album's lengthy title epitomizes the singer's lyrical style in her most recent record, which Del Rey said in an interview with Harpers Bazaar references many of her recent personal struggles with aging and healing from her traumatic personal history. The singer's stylistic choice to take on a more mature sound deviates from many of her earlier records which have been rediscovered years after the release, as popularized by TikTok and the Internet.
"DYKTTATUOB" follows the release of her seventh and eighth studio albums "Chemtrails Over the Country Club" released in March 2021, and "Blue Banisters" released nine months later in October 2021. Del Rey teased the "DYTKTTATUOBN" album release when she dropped the iconic title track Dec. 7, according to Harpers Bazaar.
As the lesser-known Lizzy Grant, Del Rey began her career releasing pop-infused singles drenched in themes of denial and hedonism. Yet within the last five years, her most recent albums heavily rely on a persistent piano track that tends to solemnly compliment Del Rey's sultry singing. With a career as extensive and impressive as Del Rey's, surely the public has swayed her sound.
Over a decade after her Lizzy Grant era, Del Rey has embellished her discography by experimenting with multiple musical genres and lyrical styles. At 37 years old, Del Rey said she's not the same singer she was in her youth, and neither is her music, according to an interview for Billboard's 2023 Women in Music Visionary Award.
"11 years ago, I wanted it to be so good," Del Rey said in the interview with Billboard. "Now, I just sing exactly what I'm thinking."
In an interview with Billie Eilish for Interview Magazine, Del Rey revealed she wrote "DYKTTATUOB" as a peek into her personal life since COVID-19, detailing some of her more intimate thought processes that gave way to the record's rawness and meditative messages.
"With this album, the majority of it is my innermost thoughts," Del Rey said in the interview. "Some of the songs are super long and wordy."
Despite the album's completion in early 2022, Del Rey said to Eilish after someone stole her computer and leaked tracks ahead of schedule, she began to feel worried about the album's final state.
"I told everyone I wanted to wait until August because I wasn't feeling ready," Del Rey said. "Then, as things started to leak, I thought, 'You know what? It has been done for a year, so I'll just move ahead with it.'"
Del Rey features several guests on her record, performing alongside artists like Jon Batise on "Candy Necklace," Tommy Genesis on "Peppers" and Bleachers on "Margaret." Despite Del Rey splitting her recording time with several singers, the record's subtle guest features contribute to its understated sound, complimenting Del Rey's soothing singing.
Junior Emerson Glancy shared her satisfaction with the artist's new album and drew a connection to the similarities between "DYKTTATUOB" and Del Rey's older works.
"This album reminded me a lot of 'Honeymoon,' which is my favorite older album of hers," Glancy said.
Though Del Rey has changed her signature sound since her work on early albums like "Born to Die" and "Ultraviolence," the singer-songwriter alludes to her previous eras, each with their own aesthetics and poetic imagery, throughout the new record.
Fans of Del Rey's music were pleased with the album's concluding track, "Taco Truck x VB," which recycles the chorus off a single from her sixth studio album "Norman F**king Rockwell" (NFR). Del Rey's nearly six-minute track starts with simple chords and a stripped sound, soon evolving into a bassy trap remix of "Venice Bitch," and calling back to her NFR era.
Similarly, some fans were delighted by the second released single off of "DYKTTATUOB" titled "A&W," which shares qualities reminiscent of Del Rey's Americana-obsessed BTD era, according to Pink News. Despite reviving sonic elements from her past eras, there's a striking balance between Del Rey's typical melodious melancholia and her newfound maturity, as is reflected in her latest record's layered lyricism.
"I love that she dives deeper into themes like death and grief, and brings up more nuanced allusions to romantic intimacy which aren't as blatant as her normal references," Glancy said.
Glancy said her favorite track off the album is "Paris, Texas," a collaboration between Del Rey's whimsical notes and featured artist SYML's accompanying piano, which Glancy described as sounding like a lullaby.
Likewise, junior Eric Njuku said he was satisfied with the album and said his favorite track off "DYKTTATUOB" at the moment was "Let the Light In" and "The Grants." Despite his late arrival to the fan base, Njuku said he has an immense appreciation for Del Rey's unmatched songwriting style.
"I honestly only recently started listening to Lana like a month ago since I was influenced by a friend," Njuku said. "I've come to really love her music because she sings so beautifully in literally everything and her songs make you feel some type of way. I can't explain it."
Glancy agreed with Njuku's infatuation with Del Rey's voice and she said she shares the same appreciation for the singer-songwriter.
"As cliché as it sounds, I think everyone has an artist that seems to just write music exclusively for them," Glancy said. "Every song, lyric, motif is relatable, and Lana is my artist who really speaks to that idea."
Del Rey has promoted several headlining festival performances in 2023, but has yet to reveal future solo tour plans. Del Rey will headline at shows like Brazil's MITA Music Festival and Outside Lands Music Festival in San Francisco over the summer, but suggests eager North American fans to keep their eyes peeled for solo tour dates, according to Her Campus.
Students said Del Rey's songs thoughtfully fuse themes of sadness and sensuality, as sufficiently showcased in her most recent 16-track record "Did you know that there's a tunnel under Ocean Blvd," which is available for streaming on all music platforms now.
__________________
Follow the Graphic on Twitter: @PeppGraphic
Email Emma Ibarra: emma.ibarra@pepperdine.edu