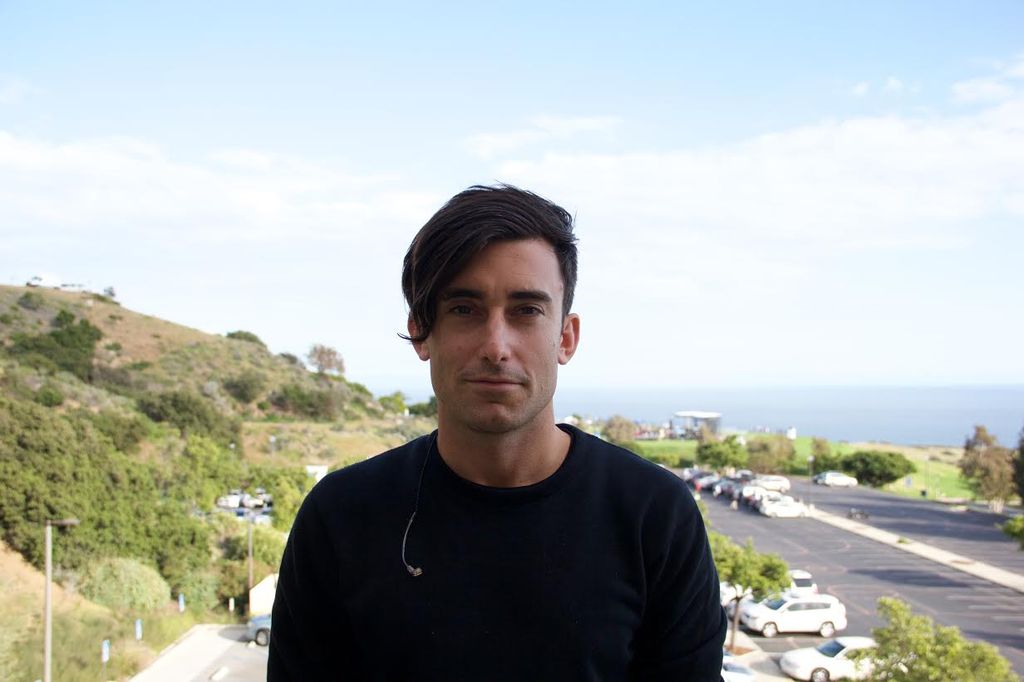 Photo by Julia Naman
Phil Wickham released his new album, "Children of God," today and at the culmination of dead week and the forthcoming of finals, some spiritual inspiration could not come a moment too soon. Most likely every Pepperdine student, or perhaps even just a rogue attendant of Wednesday Convo or Celebration Chapel, has sung along to Wickham's worship songs at some point ("The Ascension" is particularly popular with the Pepp crowd).
Wickham's ethereal voice and signature alt hook lines create something visionary and vivid out of praise music — just check out the starry album cover of "Children of God." He has the ability to relate the love of God to nearly anything, from the cosmos to a newborn baby, though it isn't confined to music. In fact, less than an hour before performing at The Mountain at Pepperdine and probably with no spare minute for an interview, Wickham took the time to sit down with me and explain the inspiration for his new album.
How has the process been making "Children of God"?
This is the record that has taken the longest to complete, which I think is because we were given a lot of time, which was very refreshing. We didn't feel pressured or rushed; we just kind of let it happen.
What inspired you to write this project?
A lot of the songs were born, not directly, but out of this thing two years ago when I lost my voice and had to get surgery on my vocal cords, and there was this risk where I wouldn't be able to sing as much, or professionally really. It hit me like a ton of bricks after singing for, like, 12 years.
I had to get surgery and be silent for several weeks, and it ended up going amazingly. It healed up so fast, and I feel like God answered my prayers in that situation. But in that time of just wondering what the future holds and being really freaked out, God kind of used that silence and frustration to speak to me and just remind me of his love for me. He's my father, I'm his child, and I didn't have anything to fear in that.
If I lose my voice, it's not my capital identity. We are who God says we are, and through Jesus, we are his children — forgiven and set free. I know that I knew that, but I don't know if I believed it as much as I should have. So "Children of God" was born out of that moment, and a lot of these songs are just a celebration of that love. The process of recording has been way more band-centric. It's a bigger sounding record, and it comes across as bringing a lot of energy.
Were there any specific passages you were drawn toward while writing the album?
The "Children of God" ones I kept close to my heart. It says in John [1:12] that all who believed and accepted him, he gave the right to become children of God. I think a lot of times we use that phrase to mean every human in the world, because we are all loved by God and created by him, but I think according to that verse, we aren't born as children in the family of God. He's always wanted us to be his children, and that's why he sent his Son, to forgive us and set us free from death, and usher us into this place of victory, family, shamelessness and fearlessness. It's that whole idea that being a child of God is not just some Sunday school rhyme we sing, but this big truth. It's a posture of our soul that we step into, we're not just born into.

In 1 John 3:1, it says "Behold what manner of love the Father has given unto us, that we should be called the children of God." Another version says, "See the great love the Father has lavished upon us." We're not just the servants, slaves or the people on the outside of the house. Another verse in Philippians 2:15, the final one that inspired the record cover which has kind of this starry vibe, says, "You will become blameless and pure children of God in a warped and crooked generation, then you will shine among them like stars in the sky."
As we step into this victory and life that he offers to us, we have this light of God inside us and there's nothing in the world to fear, and he's given everything we need to light up the dark around us. That's what I hope this record inspires people to do; grow closer to God, be reminded of his love for them, and be shameless in their acts of love towards other people in his name.
I am curious how you take a concept as big and inconceivable as God's love and explain it in a verse and a chorus. How do you take something so specific to your journey and make it universal to everyone?
I think there's a bunch of different answers to that, but let me start by saying as a Christian who writes songs, I believe I have the unique opportunity to see the world and the circumstances in the world through this lens of truth, and these eyes that have been saved by grace. A wedding ring is not just a wedding ring; it's a picture of a bigger promise we have in God. Or, a baby is a life that God has created. It's a miracle, you know? A mountain is not just a mountain, or a star is not just a star. They're like worship leaders that are singing this song about God's glory. Everything takes on a bigger spiritual meaning, and we can see it through the spiritual truth of God.
How do you keep coming up with new ways to express your faith in God?
The more I write, whether it's a movie, a book, a conversation with a friend or a Bible study, there's opportunities all around to be inspired by God and his power and grace. Maybe it's the way my wife has forgiven me for the 100th time. It's like, gosh her grace is awesome. And then I think, "God's grace is awesome!" Maybe I'll focus on this fact that I just had a kid, and this piece of my heart wasn't available before, and now it's open, and I love this little girl with a different love than I've ever had, and I'm never not going to be there for her. And I want the best for her, even if it means the worst for me. And it's like, "Whoa, there's a song right there." And I'm not just going to relate that to my situation, but how does that relate to everyone, and to God? That moment in my life inspired this truth that is ancient and has been sung many times. And because my personal experience is unique, the song can be unique.
How old are your daughters?
I have three actually. I have a 4 year-old that turns 5 this year, a 2 year-old and a 1 year-old. Three girls.
Will you be traveling with your new album coming out this year?
I'll be traveling quite a bit. Right now, we're putting together an actual tour that is going to happen in the fall. For now we do weekend shows here, so I can be home as much as possible in Carlsbad, California.

Is there a problem you see within the Christian church that you hope your music helps to rectify?
I don't know if I'm trying to solve a problem with my music as much as I'd like to remind people that they don't have to feel alone, or be afraid, or live in guilt. If they choose to believe it, with the help of God, they can live a life in a present state of victory, joy and freedom. God literally loves them so much that he went through the greatest lengths and the lowest valleys to make us as close as possible to him.
It's weird, stuff like this I would read over and be like, "Yeah, that's cool," but lately it's been hitting me. It says in the Bible that we are being made heirs together with Christ. Literally, he's made us his family. All of the things that are of God, he's literally saying we're going to inherit because of what Jesus did, because he loves us. I want to remind the church of that.
It's crazy how many people I come across, even in the church, that are hurting and feel so lost and alone. I mean, I would say more that 50 percent have stuff hidden in their hearts where they feel inadequate or insecure or burdened. There's always room to grow, and God is always at work in us, but all God wants you to be is his child. I want that to be a truth where people are like, "I want to live in the idea that as a dad or a friend or a coworker, that God is on my side, he's given me everything I need to follow him. I want to act like a child of God. I want to love like a child of God." I'm excited to share that.
If you didn't get a chance to see Phil Wickham perform at Pepperdine, he's got a few SoCal concerts lined up in June — and of course, don't forget to check out "Children of God" to boost your morale in this end-of-semester crunch.
________________
Follow Julia Naman on Twitter @saymynaman