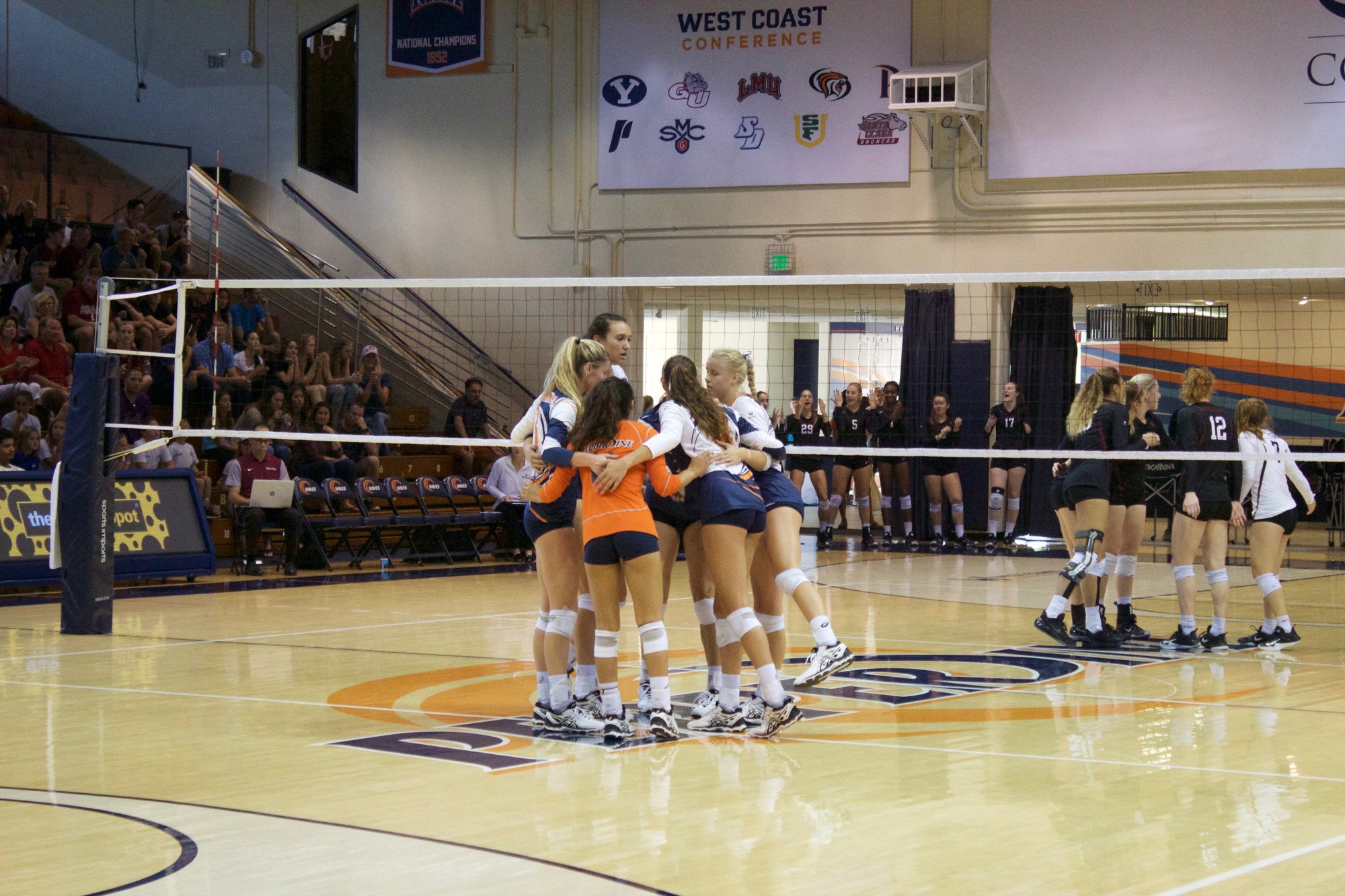 Pepperdine Women's Volleyball opened up a four-game homestand with a 3-0 sweep over San Francisco and a 3-2 loss to Santa Clara. The Waves returned to Firestone Fieldhouse for the back end of the homestand, hosting two ranked opponents, No. 8 BYU on Thursday and No. 18 San Diego on Saturday.
In the first game against No. 8 BYU on Thursday night, the Waves were swept 3-0, giving up 25-20, 25-21 and 25-15 set scores. Freshman Alli O'Harra led the Waves defense with five rejections while sophomore Jasmine Gross tallied a team-high eight kills.
Pepperdine battled closely through the first two sets, hanging tight down the stretch, but BYU took late runs to pull away, winning set one, 25-20, and set two, 25-21. In the third set, Gross put the Waves on the board, but BYU took an 11-5 lead early on. The Waves were unable to keep the set close, as the Cougars stormed away with set three, 25-15, to secure the 3-0 sweep.
Set-by-Set Scoring (vs. No. 8 BYU)
Set 1: 25-20 (BYU 1-0)
Set 2: 25-21 (BYU 2-0)
Set 3: 25-15 (BYU 3-0)
The Waves dropped the second game in a 3-2 thriller against No. 18 San Diego on Saturday afternoon Gross posted a season-high 13 blocks while sophomore Hannah Frohling added 17 kills. Junior Heidi Dyer amassed a solid all-around effort with a team-high 20 digs, 21 assists and six kills.
The Waves and Toreros split the first two sets, with San Diego winning the first, 25-20, and Pepperdine winning the second, 25-16, before going into halftime. However, San Diego's offense came out strong, taking a 16-9 lead late before taking set three, 25-20.
Down 2-1, the Waves rallied with a 7-2 run to take a late 20-18 lead, but San Diego tied it at 20 down the stretch. However, Frohling jumpstarted a late 5-1 lead to secure set four, 25-22, to push it to a set five. In the fifth set, San Diego came out firing on all cylinders, taking an early 9-3 lead before rolling away with a 15-7 set five win to take the match, 3-2.
Set-by-Set Scoring (vs. No. 18 San Diego)
Set 1: 25-20 (USD 1-0)
Set 2: 25-16 (TIED 1-1)
Set 3: 25-20 (USD 2-1)
Set 4: 25-22 (TIED 2-2)
Set 5: 15-7 (USD 3-2)
Quotables:
On upcoming road trip: "Saint Mary's and Pacific are both teams we faced early on in the WCC schedule, but they are also tough tests to face on the road," Head Coach Scott Wong said.
On season-high 13 blocks: "Everyone does their part on a team, and we all are trying to help the team get the victory," Jasmine Gross said.
Up Next:
Pepperdine hits the road to Northern California for matchups against Saint Mary's on Thursday, Oct. 26 at 7 p.m. and Pacific on Saturday, Oct. 28 at noon.
___________________________________
Follow Arthur Puu on Twitter: @arthurpuu