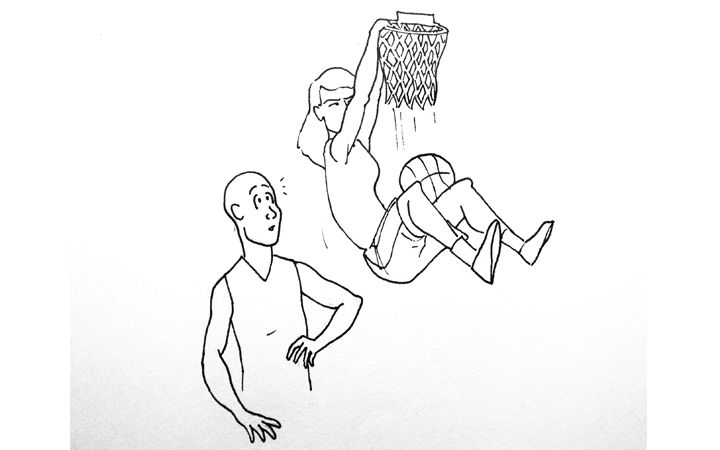 Art by Peau Porotesano
Blacktop and hardwood courts across the nation host pickup basketball games on the daily. Shoes squeak, ankles break and bragging rights are won and lost.
However, at least in my experience, the act of walking up to a court poses two different scenarios. If you're a guy and no one knows you, you can saunter to the baseline, wait around a little, and eventually you'll get a nod, "You got next?" If you're a girl (I know, I know, I should say women – just hang with me on this) and no one knows you, unless you're Lisa Leslie, no one will bat an eye or glance in your direction.
I mean, it's whatever. I've gotten used to it. I'll usually just shoot around a bit to show them I have some level of skill, and more often than not they'll eventually need an extra man and ask me to join.
Since my freshman year I've played C-League intramural basketball at Pepperdine. During my freshman year, it was similar to pickup. The rules were loose. From what I recall, the requirements were that there had to be two girls on each team and one girl from each team had to be in the game at all times.
I went abroad my sophomore year. When I came back, the rules had changed. Two girls per team were required to be in the game at all times. Most of the season, my team only had two girls total, so we had to huff through every game, but it was fun getting runs in, so I wasn't complaining.
Forcing that change benefited the league overall because it urged more girls to join teams.
Now the rules have been altered yet again, but this time, the modifications are beginning to harm the game. Three girls from each team must be in the game at all times, and whenever a girl scores (layups and jumpers), the basket counts for an extra point.
Hypothetically speaking, let's say my team's trailing by five points toward the end of a game. If I draw a foul on a made shot from behind the arc and convert the free throw, the game would go into overtime.
In our first game, we fell behind early and things weren't looking good. Suddenly, a girl on my team hit a few layups, closing the 10-point gap to one point in a couple minutes. The opposing team tried fighting back, but only their guys hit shots. They didn't have a chance, and we won.
Forcing three girls to play while also counting their shots as extra rigs the game to the point of ruining it. I talked with one of my friends at USC and she said their intramural leagues do the same thing. I'm not buying it.
My take is that if you're a girl and you can ball, you'll get playing time and score buckets. Girls don't need a booster seat to participate in intramurals. We just need an opportunity to prove ourselves, the same way as guys do. We're all human.
Don't knock me until you play me.
__________
Follow Alysha Tsuji on Twitter: @AlyshaTsuji