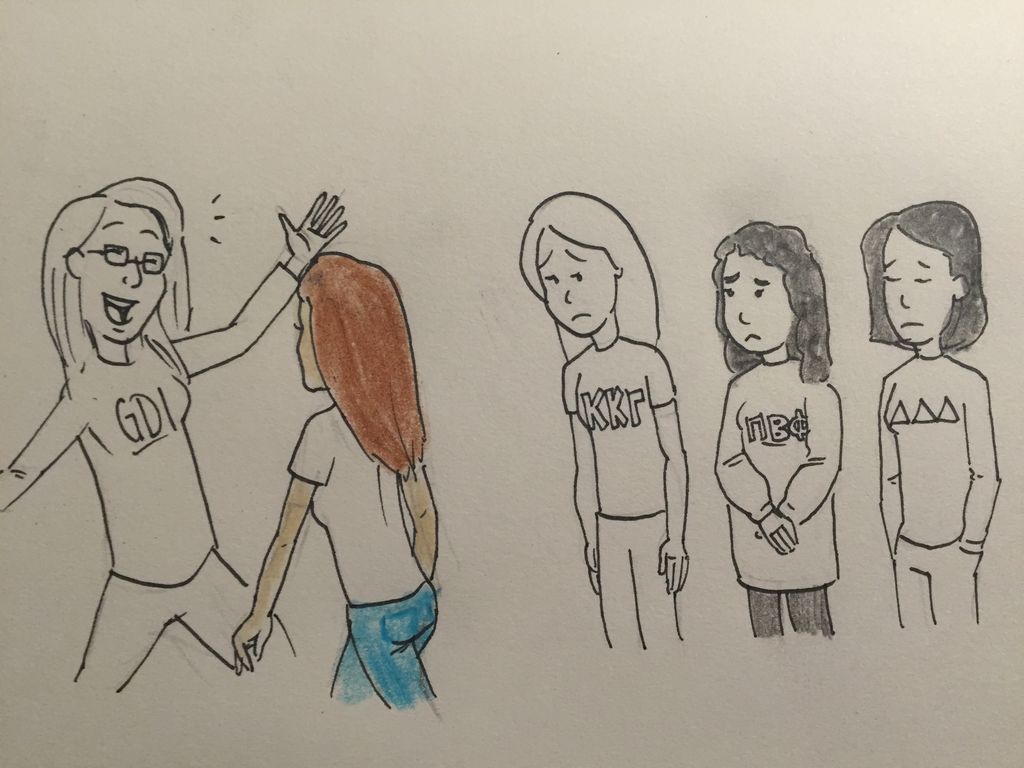 Art by Peau Porotesano
When I came to Pepperdine, I fully planned to rush — I even paid my pre-registration fee. But for some reason, I decided against it. As I reflect on the years I've spent at Pepperdine, I'm confident that this decision was the right one.
When I decided not to go, my opportunity to be in a sorority closed, putting me in the "independent" category with all of the other students who chose to do the same.
Indeed, I'm what they call a "GDI," meaning "God d— independent," an acronym that happens to be telling of my reason for deciding against Greek life — I'm too independent for the organized system that Greek life practices. Everyone's different, but for me, joining a sorority isn't necessary or ideal.
My independence is of utmost importance to me. I was willing to risk the possibility of missing out on the exciting social life that sororities and fraternities offer to maintain as much freedom as I could throughout college.
However, everyone is different, and for some people, joining Greek life may have been the best decision they made in college. But every decision comes with a sacrifice, and in my case, I was willing to sacrifice a portion of my social life to preserve my independence.
Additionally, I've never wanted to be identified with one specific group, because that seems to set a precedent — or possibly a restriction, depending on how one sees it — to not mingle with those affiliated with groups that are not my own. I want to be identified based on my own actions and values, not those of a particular group.
In the end, I didn't want to be identified as a Theta or a Kappa or a DG, because whether we want to admit it or not, those names come with stereotypes that are often false.
Though Greek life can greatly enhance the full college experience, I'm so thankful I decided to choose an alternate path. I wouldn't have wanted my college experience to go any other way but my own.
_______________
Follow Berkley Mason on Twitter: @youcberkley