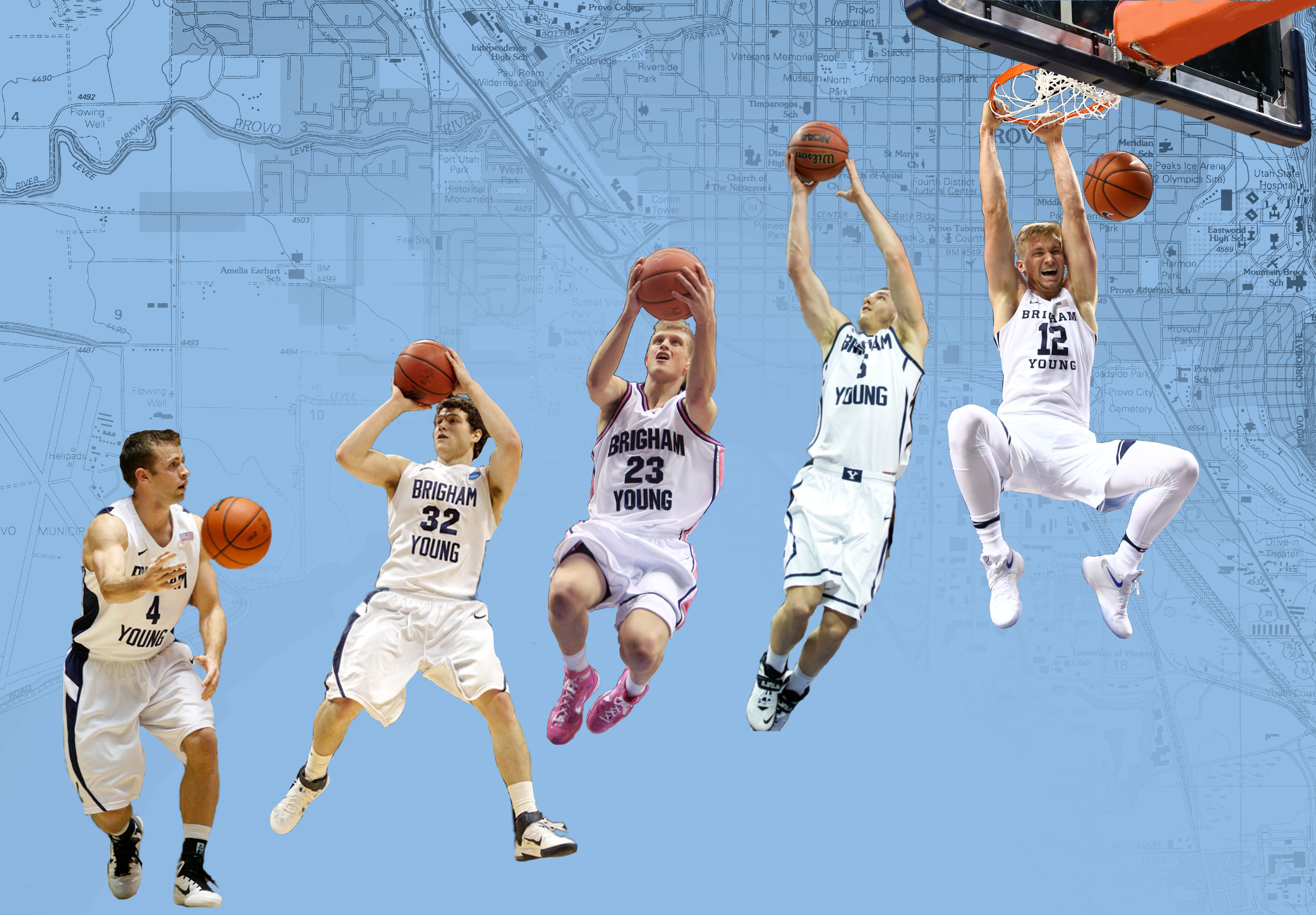 Image by Kyle Cajero
They're inconsistent. They don't play defense. They only shoot threes. They play in a bad conference. All their players are 25-year-olds. They're a brand. They're white.
While all of these aspects of Brigham Young University basketball aren't completely false, the Cougars are much more than cheap jokes about a one-dimensional team. When the Cougars take on the Waves on Thursday night, the most important players on BYU's roster will be forwards — not high-flying, hot-shooting guards.
Under further examination, however, BYU's style of play is changing this season. The one-time guard-heavy team has become more well-rounded; to wit, forwards Eric Mika and Yoeli Childs are the Cougars' two best players right now. The former is no. 15 nationally in total rebounds this season, and the latter looks like a lock for the WCC's All-Freshman team by averaging over 8 points and 8 rebounds per game, according to sports-reference.com. Oh, and they're both underclassmen.
The forward pipeline doesn't seem like it's going to end soon. The Cougars will bring in 3.5-star center Kolby Lee next season, and onetime forwards Luke Worthington and Ryan Andrus will likely return to the team when their LDS missions end, according to Verbal Commits' recruiting database.
Strangely enough, BYU's transformation happened on accident. Sophomore guard Nick Emery, the heir apparent to BYU's legacy of white guys who can score a zillion points per game, has been marred with injuries and hasn't found his rhythm. T.J. Haws, brother of BYU's all-time leading scorer Tyler Haws, is only a freshman. BYU's offense has had its ups and downs this season, but this is merely a consequence of going all in on a high-octane offense. Statistically, the Cougars' shots won't fall every night, and these nights have inevitably lead to losses.
The BYU image has always been way too easy to mock: They're majority white, older (due to the NCAA's exception of allowing BYU players to take time off for their LDS missions without losing eligibility) , privileged group of players who peak in college. And this isn't even factoring in the gold mine of Mormon jokes, which are low-hanging comedic fruits for opposing fans on game days.
Without taking too deep of a dive into the divisive aspects of the Cougars, I'll simply say this: Few colleges are railed and ridiculed more than BYU, which further ostracizes them from most institutions.
As if BYU's off-the-court product isn't scrutinized enough, BYU's in-game calling cards are often questioned. The common view of BYU basketball is that they're just a bunch of white guys who play fast, shoot threes and don't play defense. Contrary to popular belief, the Cougars are actua— never mind, I lost my train of thought. I googled "BYU, white guys that can shoot threes" and the first result was Jimmer Fredette's Wikipedia page. Sadly, I can't make this up.
But seriously, what's the big fuss about BYU?
Statistically, most claims about BYU's basketball product are warranted. Ever since Head Coach Dave Rose took full control over the program in the 2005-06 season, the Cougars have been in the top half of the nation's teams in adjusted offensive efficiency and tempo, according to data from KenPom.com. The lowest ranking Rose's run-and-gun approach has registered on KenPom's tempo charts was 108th in the '06-07 season; as for offensive efficiency, this season is the lowest-ranked team at 118th, with at least seven games to go.
Speaking of this season, the Cougars are averaging at a blistering 76.8 possessions per game, good for fourth in the nation according to KenPom.com. The teams above them aren't blue-bloods: In fact, the Cougars have the best record of the 10 fastest teams, and of the top 20 fastest teams, only UCLA (11th) and Kentucky (12th) have better win-loss records than BYU. Both teams have been ranked in every AP poll this season.
So is there a way to beat BYU's high-flying offense? Absolutely.
BYU has a 17-8 record this season. For the most part, teams have had success against BYU by not getting suckered into a track meet of a game. It's no coincidence that all but three of the eight teams that have beaten the Cougars play slow, methodical basketball. Speaking strictly of teams in the conference, BYU has lost to Saint Mary's, Santa Clara, San Diego and Portland, which are not only the slowest four teams in the WCC, but are also in the bottom 20th percentile in tempo nationally, according to KenPom's metrics.
Slowing the game down and playing team defense was successful for Pepperdine before this season. Last season, the Waves would clamp down on BYU's back court by exploiting defensive mismatches. In fact, these mismatches weren't disadvantages at all. For starters, former forwards Jett Raines and Stacy Davis and sophomore forward Kameron Edwards were small enough to switch onto BYU's smaller guards without giving up too much speed and mobility.
Teams like Pepperdine didn't need to worry too much about BYU's front court because they weren't really a threat. The Cougars' back court trio of Nick Emery, Chase Fischer and Kyle Collinsworth was responsible for the bulk of the team's usage percentage and offensive win-shares and points produced last season, according to sports-reference.com. As long as opposing teams beat BYU in the paint and played above-average defense, they have a shot.
But now with Childs and Mika on the roster, beating BYU hasn't been as cut-and-dry. BYU's blossoming front court has turned them into a slightly more balanced team. Although the Cougars will probably miss the NCAA Tournament this season, this season is far from lost. They're on the path to being a well-rounded, highly-competitive team; it'll just take time.
If there's one constant to the Cougars, it's that beating them is easier said than done. After all, BYU is part of the WCC's "big three" for a reason. Yes, that reason might've been due to a bunch of white guys who can shoot threes and don't play defense, but the Cougars' future success will probably stem from players who don't fit that mold.
______________________________
Follow Kyle Cajero on Twitter: @kylecajero