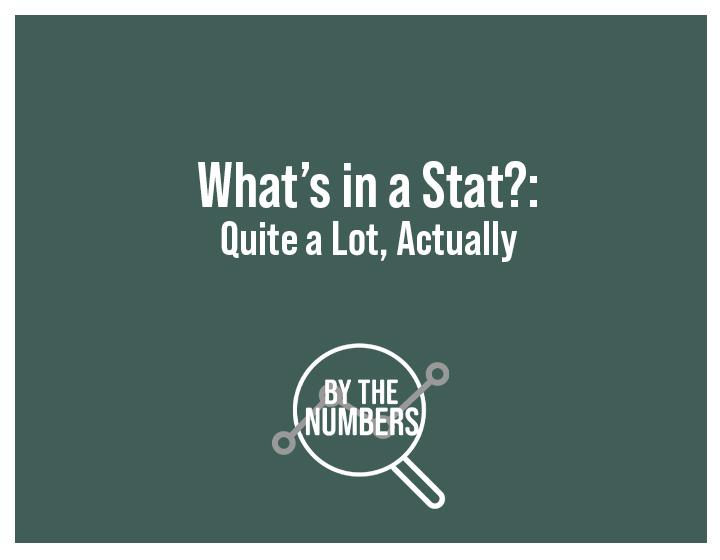 Sports, and the athletes who play them, are associated with physical achievement — pushing their bodies to be faster, stronger and more skilled. But while tangible, raw physical talent will always be a big part of athletics, something else is now an equal part of an evolving sports world — numbers.
There are obvious ways in which numbers affect sports. A team wins by scoring a higher number of points, and if they are losing, a lower number on the game clock means they're less likely to come from behind. The higher number of home runs, touchdowns, or three-pointers a player has, the higher the number will be on the next contract they sign and so on. But the relationship between sports and numbers runs much deeper.
Statistics: 'An Obsession Toward Numbers Divisible by 10'
Athletes have always been measured by the big statistics, like touchdowns, home runs, three-pointers or goals. Fans hold a certain mystique about statistical leaders — even the most casual sports fans were following along when Barry Bonds became baseball's all-time home run leader, or when Drew Brees overtook Peyton Manning in career passing yards and touchdowns.
Consciously or subconsciously, there's also an obsession with round numbers. In basketball, take the example of NBA point guard Russell Westbrook. In the 2016-2017 NBA season, on an Oklahoma City Thunder team reeling from the loss of Kevin Durant, Westbrook averaged 31.6 points, 10.4 assists and 10.7 rebounds. Westbrook became the second player in league history to finish a season averaging a triple-double — having all three numbers above the round number of 10.
In a 2017 New Zealand Herald article, Kris Shannon wrote that if Westbrook recorded "30 points, 10 rebounds and 9.8 assists throughout the 82-game campaign — does that make the Oklahoma City guard's achievements any less significant? The answer, on face value, is an obvious no […] but considering the compulsive watch of Westbrook's stat lines and our own shared experiences, there is certainly an obsession towards numbers divisible by 10."
On the back of that statistical anomaly, Westbrook ran away with the 2017 MVP award and received heavy praise in the media. However, as the novelty of that accomplishment faded, people started picking apart Westbrook's flaws. Despite arguably equal or better numbers in 2018–2019 — 22.9 points, 10.7 assists and 11.1 rebounds — the same publications criticized Westbrook for his lack of efficiency, and the Thunder traded Westbrook to the Houston Rockets in a salary dump.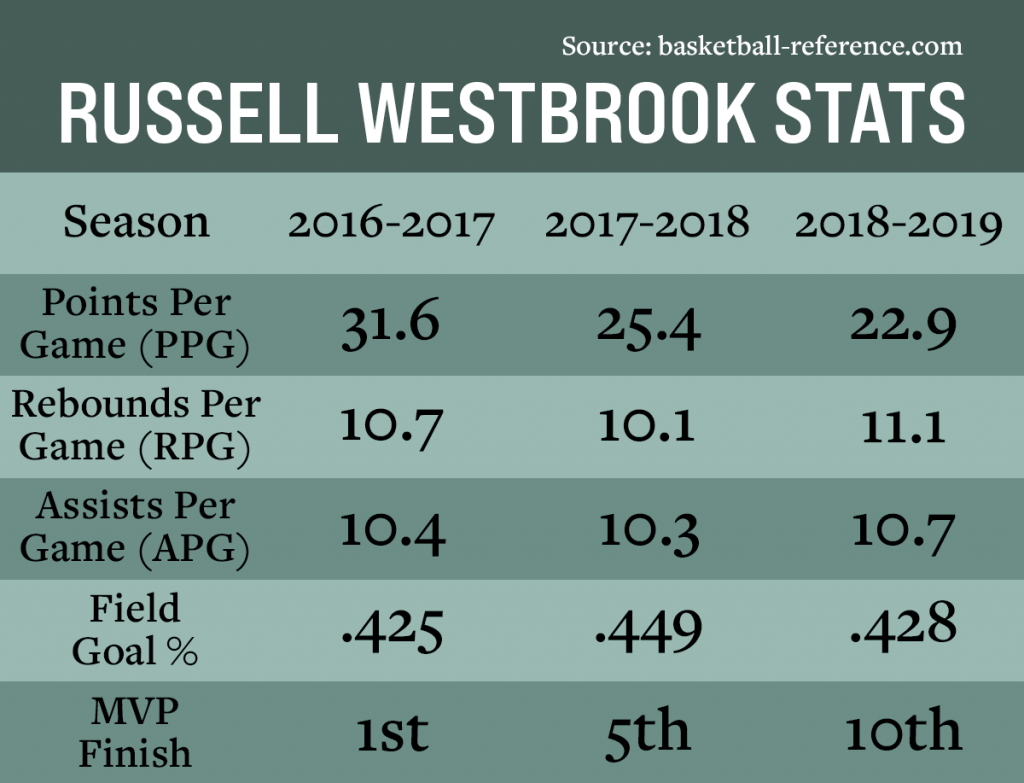 Baseball is the king of round-number stats, so much that players who have passed a specific number are commonly referred to as being part of a club.
In the early 2010s, baseball writers debated over whether to elect pitcher Bert Blyleven to the Hall of Fame. While Blyleven achieved election in 2011, many veteran writers opposed the move.
Blyleven had a fantastic professional career. He has the fifth-most strikeouts in MLB history (3,701), and he won 287 games, good for 27th all time. So why did it take him so long to get in? He fell short of the round number 300, according to a 2011 article by David Schoenfield.
"Blyleven suffered from the fact several of his contemporaries won 300-plus games," Schoenfield wrote. "Of course, hanging on to win 13 more games wouldn't have changed his actual value, but it took writers a long time to realize that."
Analytics: The Math Behind the Results
The revolution around analytics in sports is traditionally associated with "Moneyball," the book and movie on the early-2000s Oakland Athletics. In 2020, analytics are a part of nearly every front office in every sport.
While the "Moneyball" sabermetrics revolution of 15 years ago still holds up in today's game, that spirit has been enhanced even further. Through the development of StatCast in all 30 Major League stadiums, any quantifiable measurement of any player or the baseball can be tracked, recorded and ranked, giving teams new sets of numbers that might catch their eye.
One example of this is spin rate. Thanks to StatCast, teams could track a pitcher's spin rate, or the number of times the ball spins on its way to home plate, measured in revolutions per minute. Teams soon found balls with a higher than average spin rate for a particular speed create more movement on the pitch. By using this data, along with other mathematical formulas, teams can nearly calculate how often a particular pitch will cause hitters to swing and miss.
In the 2020 season, teams whose pitchers had a higher spin rate, in general, struck out more batters and allowed fewer home runs.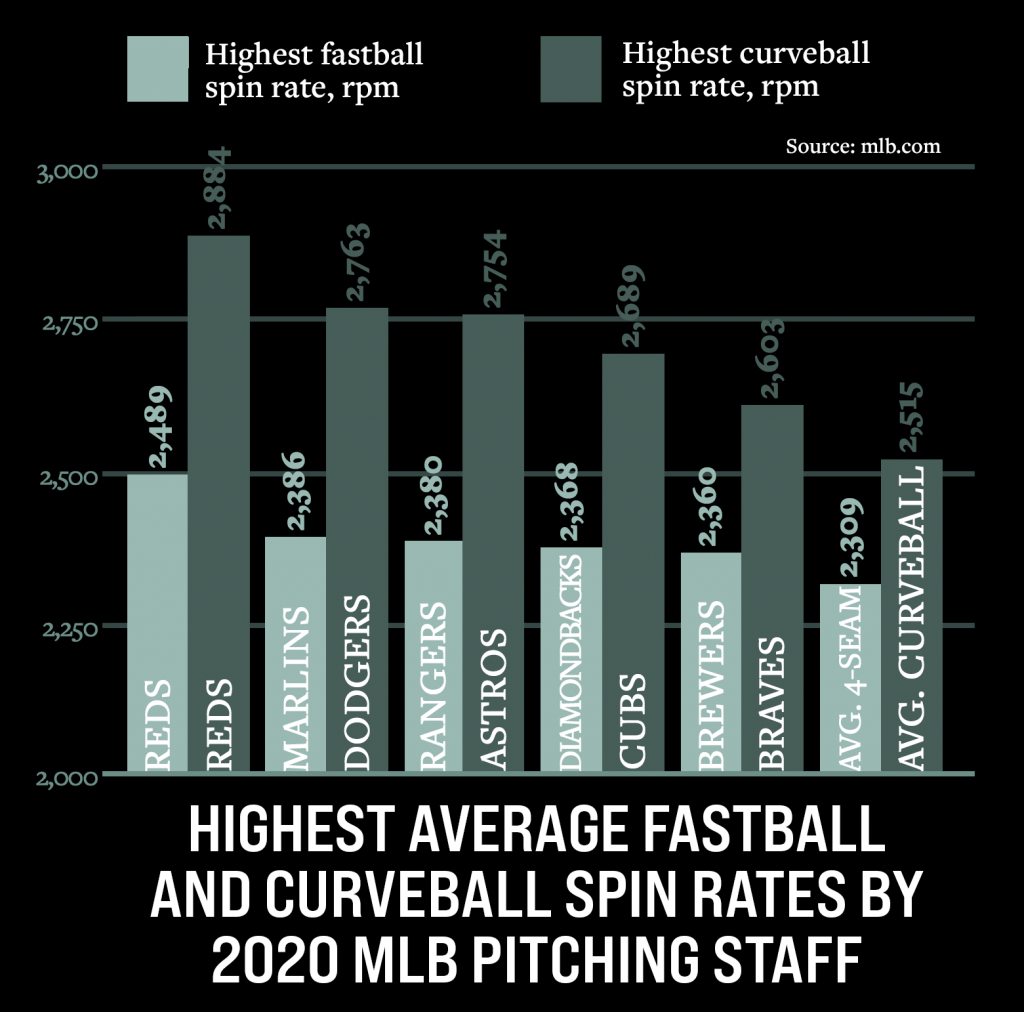 To combat this, hitters are focusing on another number measured by StatCast — launch angle. The concept of launch angle is simple enough — the measurement of the angle at which the ball flies off the bat when it is hit — but its application has revolutionized the game.
Correctly deducing that they had a better chance of getting extra-base hits by hitting the ball in the air as opposed to on the ground, many hitters revamped their swings into a slightly uppercutting motion designed to lift the ball.
Hitters such as Justin Turner, Josh Donaldson, and Daniel Murphy went from part-time players to superstars after incorporating this change. In a 2017 Washington Post article about the then-new phenomenon, Donaldson said: "Groundballs are outs. If you see me hit a groundball, even if it's a hit, I can tell you: It was an accident."
With more players swinging for the fences, more players are swinging and missing. "The Three True Outcomes" is a new term to describe the three possible results of an at-bats that only involve the pitcher and hitter (and not the defense) — a home run, a strikeout, and a walk. In 2020, thirty-six percent of all at-bats in the MLB season ended in one of these outcomes, a sign that the boom-or-bust trend in baseball is here to stay.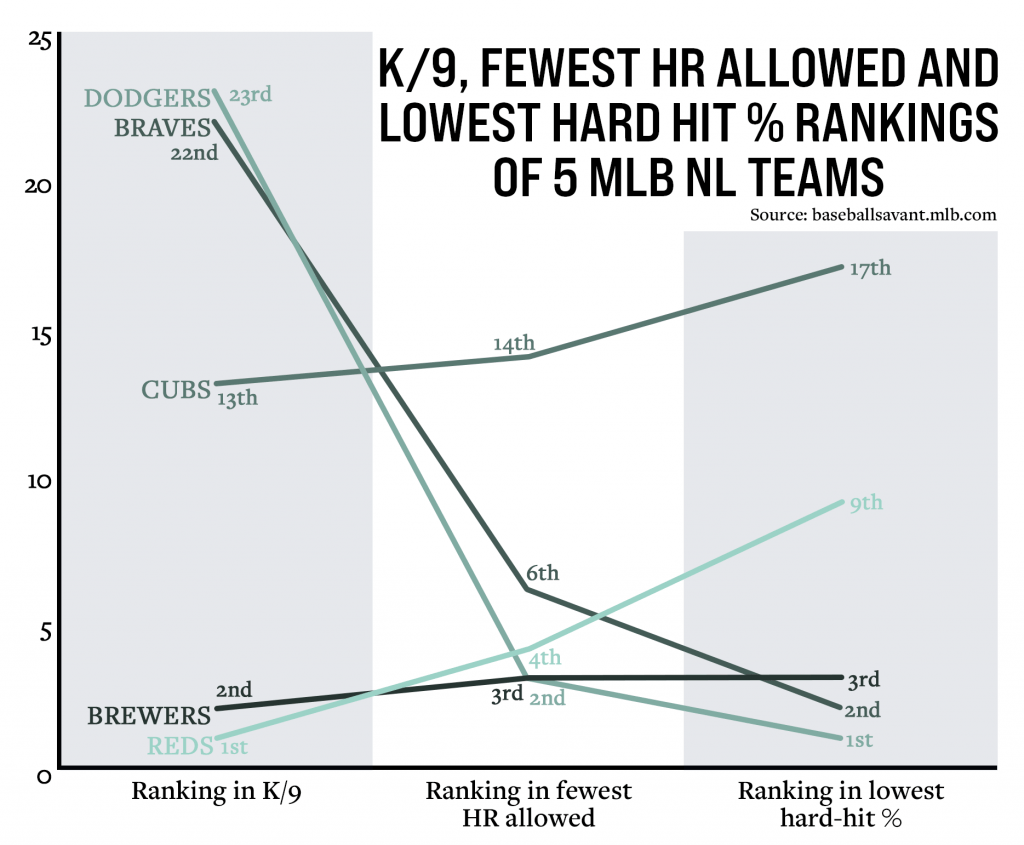 Jerseys: A Story on a Shirt
Often, players are just as identifiable by their number as by their last name. Some numbers — 23 in basketball or 99 in hockey — transcend entire sports. Infamously, former NFL receiver Chad Johnson legally changed his name to Chad Ochocinco in honor of the No. 85 he wore.
In many sports, jersey numbers signal position, or performance. The NFL regulates its jersey numbers by position (e.g. 60–79 for offensive lineman, 10–19 and 80–89 for wide receivers), a rule that stemmed from officials needing to know who was eligible to catch the football.
Originally in soccer, players' position on the field mandated their jersey number.
While there is no requirement anymore, many players follow the traditional numbering system: lethal wing players like Cristiano Ronaldo wear No. 7, and attacking geniuses like Lionel Messi wear No. 10. The No. 10 shirt, in particular, is considered a great honor to wear for any team.
In Formula 1 auto racing, the championship-winning driver gets the option to change his car to No. 1 for the following season — a number that is otherwise forbidden in the sport.
These days, sports are as much brains as they are brawn. From performance to projection to prestige, numbers are at the framework of nearly everything in the sports world.
____________________
Follow the Graphic on Twitter: @PeppGraphic
Contact Paxton Ritchey via Twitter: @paxtonritchey_ or by email: paxton.ritchey@pepperdine.edu