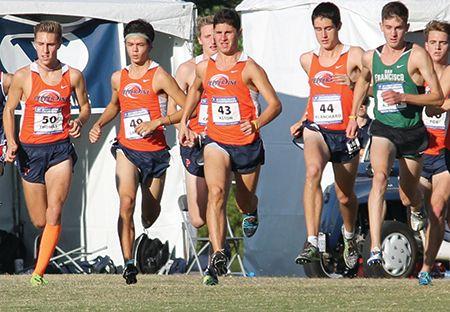 Photos Courtesy of Pepperdine Athletics
Freshman Nick Blanchard leads the men's cross country team and senior Adrianna Davies leads the women's team at this weekend's WCC Championship meet
Pepperdine hosted its first West Coast Conference Cross Country Championship meet at Alumni Park on Saturday morning.
"I think running on my home turf made it easier because it put me more at ease knowing I have had some great workouts right on the WCC course," senior Adrianna Davies said. "Knowing the course well also enabled me to visualize certain parts of the race, which helped me with my mental preparation for WCCs".
"Overall, I think I ran a smart race," she said. "However, I went out a bit conservatively, which made it difficult to finish closer to the top of the pack."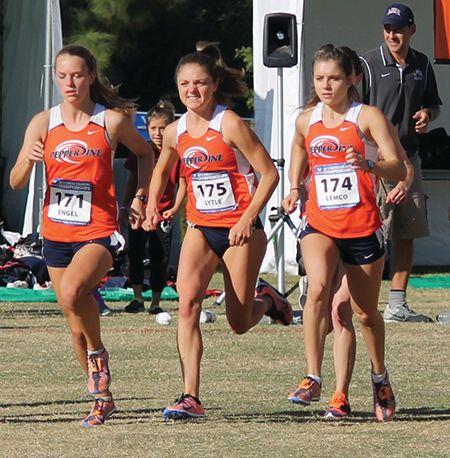 Davies was the frontrunner for the women's team, clocking in at 22:33 in the 6K race and finishing 31st overall. Senior Hayley Lytle was right behind her in 35th place. Sophomore Katie Engel, junior Lisa Santroch and freshman Elle Lemco also earned points for the women's team, placing 44th, 51st and 56th, respectively.
Overall, the women's team finished seventh in the first-ever 10-team WCC meet.
Leading the men's team was freshman Nick Blanchard.
"Alumni Park is a place where I just feel comfortable mentally, so that helps calm the championship nerves," Blanchard said. "Plus, we had a large amount of support from the Pepperdine community. This made the race easier. The fan support makes great motivation."
Blanchard finished 57th in the 8K with a time of 26:34. Behind him was senior Jesse Aston in 62nd place, followed by three fellow Waves: freshmen John Lawlor, Gordon Thomas and Aric Crowell in 65th, 66th and 67th, respectively.
The men's team finished eighth overall, beating rival San Diego by one point.
"I was thrilled that as a team we beat San Diego," Blanchard said. "That was our goal since day one…I had a good kick and a strong finish, which I was happy with. [However there are points I could have run stronger to take] into account as I prepare for NCAA West Regional Championships on Nov. 15."
_____________________________________________________________________________
Follow Alenni Nemitz on Twitter: @alooney_toons94
As published in the Nov. 7 issue of the Pepperdine Graphic.